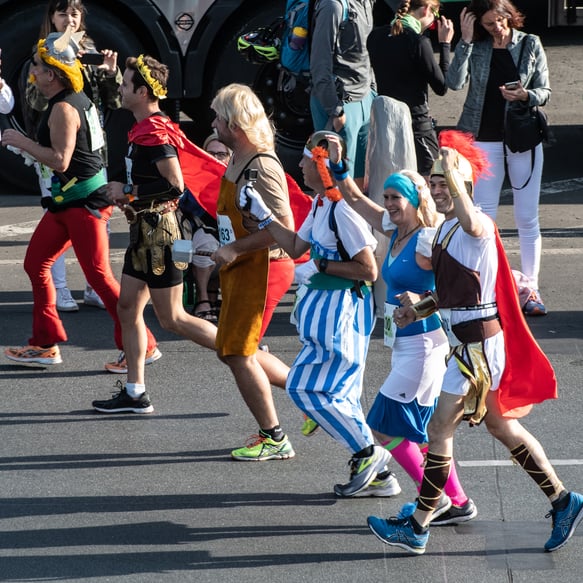 Getty Images
Getty Images
Halloween is an undeniably festive season. From the ghastly costumes and the hauntingly sweet treats to the terrifying slasher movies and ghoulish home decor, this time of year is perfect for all things spooky and offbeat. Why not embrace the general eerie mood of October and break a sweat while in costume? Whether you're just looking to log a run on Oct. 31 and want to get into the spirit or you need a running costume to wear for a fall or Halloween-themed race, you've come to the right place for running-costume ideas.
The thing is, not every Halloween costume makes a good running costume. You'll want an outfit that doesn't bounce or chafe and that goes well with your favorite running sneakers, of course. The best choices are also activewear based, so you don't get soaked with sweat and can run comfortably. And depending on the weather, you may want a costume that allows you to layer up, so you can feel comfortable even in cooler fall temps.
Sound complicated? Rest assured, we've got you covered with these easy, no-fuss Halloween running-costume suggestions — including options for pairs or groups, in case you're running with a friend, a partner, or your whole family. From witches with mini hats to simple Star Wars costumes, these 'fits will allow you to finish a flawless run or race and still look fab in your Halloween running costume.
— Additional reporting by Jenny Sugar
A Superhero
A hero suit makes for the ideal running Halloween costume! With plenty of characters who wear spandex, your options for a comfortable superhero costume are basically endless. This group went for a Marvel theme, opting for Iron Man, Black Panther, Dr. Strange, Spider-Man, and more.
Star Wars Characters
Want something even more out of this world? Channel the Force with fun Star Wars costumes like these two shown. This Halloween running costume is easily put together with a Star Wars tank top, a tutu, and tall running socks, so you don't have to sacrifice comfort for style.
A Food Pairing
If you want something a bit more outside the box, a food costume is a great choice. All you really need is a shirt that's on theme, and you can otherwise wear your usual running gear. This person even matched their tomato-sauce getup with their dog's spaghetti costume — how cute!
Animal Ears and Tail
This classic costume may seem like the obvious choice, but it's a Halloween staple for a reason. From cats and dogs to foxes and bears, the animal kingdom offers plenty of great options for a running costume. Just match your workout gear to your choice of animal ears (and maybe even a tail), and you're all set with an easy Halloween running costume.
Mickey or Minnie Mouse
If you're feeling the ears idea, you could also do a pair of iconic Disney mouse ears. This person dressed as Minnie Mouse with traditional ears and a red polka-dot skirt, but considering all the different types of mouse ears Disney sells, the options with this running costume are truly endless.
Witch
The best thing about a witch costume is that you only really need one thing: a pointy hat! Take a cue from this runner and affix a mini witch hat to the top of a running hat you already love, and you have an instant Halloween running costume — from there, it's up to you. To keep it simple, wear all-black running clothes, or to level it up, add a festive tutu or socks.
Halloween Makeup
We get it — sometimes it's hard to drum up a costume just for Halloween, and you might not want to go for something complicated for your run, either. No need to worry, though; just try out some sweat-proof makeup! This way, you can wear your regular workout gear, and your makeup will be costume enough.
Video-Game Characters
If you're looking for a good Halloween running costume for two people, video games are a great place to turn to for inspiration. You have plenty of iconic duos to choose from: Mario and Luigi, Sonic and Tails, Zelda and Link, etc.
The Ghost Gang From Pac-Man
More than two people in your running crew? Video-game characters make for great group costumes, too. These folks dressed up as the ghosts from Pac-Man are a great example!
Russell From "Up"
There's no shortage of Halloween running costumes to be found from Disney movies and shows. This costume of Russell the "Junior Wilderness Explorer" from the movie "Up" makes for a standout yet easily recognizable Disney costume.
A Princess
Alternatively, you could choose a Disney princess. This costume of Elsa from "Frozen" works great (especially with the addition of her distinctive side braid) and is comfy for running, too!
Spooky Mask
If you're looking to stay as comfortable as possible on your run, swap a full-on costume for a Halloween mask instead. This way, you can still wear your workout clothes and stay in spirit. These glowing masks definitely elevate a Halloween running costume.
A Butterfly
If all else fails, grab some fabric wings — after all, you'll be flying across the finish line in this costume. This butterfly makes for a Halloween running costume that's both festive and comfortable.