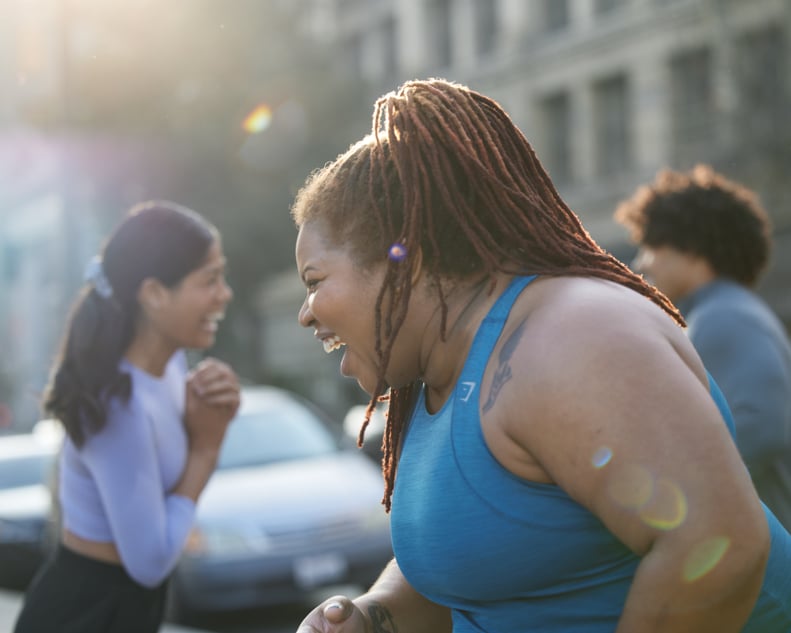 Courtesy of Gymshark | W. Eric Snell of E. Snell Design
Courtesy of Gymshark | Latoya Shauntay Snell
Courtesy of Gymshark | W. Eric Snell of E. Snell Design
Courtesy of Gymshark | Latoya Shauntay Snell
Known as Running Fat Chef online, athlete, photographer, and food blogger Latoya Shauntay Snell began running in October 2013 with Black Girls Run — an organization that encourages Black women to embrace an active lifestyle by hosting group runs in a number of communities across the US. In an email interview with POPSUGAR, Snell said that she felt "welcomed" and "embraced" and was "called a runner" while learning the basics of running with the organization. "Every meetup, we were reminded that we all have different fitness levels and regardless of pace, we knew that we weren't going to be left behind — each member met me where I was in my fitness journey," she says.
Snell began running after her doctor advised her to improve her overall health. At the time, according to her website, she had been diagnosed with spinal disc degeneration, sciatica, herniated discs, and a declining immune system.
After a year of running, Snell took on her first race in 2014. She has since completed over 200 runs and racing events while encouraging others to get active on her social media accounts. In her nine years of running, Snell has noticed that the diversity within the running community is "not always accurately represented in the media."
Through sharing my personal experiences, I hope that others know that they're not alone and their stories and athletic feats matter.
In an effort to spark an "overdue conversation in the fitness community," about the need for diverse representation in the media, Snell has joined forces with activewear retailer Gymshark for its United We Sweat campaign. The campaign highlights the voices of athletes of various backgrounds and abilities in an effort to encourage folks — especially those hesitant to embark on an active lifestyle — to tap into their local fitness communities.
"I loved the idea of being part of [Gymshark's campaign] because we could combine our existing audiences together to have a large conversation about empowering each other through our athletic endeavors," Snell says. "We don't have to look or sound the same nor do we have to do the same activities to uplift each other. . . . Through sharing my personal experiences, I hope that others know that they're not alone and their stories and athletic feats matter."
The athlete says that while she sees a diverse set of runners at road-running events held in larger cities, that's not the case at road-running events in smaller cities and at trail-running events. "[T]hat's when I would see less plus-size athletes, Black, Latinx and other racial representation on the course," Snell says. "Being a plus-size Black, queer athlete, with disabilities in long distance running makes you feel like an anomaly and at times, visibly the only person that looks like you at an event."
Snell says that running events over the past decade have been severely lacking in accurately representing the diversity within the running community and educating people of marginalized communities on runners safety. (According to the Road Runner's Club of America, runners safety education involves tips for how runners can be alert and visible and avoid harassment while running.)
People of marginalized groups who go for a run have the potential to be wrongly profiled as criminals. Last year, CNN amplified Black runners' experiences taking extra precautions to deter harassment and racially motivated violence.
"[W]e need more people willing to do the work beyond the moments when it is not trending," Snell says. "It is not enough to extend an invitation to marginalized communities ranging from racial, religious, fitness ability or size. A clear and consistent action plan with a diverse set of people working and holding those in power accountable to make these changes are needed."
Latoya Shauntay Snell's Tips For Increasing Diversity in Running
"The fitness community as a whole could improve on diversity and representation by checking their personal biases, taking the time to interact with communities outside of their own experiences and holding themselves accountable to be part of the change consistently," Snell says. "As athletes, we understand the importance of endurance work in the fitness sense. If we can apply this similar method in our diversity and inclusion efforts, we can consistently make these changes over time."
For those who are hesitant to get active, Snell offers this advice, based on her own fitness journey: be passionate, take time to rest, have "grace" when things go off track, and take up space. "Taking up space is not something that you need permission from others to do. It is the conscious act to show up everyday and set personal goals for yourself," she says.
Snell concludes, "The journey to finding normalcy in this act will not happen overnight. It requires you to give yourself permission to make mistakes, take chances on yourself, invest in your own success and for you to stand out of your own way. . . . An athlete doesn't have a specific look — it looks like your reflection."