If Xanax and Advil Had an Organic, All-Natural Baby, It Would Be These CBD Turmeric Capsules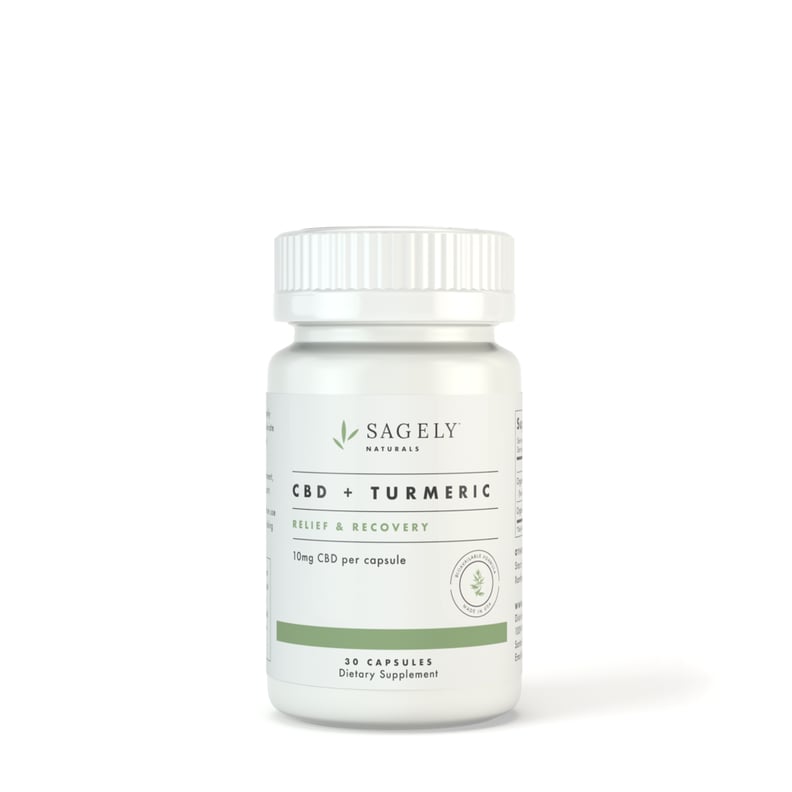 If you're trying to ditch the prescriptions and over-the-counter pills in lieu of something all natural, we have a product you're going to want to check out ASAP. You already know that turmeric has been used for centuries as a natural anti-inflammatory that can outshine familiar drugs like ibuprofen. So what happens when you combine the powers of this spicy, muscle-healing root with fellow powerful anti-inflammatory CBD? A whole lot of awesome, that's what.
Sagely Naturals did just that. Its Relief & Recovery Capsules ($30-$50) combine 10 milligrams of CBD with organic turmeric to ease pain, tension, soreness — and anxiety! If you're unfamiliar with CBD or unsure of what the right dose is for your body, our best suggestion is to start small and work your way up to see what makes a difference. CBD is the nonpsychoactive compound found in the hemp (cannabis) plant, so it won't get you high, but it'll give you a sense of calm and relaxation that — in the right dose — will feel like the effects of Xanax or Ativan.
In the past couple weeks, we've tried different doses of the 10 milligram capsules — one a day, one in the morning, and one at night, two at a time — and found that the correct dose will vary based on your body (as with all kinds of medication). My personal go-to has been two capsules to get similar effects to three to four ibuprofen pills (and about 0.5 mg of Ativan).
More expensive than Advil but (somewhat) less expensive than antianxiety prescriptions, these end up costing about $2 per capsule. But the ultimate benefits here are that it's all natural, it's completely extracted from plants (thanks, Mother Nature), it kills two birds with one homeopathic stone, and it's not addictive! And while ibuprofen isn't the worst thing to put in your body, when you consider the side effects, it might have you reaching to put more plants in your body vs. chemicals.
Feeling curious? Want to get some muscle and anxiety relief all in one? These spicy little pills are easy to order online and will ship right to your door.
Any cannabis products referenced above are not intended to diagnose, treat, cure, or prevent any disease. The writer is not a medical doctor, and their experience is based on personal use, the results of which may not be typical or intended. The legality of cannabis products varies by state, and readers are encouraged to check their local laws before purchasing and using cannabis products. Nothing in this article should be construed as advice regarding the legal status of cannabis products. Any views expressed in this article by a third-party sponsor are those of such sponsor, and do not necessarily represent the views of POPSUGAR.