13 Self-Care Tips From Wellness Experts to Feel Better Right Now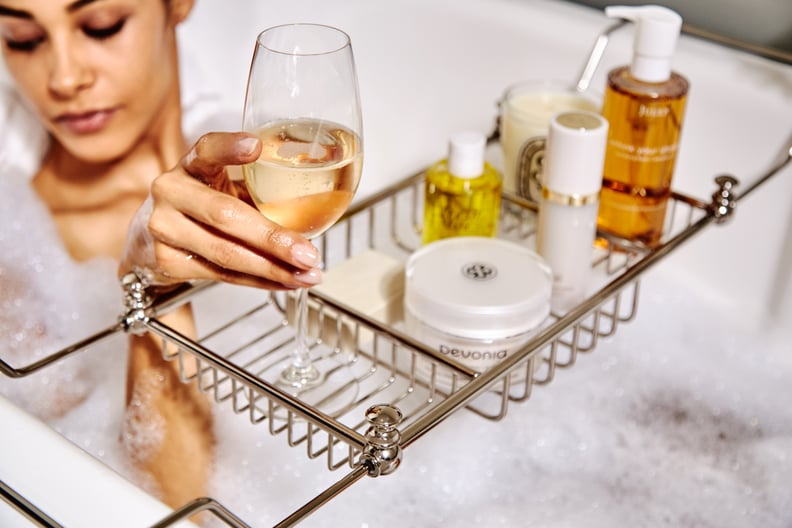 POPSUGAR Photography | Benjamin Stone
POPSUGAR Photography | Benjamin Stone
We asked wellness coaches, trainers, therapists, and dietitians what their favorite self-care tips were, and not just for their clients, but what they themselves do when they need an instant pick-me-up and balance for an otherwise stressful life.
These health experts shared tips that are so easy to implement — you can do most of them right now!
Turn On Some Music
Here's something you can do right this second: turn on some music! "Whenever I need to de-stress, I'll put on some loud music and dance around my house with my son," said Elaine Hayes, Pilates master teacher and founder of MNT Studio. "Music is such a powerful tool and can completely reset your mood." Put on a happy playlist and shake out the bad mood.
Don't Skip Dessert
"Sometimes, you should eat a little more dessert." Believe it or not, this tip comes from a dietitian. Lori Zanini, RD, CDE, told POPSUGAR, "So much advice we see is about not caving to cravings, but no one food should always be off limits." AMEN! "I've found that when we have this 'all foods can fit into a healthy lifestyle' mentality, we are actually less like to overeat and we end up enjoying our meals so much more!" You heard her — go get that brownie.
Cook a Nourishing Meal
When she's not training clients, running her business, or working out on her own, movement coach and injury prevention specialist Liz Letchford, MS, ATC, says she is "spending the time to make myself a healthy meal nourishes both my body and my mind." She told us that "cooking is very meditative; I like to slow down and enjoy every second of the meal prep."
Roll It Out
She'll kick your butt in the gym, but she's the queen of recovery days. Liz is known to always have her set of massage therapy balls on hand for an impromptu fascia release session. "Rolling on my yoga balls allows me to recover before my next workout, address any tight muscles, and spend some much needed downtime with myself." She's a tough trainer, but she recommends all her clients get adequate rest and recover properly — it's a huge part of self-care.
Get a Massage or Bodywork
Whether you head to a swanky spa, go for a quick session at a Massage Envy, order an on-demand Zeel massage at your house, or do a little self-massaging, this is a great way to take care of your body. Yogi and meditation coach Ericka Montana loves getting a "Tui Na massage [a Chinese style of massage] with cupping to relieve stagnation, energize the body, and recover from injury."
Have a Self-Care Power Hour
And put it on your calendar! Lisa Eberly-Mastela, RD, MPH, told us that she does this "at least one to two times per week." She schedules a little relaxation time (it's actually in her Google calendar); if you have a hard time giving yourself a breather and are constantly buried in meetings, this is genius!
"I go somewhere relaxing — if my husband is home, it's a quiet coffee shop; if he's not, it's a big cozy chair in our house," she said. "I get something delicious (aka a chocolate croissant from our local bakery), bring my Kindle and avocado oil (stay with me), and spend at least one full hour reading for pleasure while eating a croissant and massaging my own hands, arms, neck, or feet with avocado oil — no phones allowed, yoga pants only." Sounds like a dream date.
Unplug
Health and wellness coach Caroline Jordan is always on social media for her business, but her favorite self-care tactic is to disconnect. "Setting boundaries with my phone, aka no phone zones," she said, describing her best feel-better tactic. "Giving myself set times per day to unplug and be fully present, whether it's for writing, a bubble bath, or coffee with a friend." We could all use a little bit of that, no?
Come Back to Your Breath
Therapist and coach Heidi Ligouri MC, LPC, NCC, has a very yogic approach to self-care: take some deep breaths. "The basics for me always start with the breath," she said. "Finding a quiet space either within my home or out in nature to ground myself and reconnect with my breath is always my starting place." Pause for a moment right now and close your eyes to take a few deep, cleansing breaths.
"To me, this is the way back home to my truth and finding the resources I need to create the next moment in my life. There are many practices that can unfold from this space, but this is where it starts for me."
Meditate
"My favorite self-care practice I try to do daily is meditation for 10-20 minutes — which can also includes reading and reflecting," said yoga teacher, acupuncturist, and traditional Chinese medicine practitioner Dr. Magnolia Ng, D.C, CCSP, L.Ac. "This gets my mind ready to tackle anything the day brings and I don't feel overwhelmed. Also, it helps me compartmentalize my daily tasks and activities better."
Diffuse Oils
Liz also suggests turning on a diffuser for some aromatherapy. "Using my essential oil diffuser makes my office feel like a spa and my otherwise ordinary day feel indulgent."
Ericka suggests putting peppermint oil in your bath or shower for seasonal sinus and headache relief — it'll feel extra rejuvenating!
Take a Yin Yoga Class
Coming back to Heidi's yoga-centric, breathing-focused approach, she suggested "taking a yin yoga class," to unwind, slow down, and come back to your center. The slow, gentle flow will help you get back in touch with your body while you quiet your mind.
Indulge in a Comforting Dish
Another suggestion from Lori: make yourself a comfort food. "It got its name for a reason!" she said. "When I'm not feeling my best, I always find myself making one of my Southern mom's favorite comfort-food recipes. Warm casseroles with veggies, oatmeal, and pasta dishes are both nourishing to my soul and body, so I enjoy when I'm needing a pick-me-up and recommend my clients do the same."
Move
In addition to meditating, Dr. Magnolia loves "exercise or some kind of active movement daily." She told POPSUGAR, "Movement is so important for the body, and it doesn't have to be strenuous; it's whatever I feel like that day, whether it be swimming, yoga, or weightlifting." Keep it simple, but get your blood flowing and body moving.