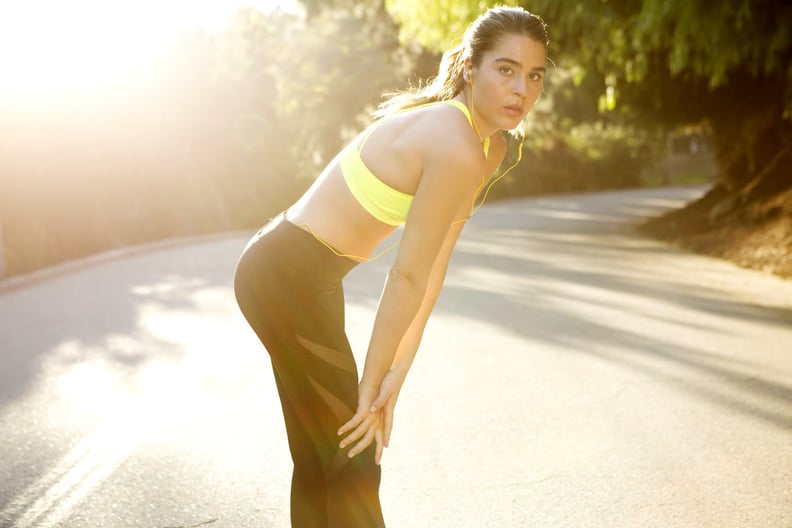 POPSUGAR Photography | Kat Borchart
POPSUGAR Photography | Kat Borchart
Last weekend I ran my fifth half-marathon; it was the San Francisco Marathon, and by this time around, I had finally considered myself somewhat of a seasoned veteran when it came to these things. After all, I had done four other races in the past year and a half — I had a system.
Said system included having my pasta dinner the night before, laying out my outfit and supplies (I have a half-marathon checklist for this), going to bed early, getting up at a certain time, eating the same breakfast every time, and getting to the event just before my corral starts (I hate waiting around for an hour until my "slow wave" corral gets to start — it really stresses me out). I had even scheduled my on-demand post-race massage with my Zeel app. Everything was in place.
As you can probably gather, I really felt like a pro. So much so that it didn't faze me when POPSUGAR asked me to take over the Snapchat account and give an inside look into a half-marathon. "No problem!" I thought. "I've totally got this!"
Well, overconfidence didn't serve me well, because I definitely didn't have my sh** together the way I thought I did. I broke the cardinal rule, guys. I forgot. to drink. water. I FORGOT TO DRINK WATER.
I know you might be thinking, "How do you just forget to drink water?!" Also: "How could you be so stupid?!" Trust me, I'm thinking the same things about myself. But it happened. Because it is so fundamental and basic, it's not on my checklist, and it just never occurred to me (Snapchat may or may not have played a role in this). I'm a hydration evangelist, and I forgot to drink water before a 13.1 mile run. WTF.
As you can imagine, things didn't go well for me. The race itself was still great, and I ended up getting a PR (!!), but my stomach HATED me. I couldn't go to the bathroom before my run (horrifying), and around mile eight when I grabbed my trusty vanilla Honey Stinger energy gel, I could feel an upset stomach coming on. I started grabbing two cups of water at every hydration station I could see, but it wasn't enough.
The entire rest of the day was plagued with crippling pangs of stomach pain and indescribable intestinal distress. I couldn't even eat until hours later, and when I could, it hurt my stomach. If you're thinking, "Whoa man, TMI, I don't need to know about your bowels," here's the thing: you need to know how horrible it is so you don't make the same mistake.
Needless to say, I'll be revising that checklist. It can happen to anyone. Races are stressful, even if you've done them before, and anyone can make a rookie mistake. There's so much planning and preparation that goes into these events, so even the basic, fundamental stuff can slip through the cracks . . . but have a maaaajor impact. Drink your water, people.