Train Like Olympic Gold Medalist Simone Manuel With These 10 Strengthening Exercises
There are a multitude of badass black women in sports, and one woman you most definitely need to know is Simone Manuel. She's a decorated professional swimmer and won both the 50-meter and 100-meter freestyle at the 2019 FINA World Championships — a feat that no woman has ever done before. Oh, and at the 2016 Rio Olympics, she became the first black woman to win an Olympic gold medal in the individual swimming category. Bottom line: she's legit and is continuing to ascend to the top of the history books.

POPSUGAR caught up with Simone to learn more about her workout routine, and her training is intense. "Usually every week I will have two practices on Monday, Wednesday, and Friday," Simone said. "One in the morning, one in the afternoon." On these days, she'll lift for an hour and also hit the pool. "My swim practices are two hours in the morning and an hour and 15 minutes in the afternoon," she continued. On Tuesdays and Thursdays, Simone trains for an hour in the morning. You can also catch her training on Saturday for an hour and recovering on Sunday. This is what it takes to be great.

While Simone can't share all of her training secrets, she did tell us a few of her favorite strengthening exercises for power and speed. We can't guarantee that you'll be on Simone's level, but these moves will definitely make you stronger and will complement any training program. Check them out ahead.

To learn more, visit teamusa.org. The Tokyo Olympics begin in one year on NBC.
01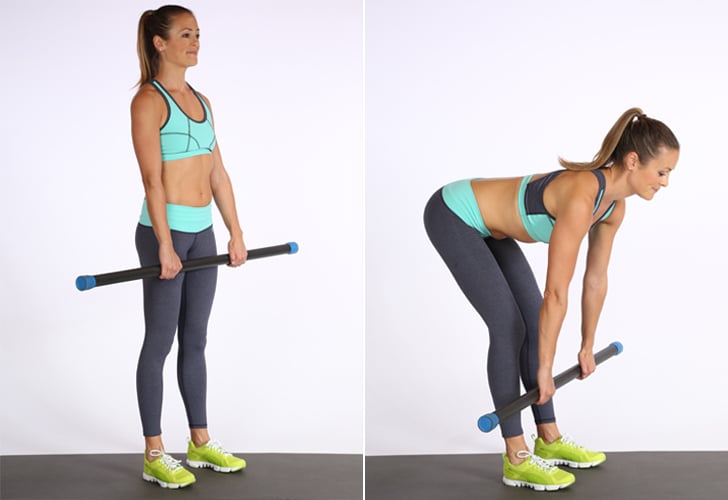 Romanian Deadlift
Holding the barbell (or two dumbbells at your side), keep your arms straight and knees slightly bent.
Slowly bend at your hip joint, not your waist, and lower the weights as far as possible without rounding your back, which should remain straight. Looking forward, not at the ground, will help you avoid rounding your back. Keep the weights close to, almost touching, your legs.
Squeeze your glutes to slowly pull yourself up. Be sure not to use your back or round your spine!
02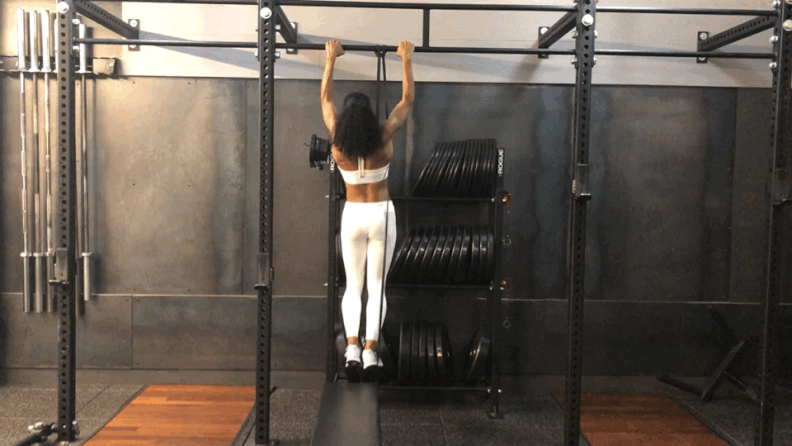 Banded Assisted Pull-Up
Place a large resistance band securely around a pull-up bar. A band with more resistance will provide you with more assistance/momentum to pull yourself up.
Stand on a stable object (a bench will work), and grip the pull-up bar. With one hand, place the band around the arch of your shoe. Fully extend the banded leg.
With a neutral spine and your abs engaged, pull yourself up. The band will provide you with momentum to lift your body up. Lower back down to the starting position.
03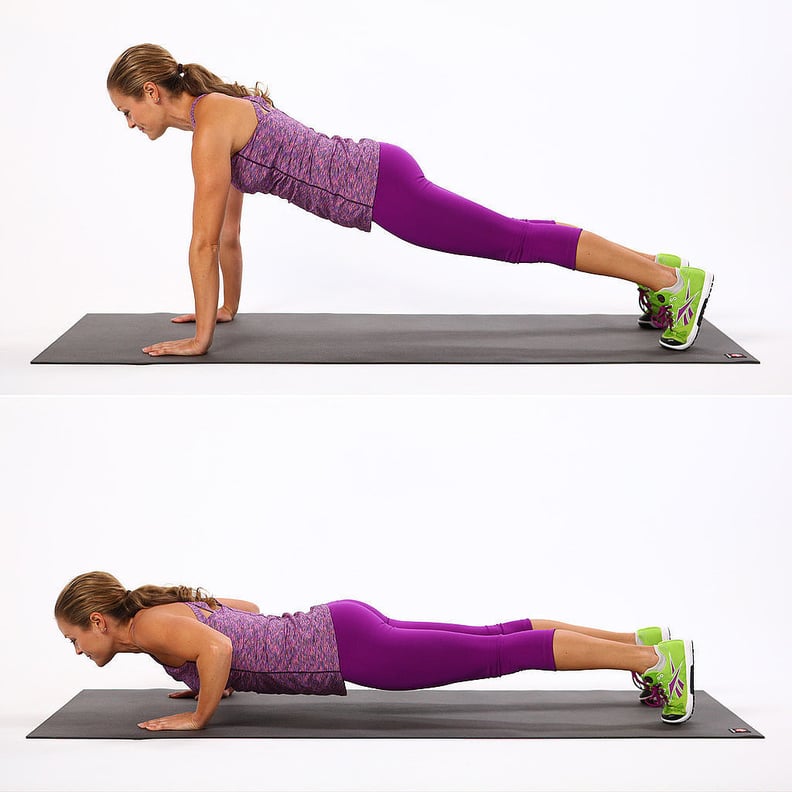 Push-Up
Start in a plank position, with palms spread out evenly and your shoulders over your wrists and legs out behind you. Pull your belly button in, and keep your back straight.
As you lower and exhale, bend your elbows outward to the sides. Hold at the bottom before you raise back up to complete one rep.
04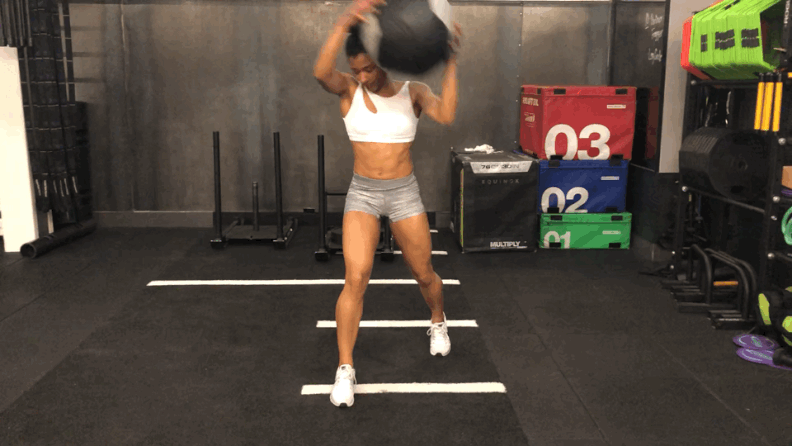 Rotational Ball Slam With a Lunge
Start in a lunge with your right leg forward. Be sure to keep your knee over your ankle, maintaining a 90-degree angle at the knee.
With the ball on the left side of your body, raise it up overhead, rotate your arms to the right, and slam the ball down on the outside of your right foot.
This counts as one rep.
05
Overhead Shoulder Press
Hold a dumbbell in each hand just above your shoulders, palms facing in.
Straighten your arms above you.
Bend your elbows, coming back to the starting position to complete one rep.
06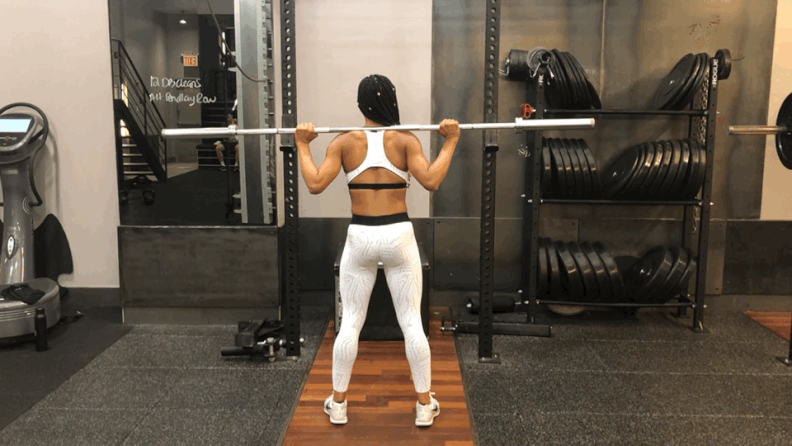 Barbell Squat
Start with a loaded barbell; 75 pounds is a great starting point. Beginners should start with just the barbell and gradually add weight as they become familiar with the movement.
Position your hands about shoulder-width apart on the barbell, and lightly grip the bar with an overhand grip.
Step in front of the rack, and rest the bar on your trapezius muscles (the muscle closest to your neck/upper back).
With your feet about hip-distance apart, lift the barbell off the rack. Take one to two steps backwards.
Shift your weight back into your heels. Brace your abs as you begin to lower into a squat, keeping your head and spine in a neutral position. Your knees should be as close to 90 degrees as possible. Hold for one second.
With your core still braced, drive through your heels to stand back up. Be sure to squeeze your glutes at the top of your squat. That's one rep.
07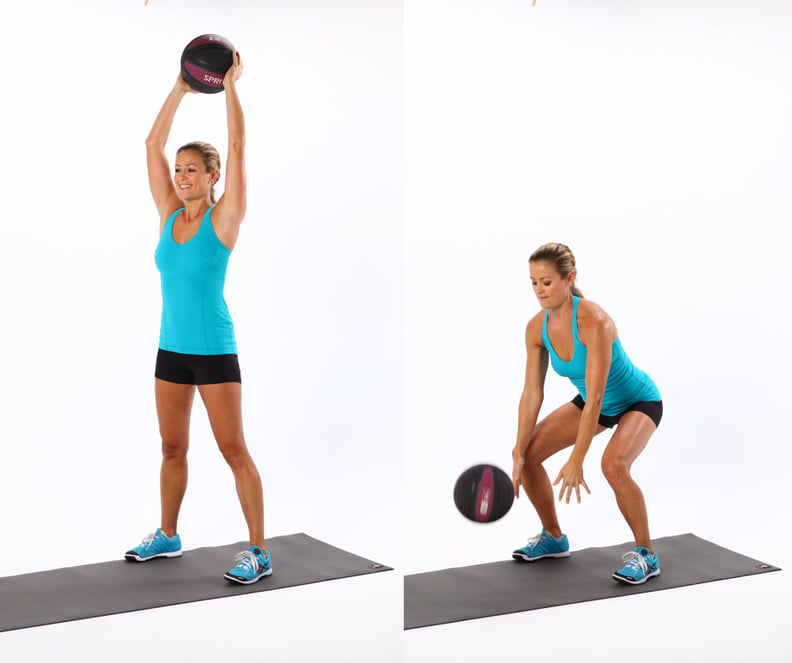 Medicine Ball Slam
Stand with your feet shoulder width apart, with a 10-pound medicine ball on the floor in front of you.
Squat down and pick up the medicine ball, keeping your head up and trying not to round the spine.
Stand up, lifting the medicine ball above your head, fully extending the arms straight above you.
Forcefully slam the ball down on the floor as hard as you can. If the ball is light enough, catch the ball as it bounces slightly off the floor.
This counts as one rep.
08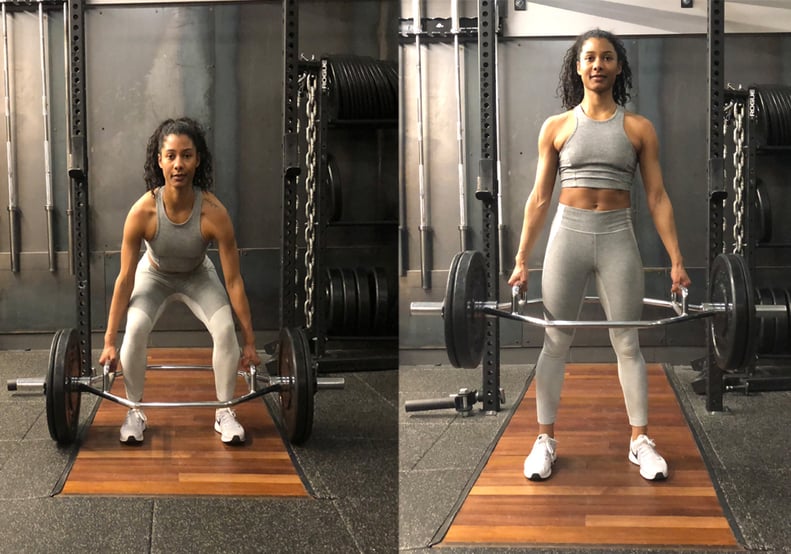 Deadlift With Hex Bar
Load the hex bar with the weight of your choice. If you're new to the move, start by just using the bar without any additional weight.
Stand in the center of the hex bar with your feet hip width apart.
Bend at your hips and knees as you grab the handles of the hex bar. Raise your hips up slightly, keeping your back flat, to create tension in the back of your legs (your hamstrings will feel tight).
Keeping your back flat and shoulders relaxed, drive your heels through the ground as you stand straight up.
Squeeze your glutes at the top of the lift to ensure you get full hip extension.
Continue to grasp the handles as you lower the weight to the ground with control. Be sure to keep your chest open and your back flat. This counts as one rep.
09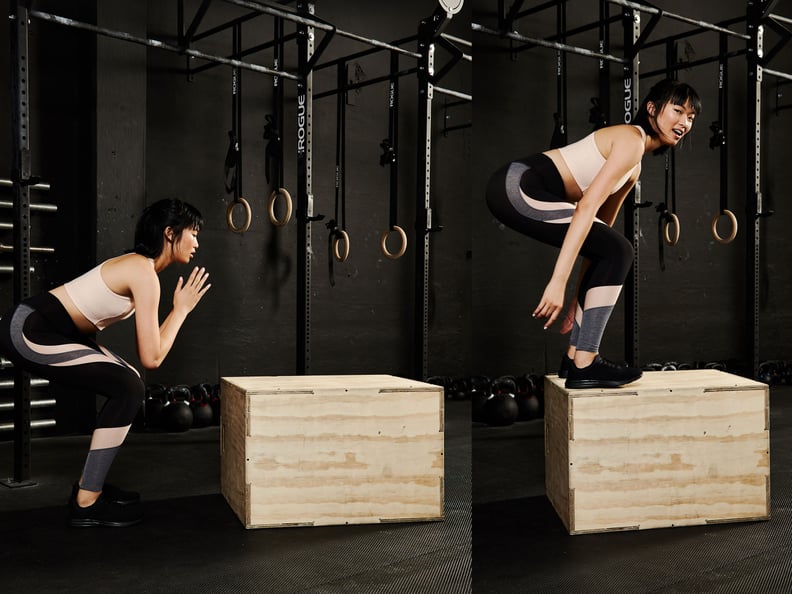 Box Jumps
Stand with your feet slightly wider than hips-width distance apart in front of a sturdy box that's six to 24 (or more!) inches tall.
Bend your knees and swing your arms back.
Jump onto the top of the box with both feet, swinging your arms forward to give you a little momentum.
Step one foot at a time back to the floor, or jump down softly with both feet.
This counts as one rep.
10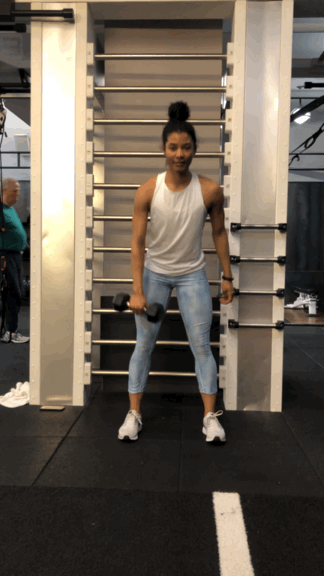 Dumbbell Power Clean
Start in a slight squat (close to a 45-degree bend in your knees) with a 10-pound dumbbell in your right hand.
Make sure that your back is flat, your weight is shifted back into your heels, and your right arm is extended down, in front of your right shin.
From here, drive your right arm straight up leading with your elbow. Simultaneously drive your heels through the ground, doing a slight jump coming into a fully extended position.
Next, flip your wrist so that the dumbbell is tight by your right shoulder as you lower into your squat position.
Stand up and straighten your right arm overhead. This completes one rep.