Holy Sh*t, This Weight Watchers-Friendly Cookie Dough Is Also Packed With Protein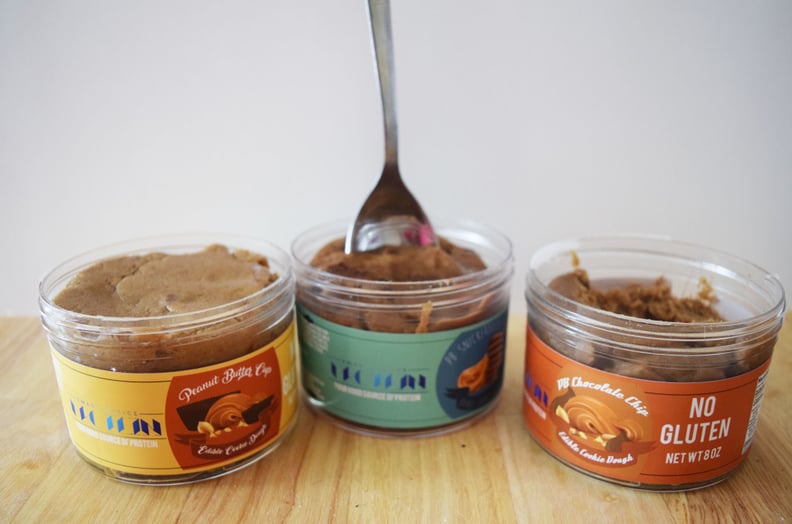 POPSUGAR Photography | Hedy Phillips
POPSUGAR Photography | Hedy Phillips
I've said it before, and I'll say it again: the best part about Weight Watchers is that you don't have to cut out any of the food you love. One of my absolute favorite treats is cookie dough. Sure, I like the actual cookies, but cookie dough is even better. But when it comes to having cookie dough while on Weight Watchers, I can only eat a very, very small amount before the SmartPoints add up.
And then I found Smart Choice Protein on Instagram. The gluten-free cookie dough is not only pretty low in calories, but it's also jam-packed with protein. Each two-tablespoon serving has just 130 calories and seven grams of protein. That rounds out to about four SmartPoints per serving, which is far less than if you ate a couple of conventional cookies or cookie dough.
The dough's base ingredient is peanut butter, which is where a lot of the protein comes from, before being mixed with protein powder and oat flower (to keep it gluten-free). The doughs are sweetened with both real sugar and stevia, and even though stevia is at the bottom of the ingredients list, you can still tell it's there. For someone who is used to sugar substitutes, though, it doesn't bother me. Other than the gluten-free flour and the addition of protein powder, the ingredients list is pretty standard for a cookie dough.
But how do they actually taste, you ask? Well, each jar is supposed to be nine servings, and I might have been a bit overzealous with my tasting adventure because my jar feels like it's about three servings. The texture is slightly different from conventional dough, thanks to the peanut butter and oat flour, and it's a little greasier than I'm used to, but the flavors are great. I tried PB Chocolate Chip, Peanut Butter Cup, and PB Snickerdoodle Chip, and the peanut butter flavor really shines through.
Each jar is $13, plus shipping, and trust me when I say it's well worth the price. Not only is it great for Weight Watchers clients, but also for anyone who wants a decadent treat that has some added protein. Or, you know what? It's good for just anyone who wants some extra cookie dough in their life . . . healthy or not.