Snow Monkey Vegan "Ice Cream" Is Like a Superfood Smoothie You Can Scoop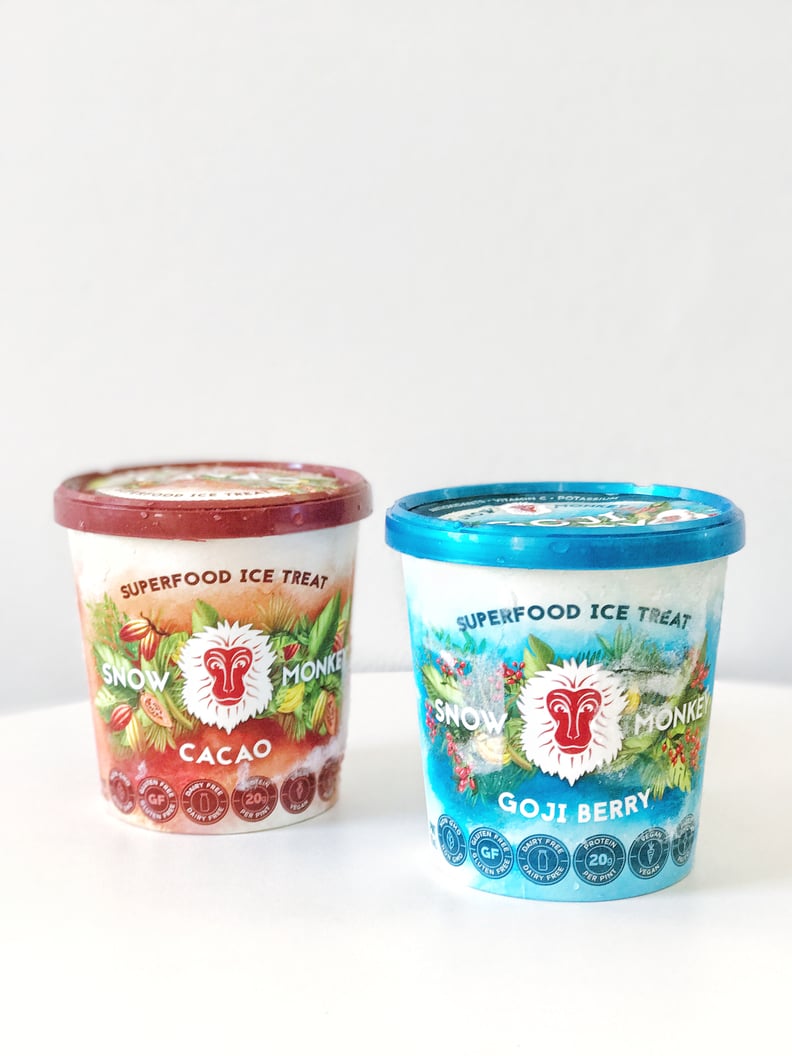 POPSUGAR Photography | Dominique Astorino
POPSUGAR Photography | Dominique Astorino
Unless you've been hiding under a rock (or somewhere very, very far away from the frozen section of the grocery store), you're well aware that the healthy ice cream market has exploded over the past year. With high-protein treats and dairy-free delights, there's a frosty confection for pretty much everyone, regardless of dietary restrictions.
The latest edition in the story of healthy ice creams is Snow Monkey, which just arrived to the POPSUGAR office last week. With bold packaging and flavors that definitely target the Gwyneth Paltrow-obsessed healthy eater (read: Goji Berry and Cacao), we were eager to get a scoop.
These "superfood ice treat" desserts are banana-based and blended with hemp protein to up the nutritional content. They're vegan, gluten-free, Paleo, nut-free, and offer 20 grams of protein per serving, something that is essentially unheard of in the vegan ice cream market. It's one of the cleanest packaged desserts you can get your hands on. Each half-cup serving comes in at 99 calories, with five grams of protein, two to three grams of fat, 16 to 17 grams of carbohydrates, and 12 to 14 grams of sugar. The goji berry flavor has no added sugar, but the cacao has four grams per serving from all-natural maple syrup. Loaded with antioxidants and micronutrients, this is essentially your favorite superfood protein smoothie in scoopable ice cream form.
In terms of taste — well, our testers said there was a little left to be desired, but they may not have been anticipating the smoothie-bowl flavor vs. traditional ice cream. It was a bit polarizing; scores ranged from "Yeah — no" and "this made my taste buds angry" to "delicious banana smoothie" and "creamy, bitter dark chocolate taste; very rich." One reviewer said "the first bite is off-putting for reasons I am unsure of, but after that it tastes like a delicious smoothie." We'll let you judge for yourself; you can find Snow Monkey products on the company's website in six-packs for $48.
★★☆☆☆