Sugar-Free Vegan Blueberry Muffins
These 100-Calorie Muffins Are Bursting With Sweet Blueberries and Made Without Refined Sugar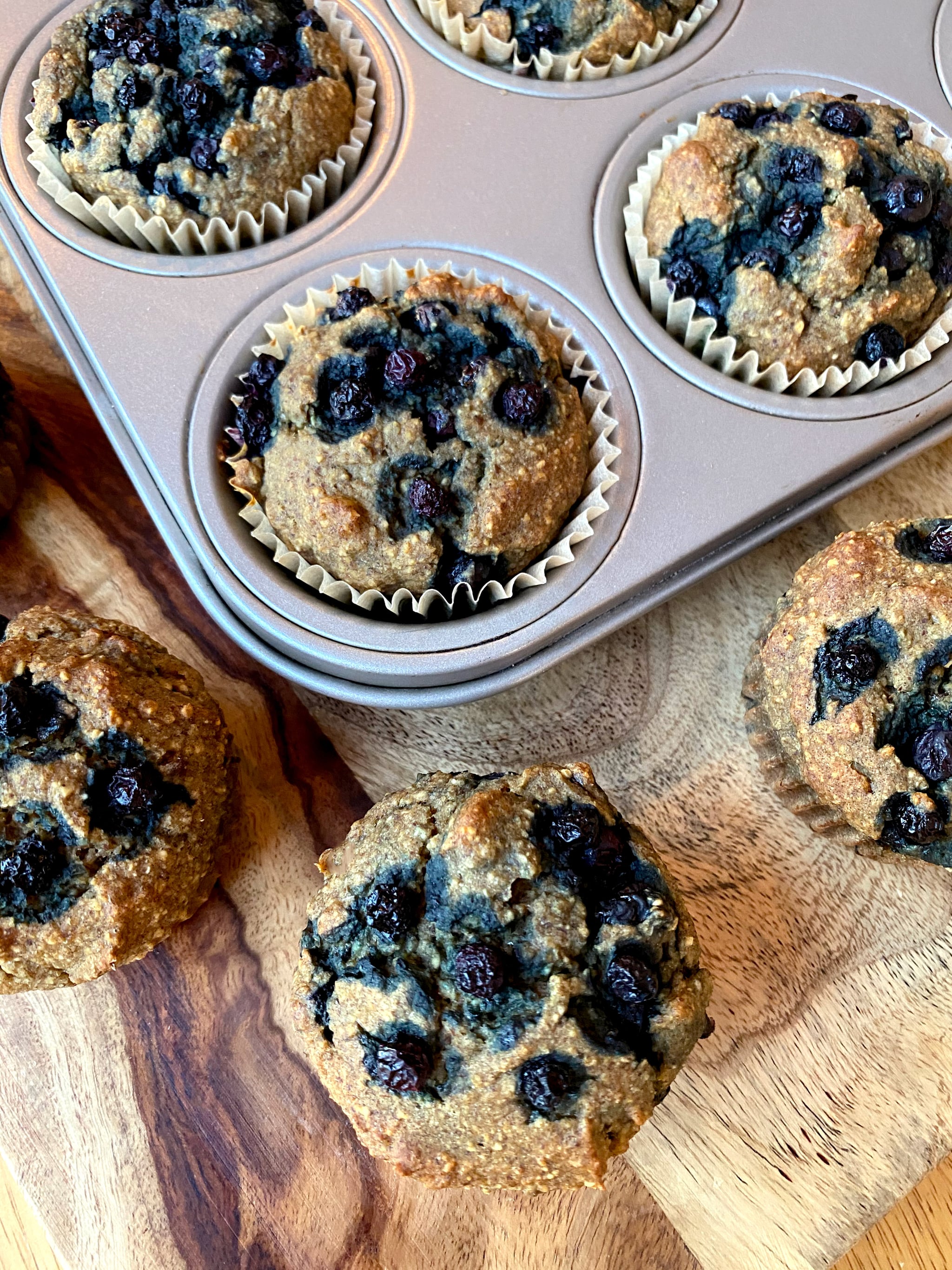 I cannot get over how deliciously sweet these muffins taste — and they're made without refined sugar! If you're feeling a little sugared out from all the holiday goodies and cutting down on refined sugar is one of your goals, bake up these supermoist blueberry muffins, sweetened naturally with dates, banana, and applesauce. They're full of delightful, juicy, blueberry flavor, and are also made without butter or eggs, so they're vegan — perfect if eating plant-based is another one of your goals.
I used medjool dates in this simple recipe, but any variety will work since you soften them in hot water. This makes for a smooth consistency when you place them in the food processor. Look for dates in the produce section, the refrigerated section (like at Trader Joe's), or in the dried fruit section where you'd find raisins.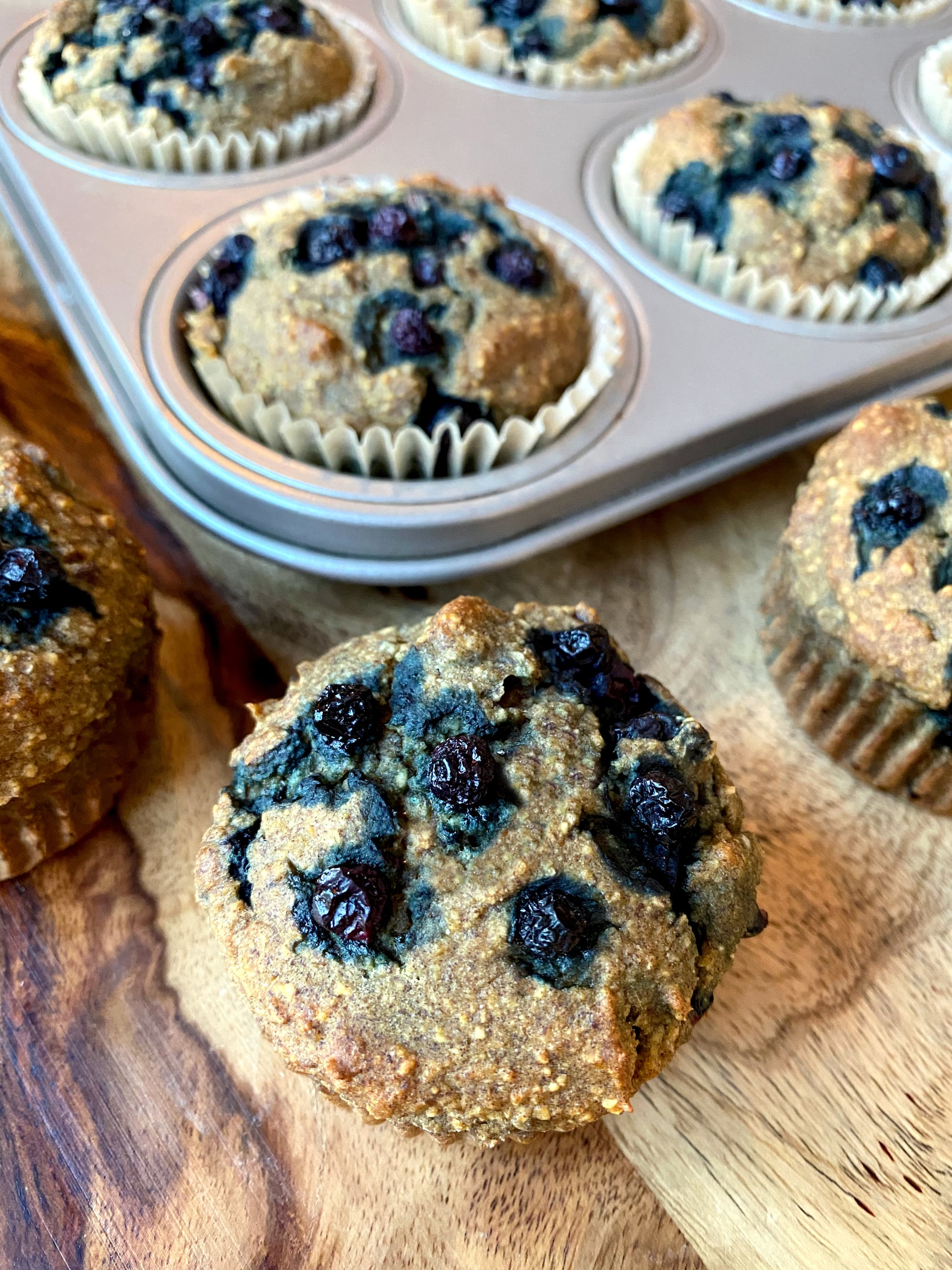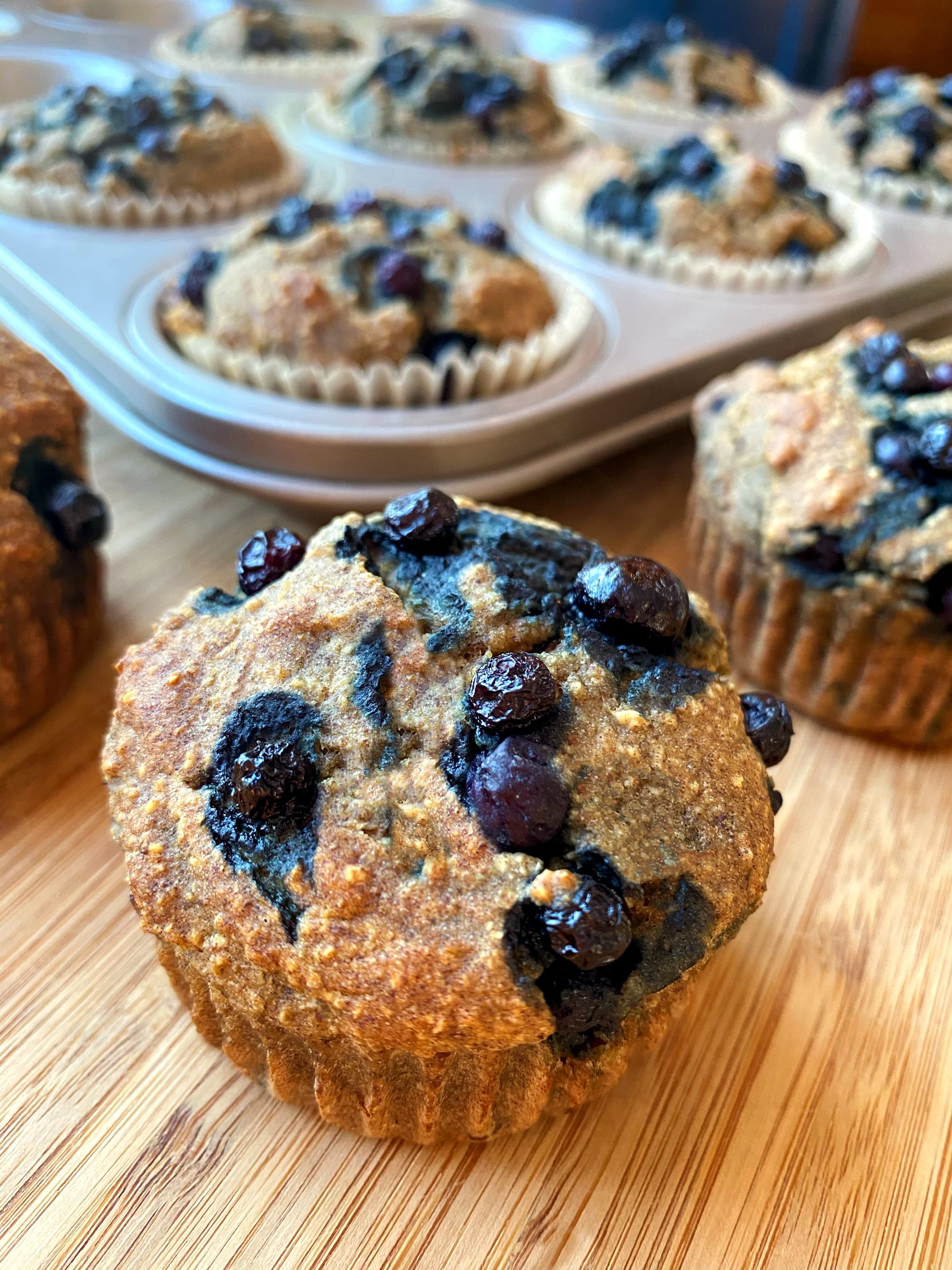 This low-fat muffin recipe is gluten-free and made with rolled oats that you process into a slightly coarse flour, so they're full of satiating complex carbs and fiber. They're great for meal-prepping for snacks or breakfast for the week, since they last five days in the fridge and also freeze well. Although when I make them for my family, they never last long enough to save! If you want more sugar-free recipes, try these date-sweetened cookies.
Sugar-Free Vegan Blueberry Muffins
Jenny Sugar, from POPSUGAR Fitness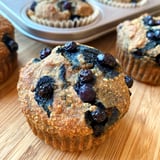 Ingredients
1 cup dates (about 8 or 130 grams)
2 1/2 cups rolled oats
1 teaspoon baking soda
1/2 teaspoon baking powder
1 teaspoon cinnamon
1 cup dairy-free milk, divided (I used Silk Unsweetened Soy Milk)
1 teaspoon apple cider vinegar
1 large very ripe banana (fresh or frozen)
2 tablespoons flaxmeal
1 teaspoon vanilla
3 tablespoons applesauce
1 1/4 cups blueberries, divided (fresh or frozen, save 1/4 cup to sprinkle on top)
Directions
he
Add the dates to a measuring cup or bowl and cover with hot water. Set aside to soften.
Preheat oven to 350 degrees. Line a muffin tin with 12 cups.
Add the rolled oats to a food processor and process a minute or so until you have a slightly coarse oat flour.
Add the baking soda, baking powder, and cinnamon, and process until mixed.
In a small bowl or measuring cup, mix together one half cup of the oat milk with the apple cider vinegar and set aside.
To the food processor, add the other half cup of oat milk, ripe banana, flaxmeal, applesauce, and dates (discard the water from soaking) to the food processor and process until a batter forms.
Add the milk/vinegar mixture and process until smooth.
Hand mix one cup of the blueberries into the batter, saving one-quarter cup to sprinkle on top.
Fill the 12 muffin cups evenly with batter, filling them about three-quarters full, and sprinkling a few blueberries on top.
Bake muffins for 22 to 25 minutes or until a toothpick inserted comes out clean.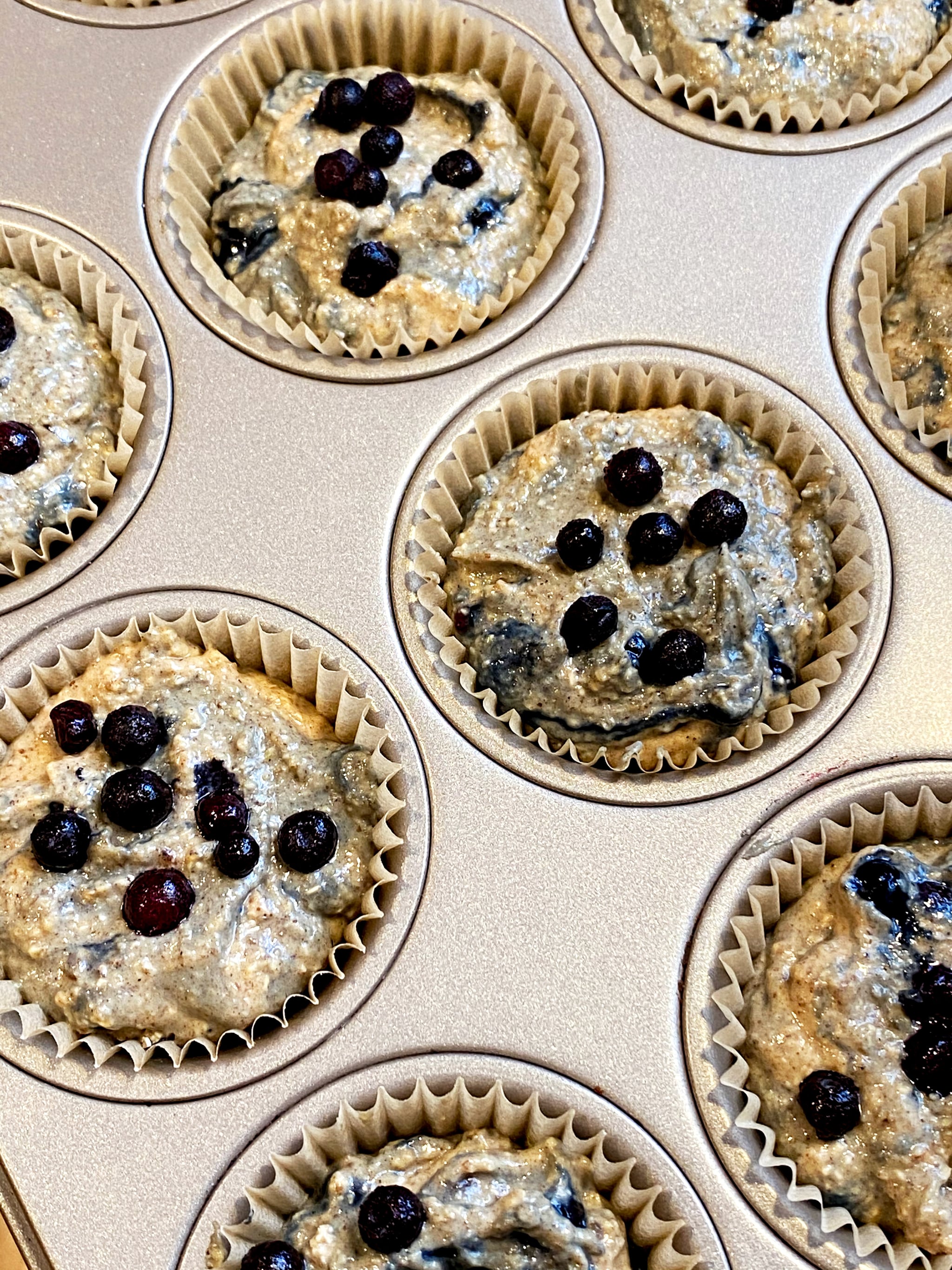 Here's the nutritional information from VeryWell.com for one muffin: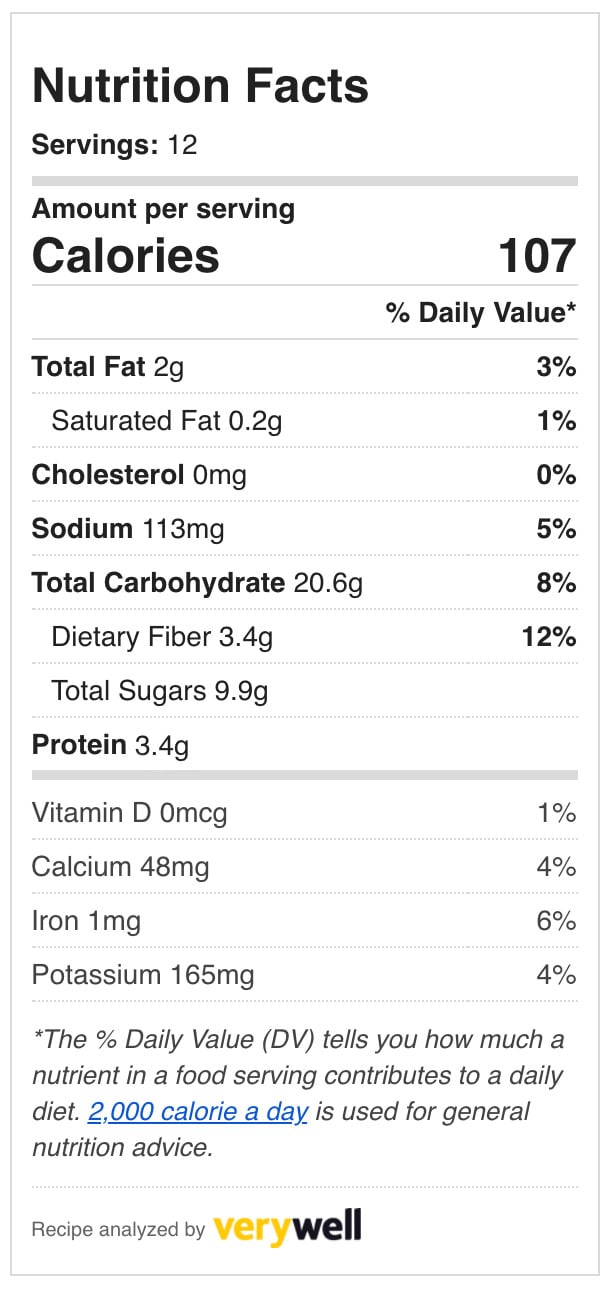 Information
Category

Desserts, Cake

Yield

12 muffins

Prep Time

15 minutes

Cook Time

25 minutes

Total Time

39 minutes, 59 seconds
Nutrition
Calories per serving

107