No matter what your fitness or wellness goals are, getting enough protein in your diet is a key part of fueling your body. According to the USDA, the Recommended Dietary Allowance for protein is around 0.36 grams per pound of body weight, depending on your age, height, and activity level. As a general estimate, adults need 46-56 grams of protein per day, but you can calculate your exact needs on the USDA website.
The USDA has plenty of recommendations for the best way to meet your protein requirements, including consuming mostly lean protein that includes a good mix of seafood, nuts, and plant-based sources. But it's not always easy to make that perfect food-pyramid plate happen every day, whether that's due to a busy schedule, listening to your body's cravings, or just having a fun night out.
And sometimes, a girl's just gotta have her Taco Bell. Thankfully, with its variety of high-protein orders and delivery systems (we're looking at you, Crunchwrap), this beloved takeout option has plenty of meals with 20-plus grams of protein to fuel your body and keep you feeling satisfied. We scoured the brand's website for the nutrition info on every menu item and picked out the best high-protein Taco Bell options for your next drive-through run.
Whether you are on your way home from a workout or need a fulfilling breakfast, here are the highest-protein Taco Bell orders you can place.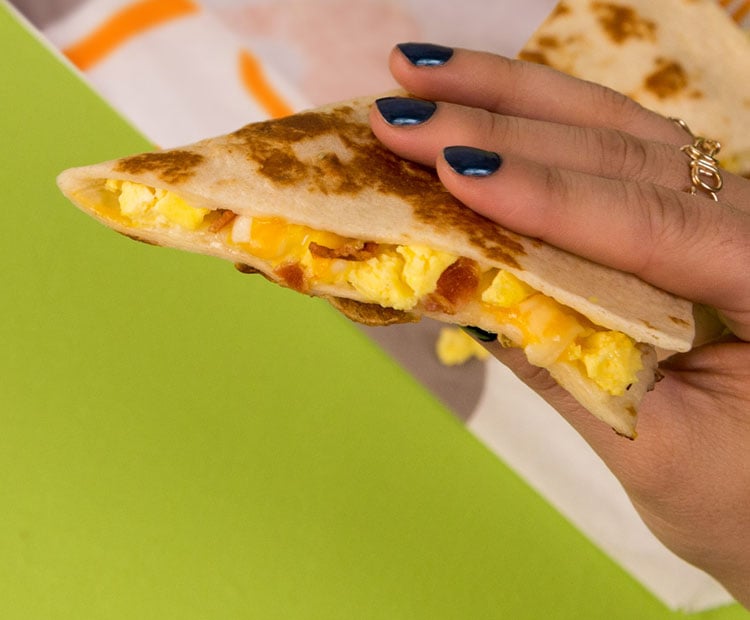 High-Protein Taco Bell Menu Items
Fiesta Veggie Burrito: 14 grams
A value-menu favorite and high-protein Taco Bell order, this vegetarian burrito is rolled with 14 grams of plant-based protein.
Burrito Supreme: 16 grams
Taco Bell's classic burrito is ready to fuel you with 16 grams of protein from beef and beans.
Crunchwrap Supreme: 16 grams
The Crunchwrap Supreme is indeed supreme when it comes to protein content, with 16 grams of protein, from beef, sour cream, and cheese.
Nachos BellGrande: 17 grams
Topped with refried beans and seasoned beef, this tailgate favorite supplies you with 17 grams of protein, which means you'll definitely make it until the end of the game.
Cheese Quesadilla: 18 grams
When it comes to comfort food, there's nothing like a crispy, cheesy quesadilla. You can enjoy yours knowing it's packed with 18 grams of protein, or add steak to bump it up to 26 grams.
Hash Brown Toasted Breakfast Burrito: 18-20 grams
Choose from bacon (20 grams of protein) or sausage (18 grams of protein) in this burrito that combines the best of both worlds — burritos and hash browns — while providing plenty of protein.
Beefy Melt Burrito: 20 grams
This high-protein Taco Bell value-menu item clocks in at just $2 and 20 grams of protein, making it friendly to both your wallet and your workout goals.
Cheesy Gordita Crunch: 20 grams
The Cheesy Gordita Crunch isn't just a sensation — it also packs 20 grams of protein, which is pretty impressive for what's technically a single taco.
Breakfast Crunchwrap: 21 grams
Taco Bell's beloved Crunchwrap also exists in breakfast form, clocking in at 20 grams of protein if you order it with sausage and 21 grams of protein if you opt for bacon.
Bacon Breakfast Quesadilla: 25 grams
After a long morning workout, this high-protein Taco Bell item — which contains a whopping 25 grams of protein — is a great choice. Why not have a breakfast quesadilla every a.m.?
Power Menu Bowl: 26 grams
True to its name, the Power Menu Bowl packs 26 grams of protein from black beans and grilled chicken. Unlike other high-protein Taco Bell menu items, this one also offers some servings of vegetables.