These Are the 10 Trader Joe's Products 1 Fitness Editor Can't Live Without
Getting the Trader Joe's logo tattooed on my wrist wouldn't seem like a crazy idea to me. That's how obsessed I am with this store! The closest one is just under 25 minutes from me, and it's completely worth it. Without fail, I hit it up once a week, and here are the staples I buy.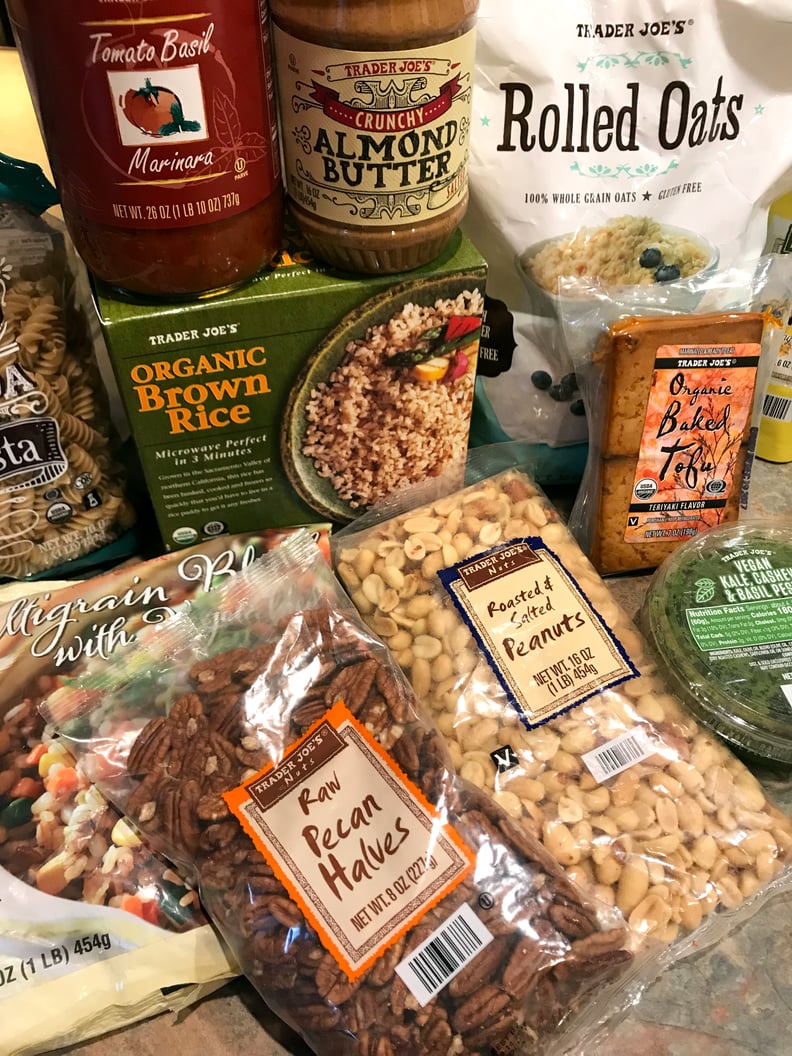 Nuts and Seeds: Pecans, raw almonds and cashews, chia seeds, hemp hearts, flaxmeal, salted sunflower seeds — I use these for every single meal and for many of my recipes, including these vegan chocolate salted caramels. These are by far the cheapest I've found, aside from Costco, of course.
Salted Crunchy Almond Butter: I definitely go through a jar of this per week! I use it for toast, paired with bananas or sliced apples, in oatmeal and granola bar recipes, and straight out of the jar.
Organic Teriyaki Baked Tofu: This is firm and full of flavor; I cube it and add it to mason jar kale salads for the week, add it to Trader Joe's frozen Vegetable Fried Rice, or use it in burritos. One square offers 16 grams of quick protein.
Vegan Kale, Cashew, and Basil Pesto: This was a recent find, and I literally shrieked in the store when I saw it. The woman next to me was not impressed. Made with cashews, it's great on pasta, spread on crackers, smeared on paninis, and added to roasted veggies used for pizza toppings. This is easily one of my top five favorite Trader Joe's products.
Gluten-Free Rolled Oats: For overnight oats, baked oatmeal, granola bars, DIY oat flour, and date-sweetened cookies, these are so cheap for being gluten-free!
Frozen Cooked Brown Rice and Quinoa: OK, so I know I could make my own frozen cooked grains, but these cost just a few bucks and they're already made! I love the organic brown rice, the quinoa, and the grains mixed with veggies. They're great to have on hand for quick meals.
Pasta: You can't go wrong with pasta! I love that Trader Joe's offers interesting kinds like red lentil, black bean, and brown rice and quinoa and basics like no-bake lasagna noodles.
Tomato Basil Marina: For tofu lasagna and maple cumin lentils, this sauce is basic but delicious.
Frozen Fruit: For smoothies, oatmeal, and nice cream, I'm a huge fan of Trader Joe's frozen mango chunks, blueberries, raspberries, cherries, and strawberries and also its acai packets.
Baking Ingredients: I bake at least twice a week, so I keep my pantry stocked with bakery essentials. Some of my favorite Trader Joe's products are Organic Coconut Oil, Almond Meal, Pure Bourbon Vanilla Extract, and Coconut Sugar.