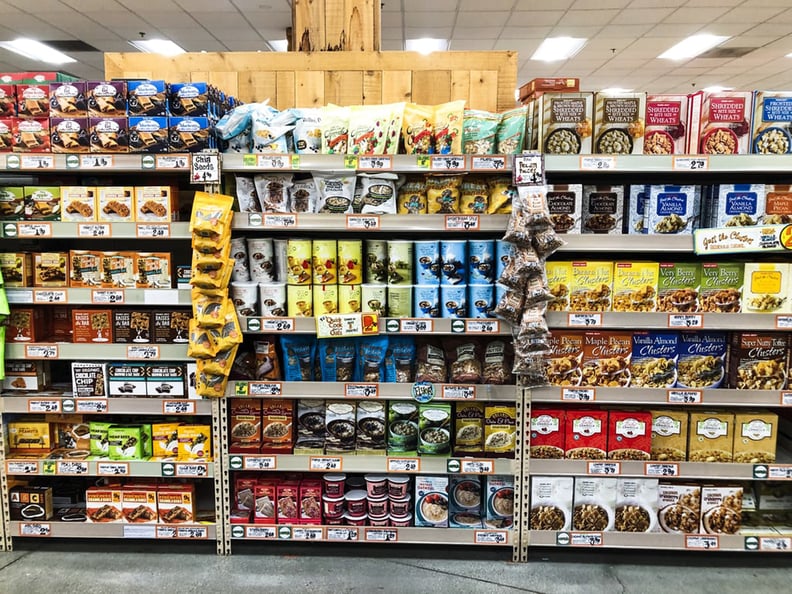 POPSUGAR Photography | Hajar Larbah
POPSUGAR Photography | Hajar Larbah
We're huge fans of Trader Joe's healthy foods — there is such a large variety and their products are so affordable. Buying the foods on this Trader Joe's shopping list will make nutritious cooking and eating so much easier! When you prepare your own food, you can decide exactly what goes onto each plate and tailor your meal plan to meet your goals, whatever they may be.
It can be overwhelming walking through the doors, and it's so easy to grab the newest products that look fun and interesting, but they may not always be the healthiest options. So arm yourself with this shopping list — specifically designed for going aisle by aisle at Trader Joe's — to help keep you on track. It's the perfect place to stock up, because TJ's shelves are loaded with the goods to inspire meal prep and home-cooked meals that make healthy eating easier.
Prices and products may vary by Trader Joe's location.
— Additional reporting by Lauren Harano and Jenny Sugar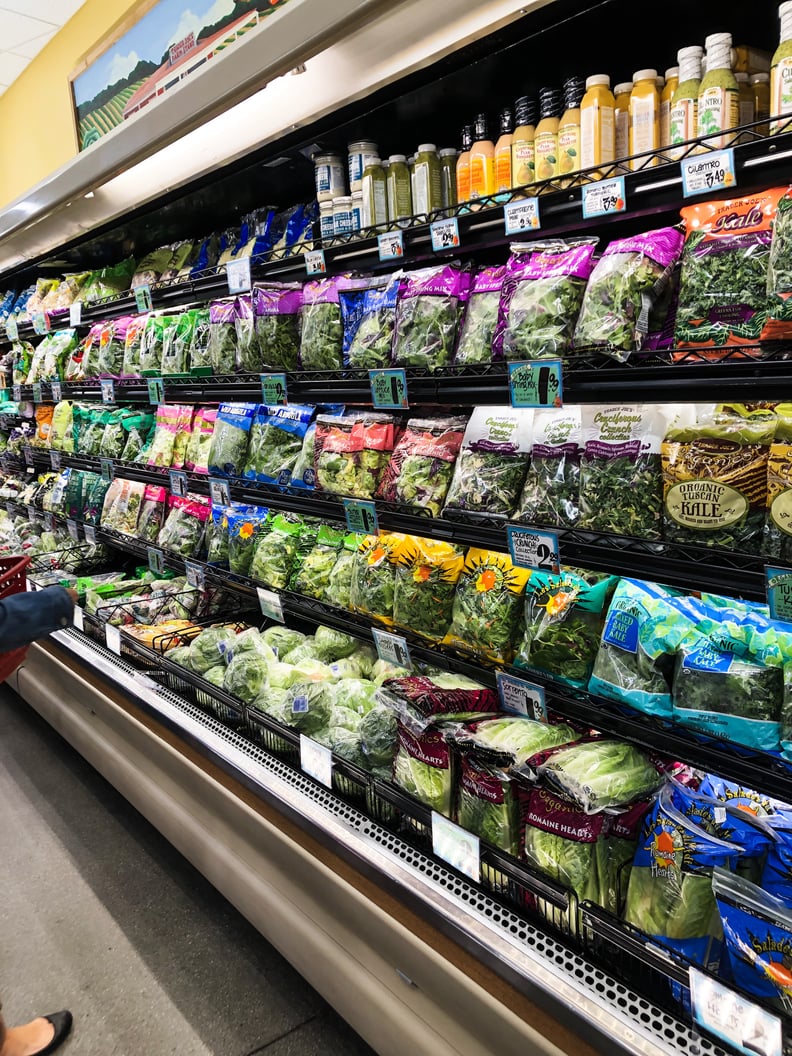 Trader Joe's Shopping List: Vegetables
Aim to fill half your cart with fresh vegetables and fruits, just as you would your plate. Trader Joe's offers some veggies pre-chopped to make meal prep even easier.
Salad mixes (love the Southern Greens Blend, Cruciferous Crunch, and the chopped salads)
Brussels sprouts
Broccoli
Zucchini
Asparagus
Mushrooms
Carrots
Cucumbers
Tomatoes
Bell peppers
Sweet potatoes
Onions
Potatoes
Murasaki sweet potatoes (also called Japanese sweet potatoes)
Butternut squash spirals
Riced cauliflower
Salad spring mix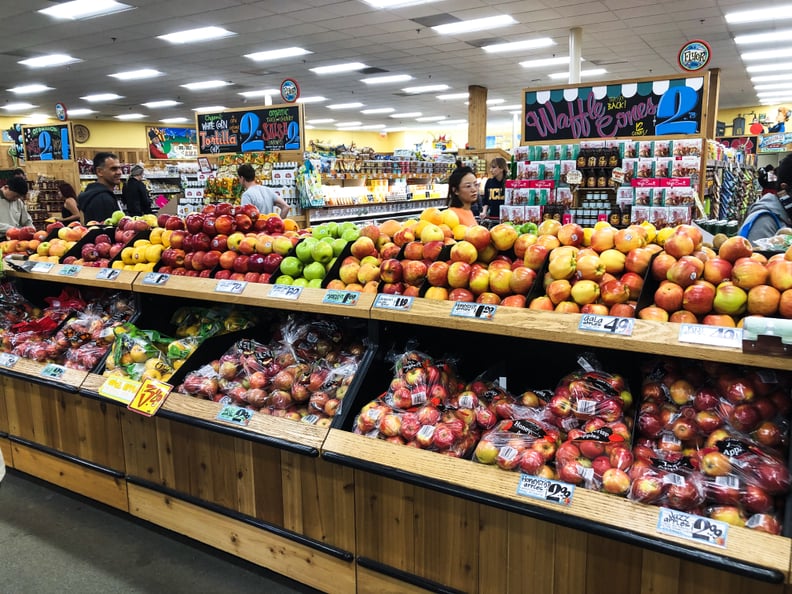 Trader Joe's Shopping List: Fruit
When you can, eat the fruit that's in season. This often helps cut down on your grocery bill.
Strawberries
Raspberries
Blueberries
Mango
Papaya
Grapefruit
Kiwi
Pineapple
Cantaloupe
Apples
Oranges
Bananas
Pears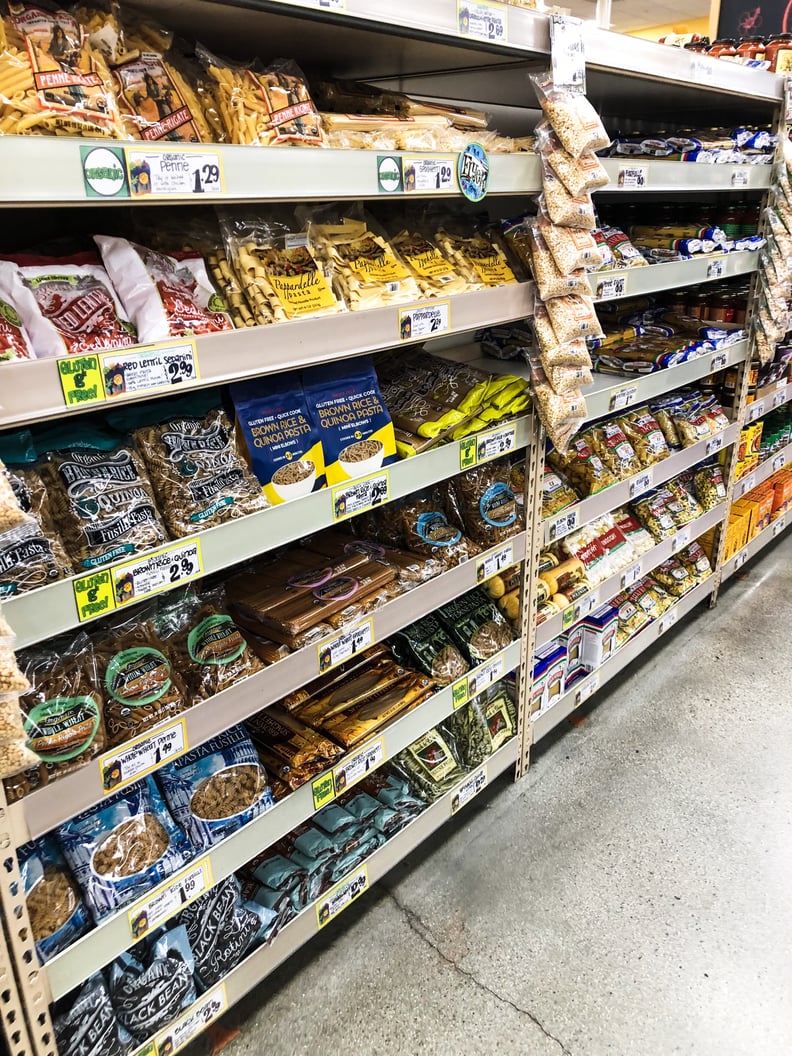 Trader Joe's Shopping List: Grains, Pasta, and Bread
Complex carbs are nutritious and filling, and there are so many healthy options to pick from.
Rice (basmati, jasmine, brown rice medley, and calrose)
Quinoa
Barley
Farro
Lentils
Whole-grain pasta
Red lentil pasta
Gluten-free pasta
Whole-grain bread
Corn tortillas
Gluten-free brown rice tortillas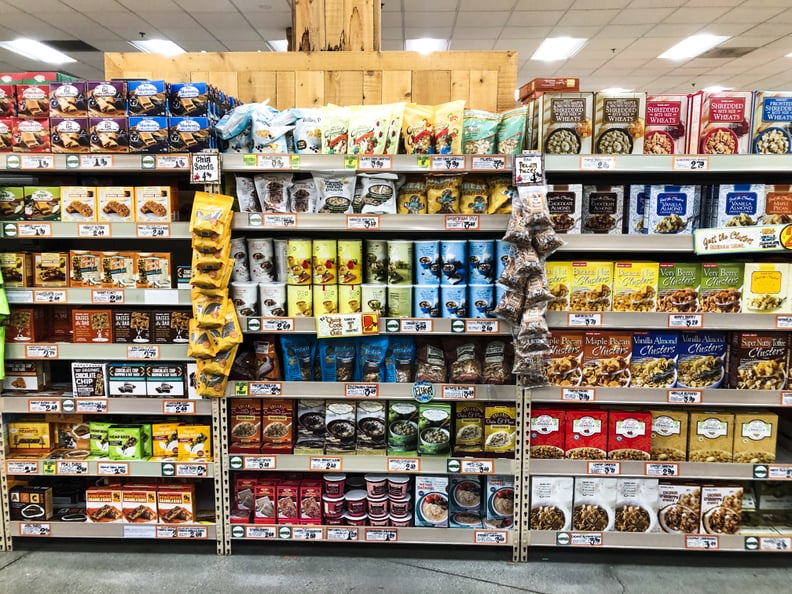 Trader Joe's Shopping List: Breakfast Staples
Breakfast doesn't have to be a chore. Grab these ingredients so you can whip up some overnight oats or a simple yogurt bowl.
Oatmeal/oats
Cereal
Muesli
Bars
Chia seeds, hemps seeds, flaxseeds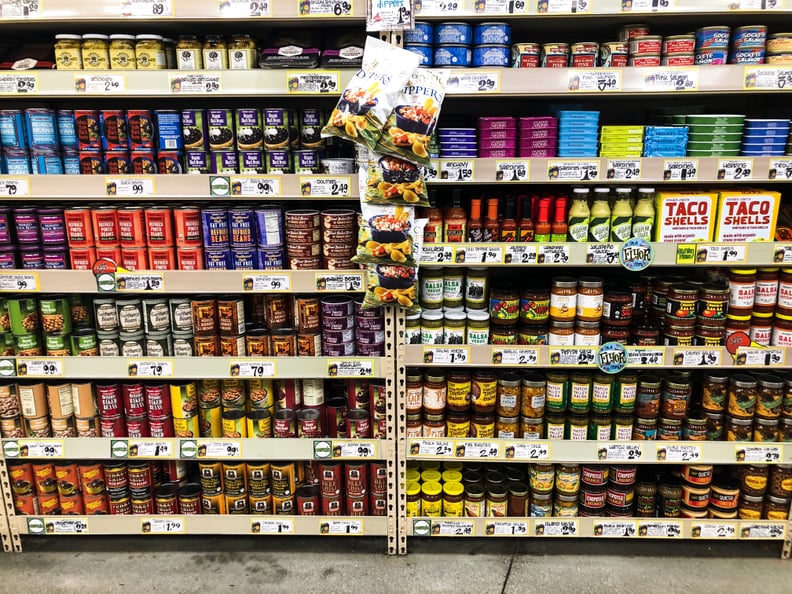 Trader Joe's Shopping List: Canned and Jarred Goods
There are tons of plant-based protein options in this section, and Trader Joe's is famous for its delicious variety of salsas.
Beans
Chickpeas
Tuna
Sardines
Diced tomatoes and tomato paste
Ketchup
Mustard
Broth
Salsa
Green chilis
Hot sauce
Soy sauce
Curry sauce
Coconut milk
Olives
Artichoke hearts
Roasted red peppers
Dolmas
Nut butter
Tahini
Applesauce
Fruit-sweetened jam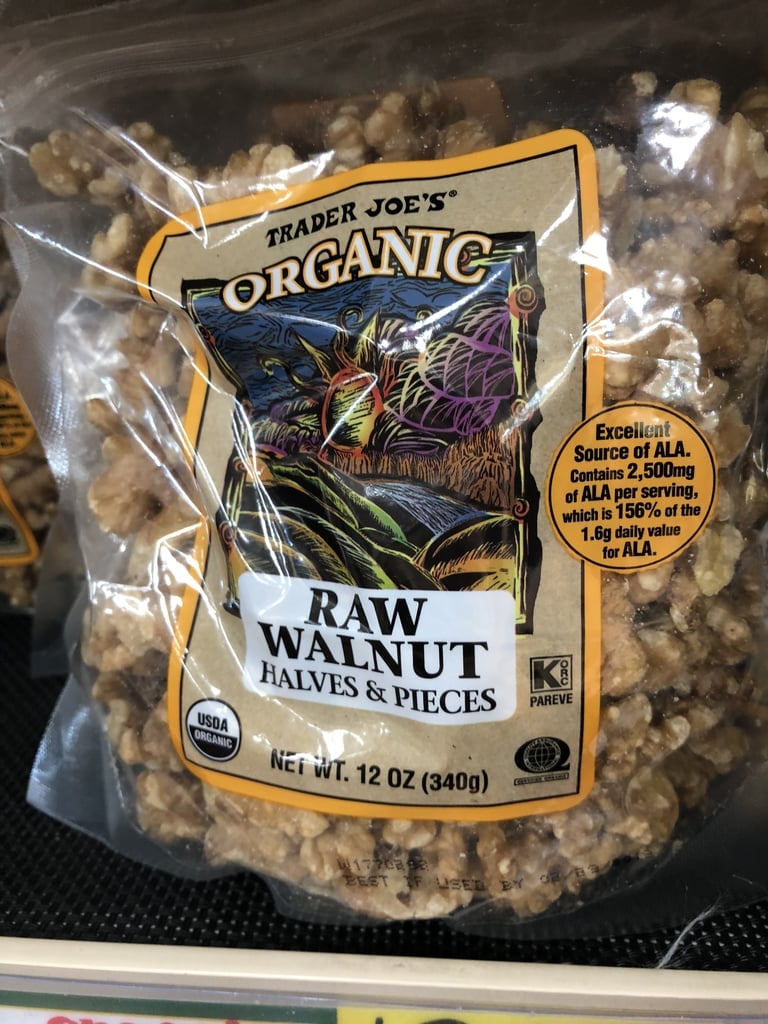 Trader Joe's Shopping List: Nuts and Dried Fruit
For protein and fiber, definitely hit up the nuts and seed section of Trader Joe's. Right next to it you'll also find dried fruit, which can make for great snacks, or used in breakfast and healthy baking recipes.
Trader Joe's nuts and seeds:
Almonds
Walnuts
Cashews
Peanuts
Sunflower seeds
Pumpkin seeds
Hemp seeds
Trail mix
Trader Joe's dried fruit:
Raisins
Dates
Dried apricots
Apple rings
Dried cranberries
Dried cherries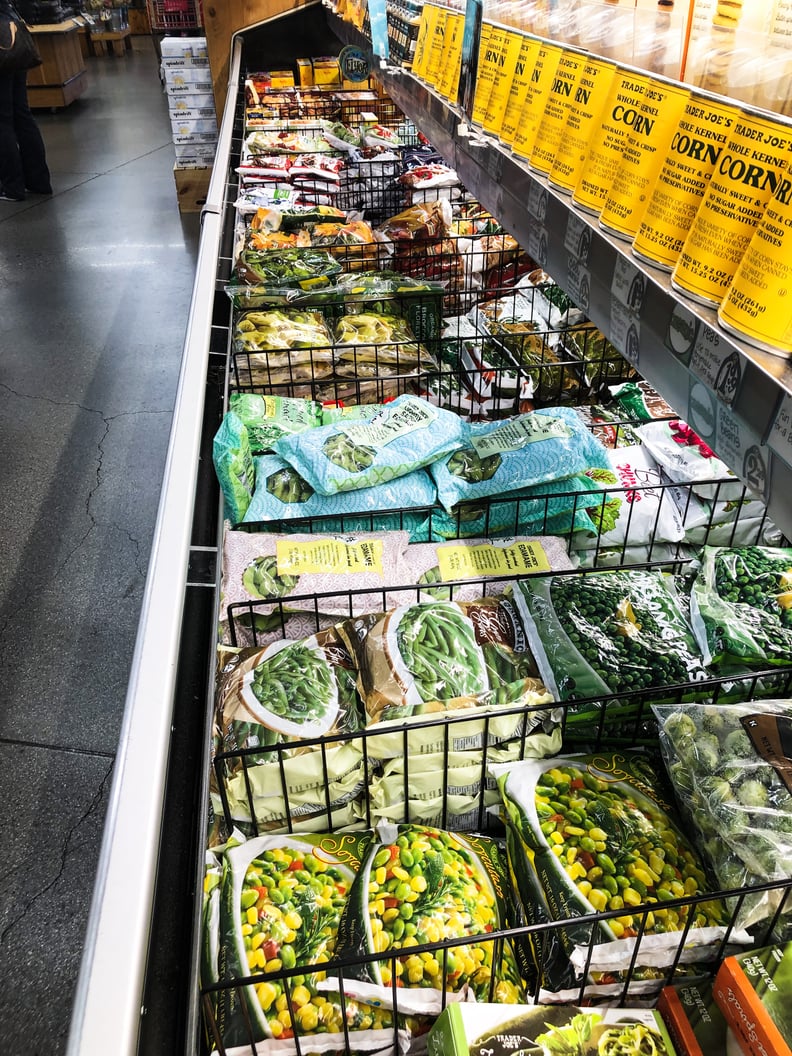 Trader Joe's Shopping List: Frozen Foods
Trader Joe's is a mecca of frozen foods that make throwing dinner together a breeze.
Cauliflower rice
Vegetables (love the fire roasted corn, rainbow cauliflower, and edamame mix!)
Fruit (mango, blueberries, acai)
Cauliflower gnocchi
Vegetable patties
Zucchini spirals
Acai puree packets
Veggie burgers
Falafel
Jackfruit cakes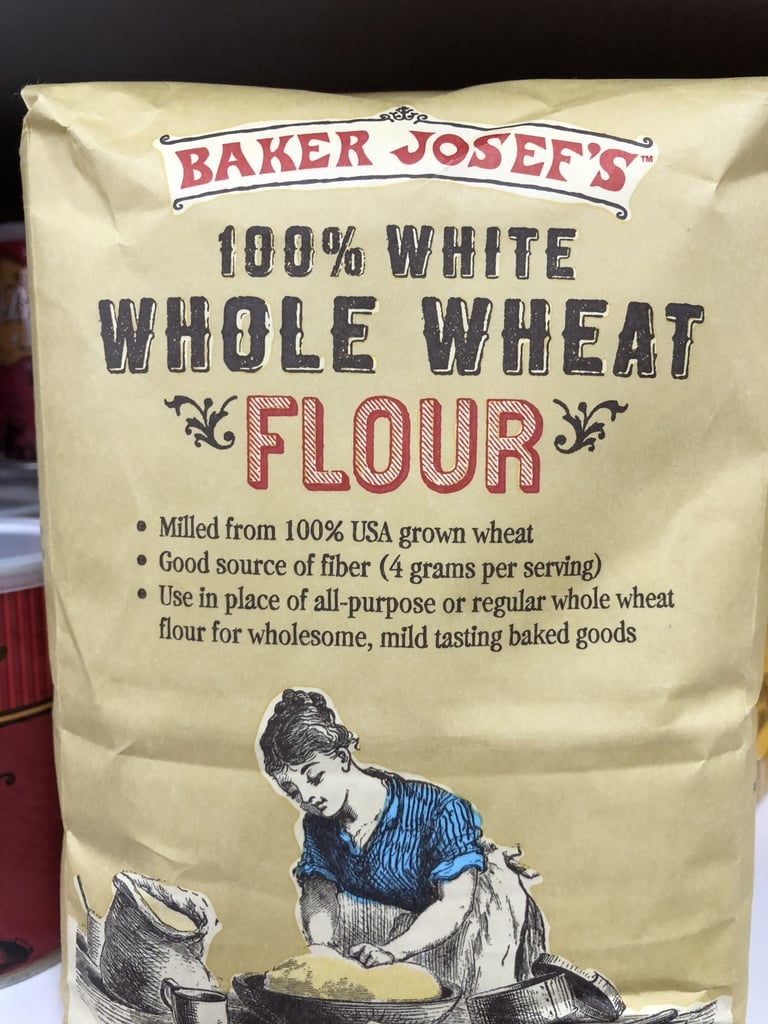 Trader Joe's Shopping List: Healthy Baking Essentials
Healthy eating doesn't mean you can never eat a cookie or piece of cake again! If you love to bake healthy treats like homemade banana bread, baked oatmeal, or granola bars, stock up on these baking essentials.
White whole wheat flour
Gluten-free flour
Almond meal
Rolled oats
Maple syrup
Unsweetened non-dairy milks
Nuts and seeds
Cacao powder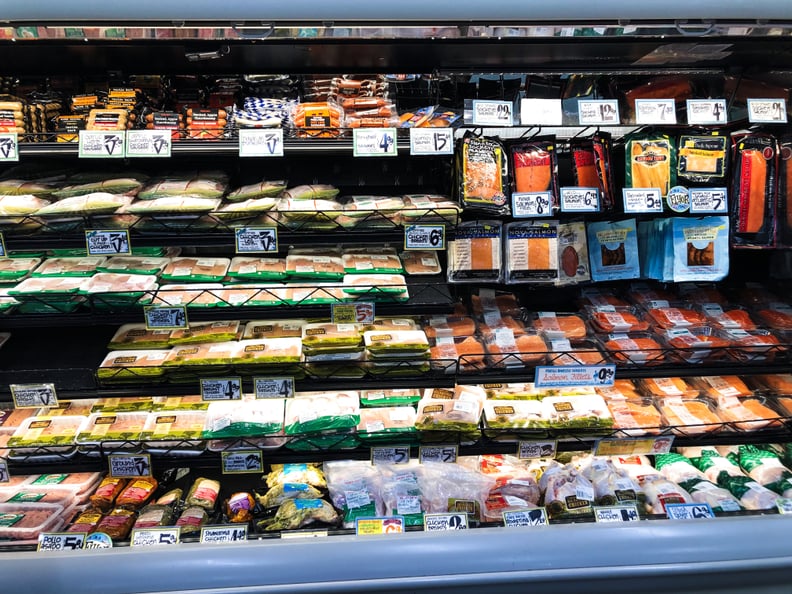 Trader Joe's Shopping List: Meat and Seafood
Choose lean proteins as frequently as possible, limiting red meat to a serving or two per week.
Chicken
Turkey
Salmon
Shrimp
Lamb
Steak
Sausages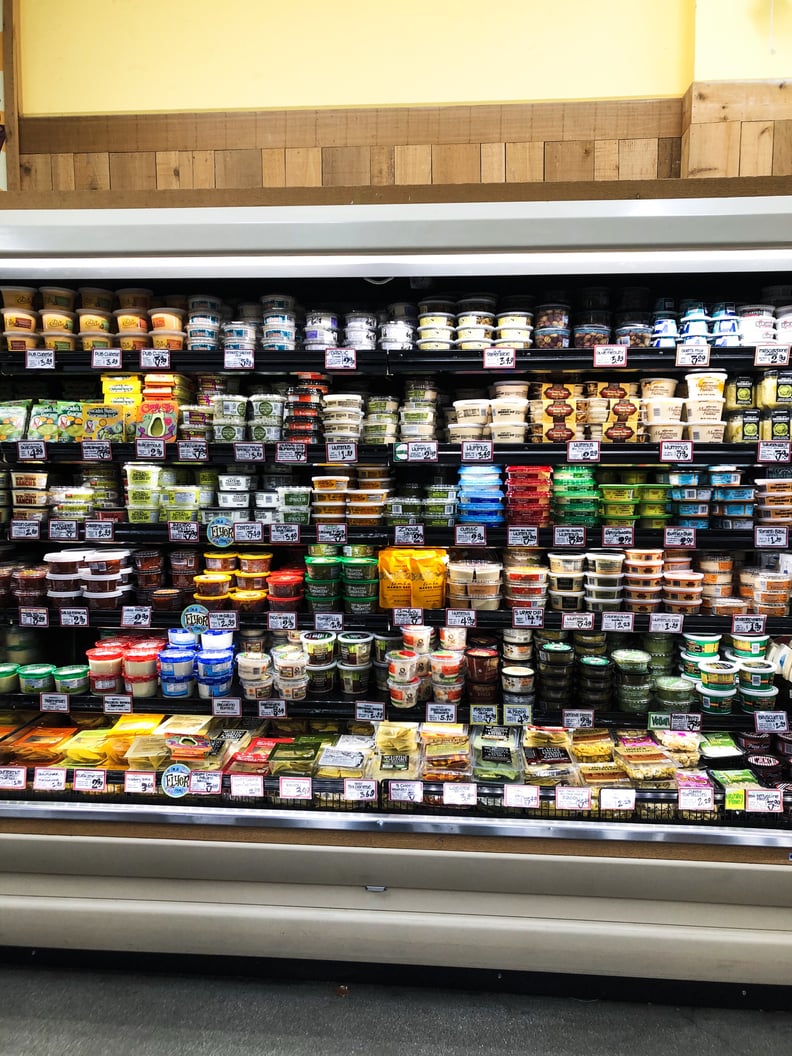 Trader Joe's Shopping List: Dips, Sauces, and Spreads
Use these picks as a dip for vegetables or as a dressing, marinade, or pasta sauce — they'll make any homemade snack or meal tastier.
Hummus
Guacamole
Zhoug sauce
Romesco dip
Cucumber dip
Bruschetta sauce
Jalapeño lime almond dip
Pico de gallo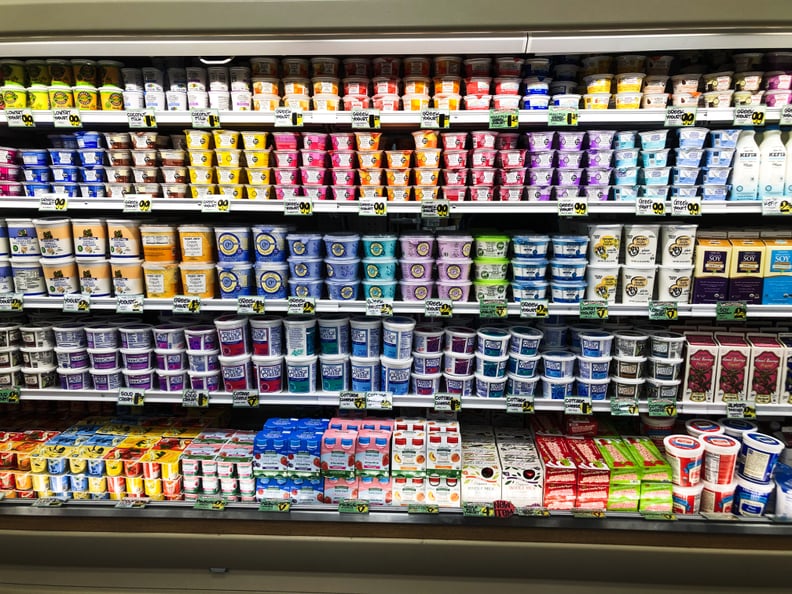 Trader Joe's Shopping List: Eggs and Dairy
Eggs are a good source of protein, and you'll find plenty of other staples in this aisle, including dairy-free alternatives.
Eggs
Cow's milk
Almond milk
Greek yogurt
Cottage cheese
Cheese
Sour cream
Kefir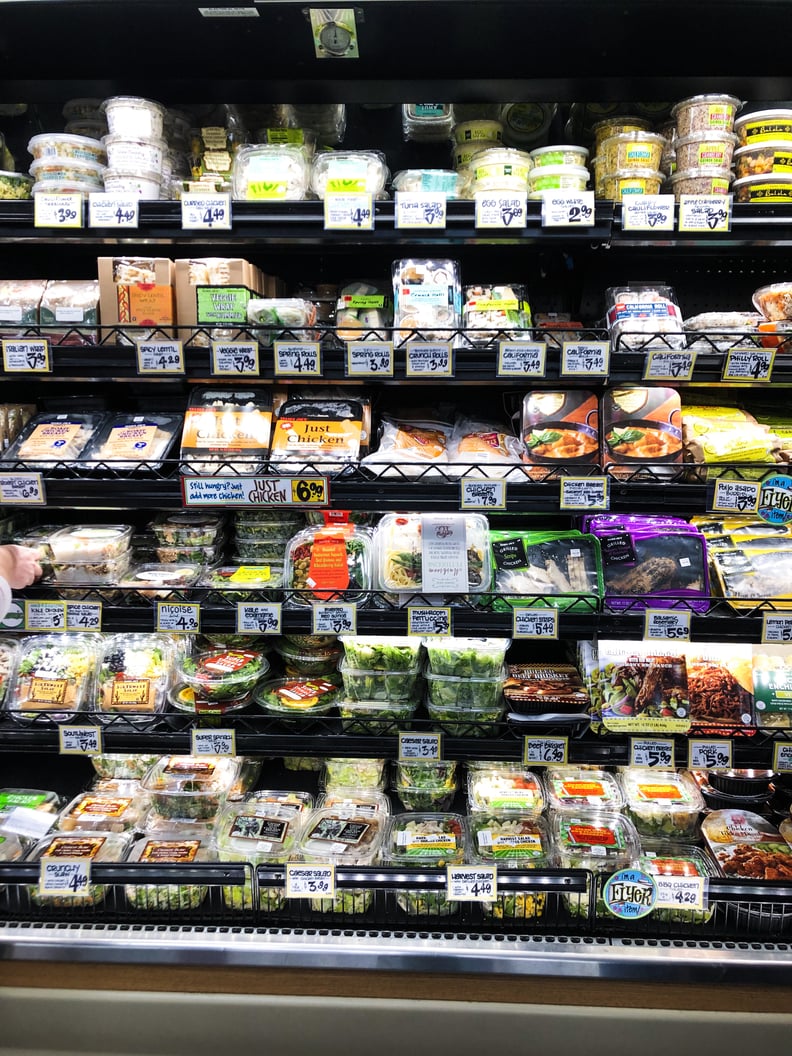 Trader Joe's Shopping List: Prepared Foods
If you struggle finding time to cook, skip the drive-through and stop by this section of the store for a quick bite.
Cooked chicken
Prepared salad bowls
Egg white salad
Wraps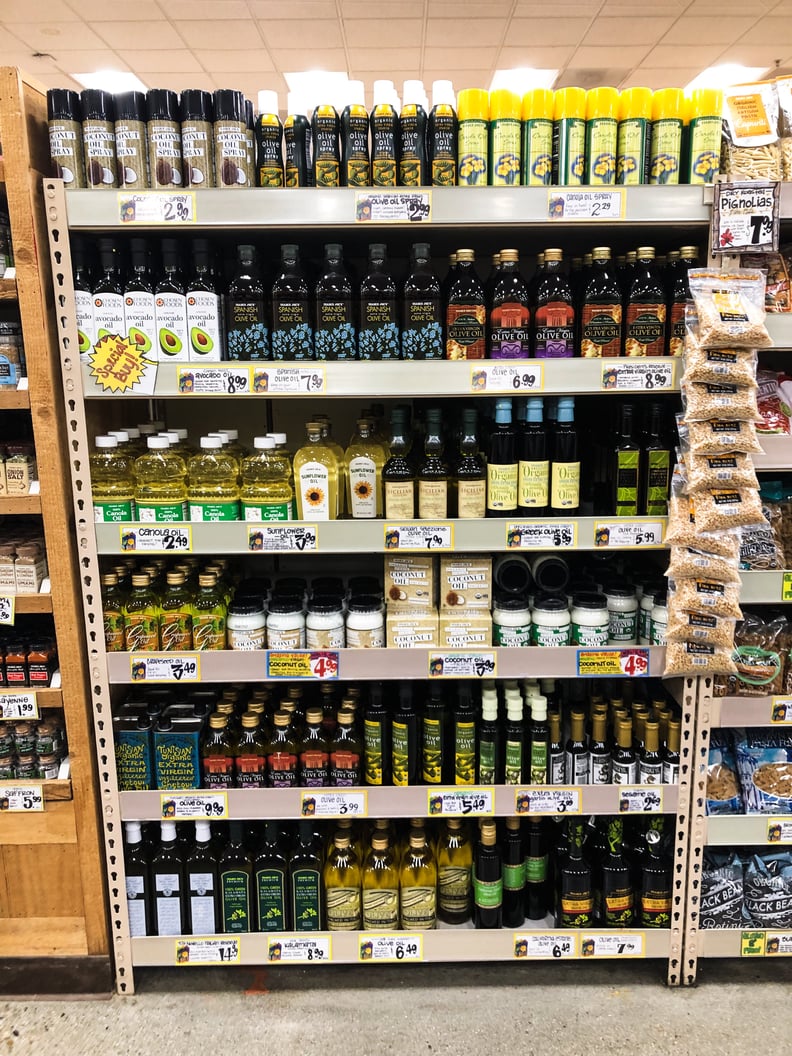 Trader Joe's Shopping List: Cooking Oils
Cooking oils are an excellent source of healthy fats, which help keep you satisfied between meals.
Olive oil
Avocado oil
Walnut oil
Coconut oil
Sesame oil
Oil sprays
Ghee

Pin It!