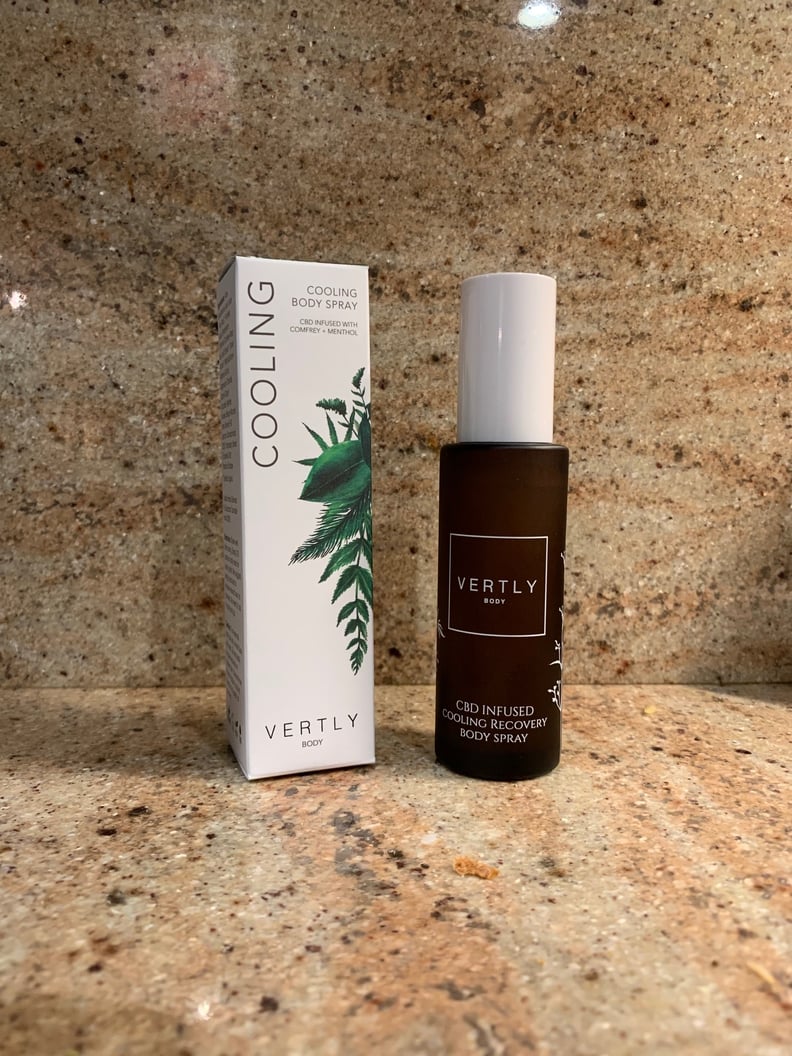 POPSUGAR Photography | James Puleo
POPSUGAR Photography | James Puleo
As POPSUGAR editors, we independently select and write about stuff we love and think you'll like too. If you buy a product we have recommended, we may receive affiliate commission, which in turn supports our work.
Despite being a firm advocate for CBD tea after a long, tough day, I will admit that I didn't have much faith in topical CBD products. I'd seen them heavily advertised and considered them somewhere in the range of gluten-free topical products — mostly pointless.
I'm not even very big on working out (especially during East Coast winters), but I do make sure I'm active daily to keep the endorphins up. Particularly in the cold temps, I do end up feeling more sore than usual, and I'm quick to use a heating pad to soothe my aches and pains.
But Vertly's Cooling Recovery Spray ($45) changed all that. The product arrived on my doorstep perfectly timed — right after I got back from my a.m. run. I was feeling particularly anxious and thought it a great day to try the spray post-shower and workout.
Vertly products are "handcrafted in Northern California" and are "100 percent clean." They indicate that their batches are made weekly, and I believe it. I'm super sensitive to intense smells in products, especially anything artificial, but what I loved best was the lightness and freshness of this scent. The peppermint and lavender are so soothing, and I felt calm from the very first application, as well as a wonderful cooling sensation as promised.
However, it was the organically grown hemp that had the strongest effect on me. I did not at all anticipate feeling anything from it, but I absolutely enjoyed a super-calm post-spray effect. It carried me through the rest of my workday, even a hectic morning that included shuttling my toddler to daycare and a slew of emails to sort through.
I'm thrilled to know that Vertly has a barrage of additional CBD beauty products to enjoy — they also sent me the CBD Lip Butter ($20), and it has been contributing to my overall relaxed vibe — and I'm so excited to add more to my daily repertoire to keep the peace going.
Any cannabis products referenced above are not intended to diagnose, treat, cure, or prevent any disease. The writer is not a medical doctor, and their experience is based on personal use, the results of which may not be typical or intended. The legality of cannabis products varies by state, and readers are encouraged to check their local laws before purchasing and using cannabis products. Nothing in this article should be construed as advice regarding the legal status of cannabis products. Any views expressed in this article by a third-party sponsor are those of such sponsor, and do not necessarily represent the views of POPSUGAR.