Take 10 With the Face of VS Pink, Rachel Hilbert
Rachel Hilbert is the face of VS Pink and is gearing up for the runway (the upcoming Victoria's Secret Fashion Show in Paris), but she's no stranger to exercise and living a healthy lifestyle. Before modeling, Rachel told POPSUGAR she was very active. "I've always been a very athletic person," she said. "I was a dancer growing up and I skied too." So even though she's been working her booty off for the show, she noted that she's "naturally an athlete at heart."
POPSUGAR: How have you been preparing for the VS Fashion Show in Paris?
Rachel Hilbert: This year for the show, I'm constantly switching up my workouts. All year long I work out, but right now I'm working with a personal trainer, who looks at my body [assesses my needs] and does all different kinds of crazy workouts with me. I'm definitely sore every day! I'm always looking to switch things up, and I go work out with friends all the time.
PS: What are some of your favorite workouts right now?
RH: My favorite go-to workout — if you want to just get a good sweat — just put on a sweatshirt and go take a run! That is my serious go-to workout. But I also go to my trainer, Michael Strevel at David Barton Gym.
PS: What do you think will be the big workouts of 2017?
RH: I feel like Body by Simone was this year, so next year something with heat! Like a heated Pilates. I can see that happening — like an infrared, heated Pilates. That'd be kinda cool, no?
PS: Do you have a go-to exercise for your abs and booty?
RH: My go-to exercise would probably be a fire hydrant, and back kicks on all fours — that's definitely for the booty, and if you hold in your core it works the stomach, too. My favorite ab move is a Pilates crunch with the Pilates ring.
PS: What is your go-to breakfast?
RH: Recently I've been really into two over-easy eggs with half an avocado.
PS: What gets you going in the morning?
RH: I mean, a good cup of coffee always wakes me up, but I love working out first thing when I wake up.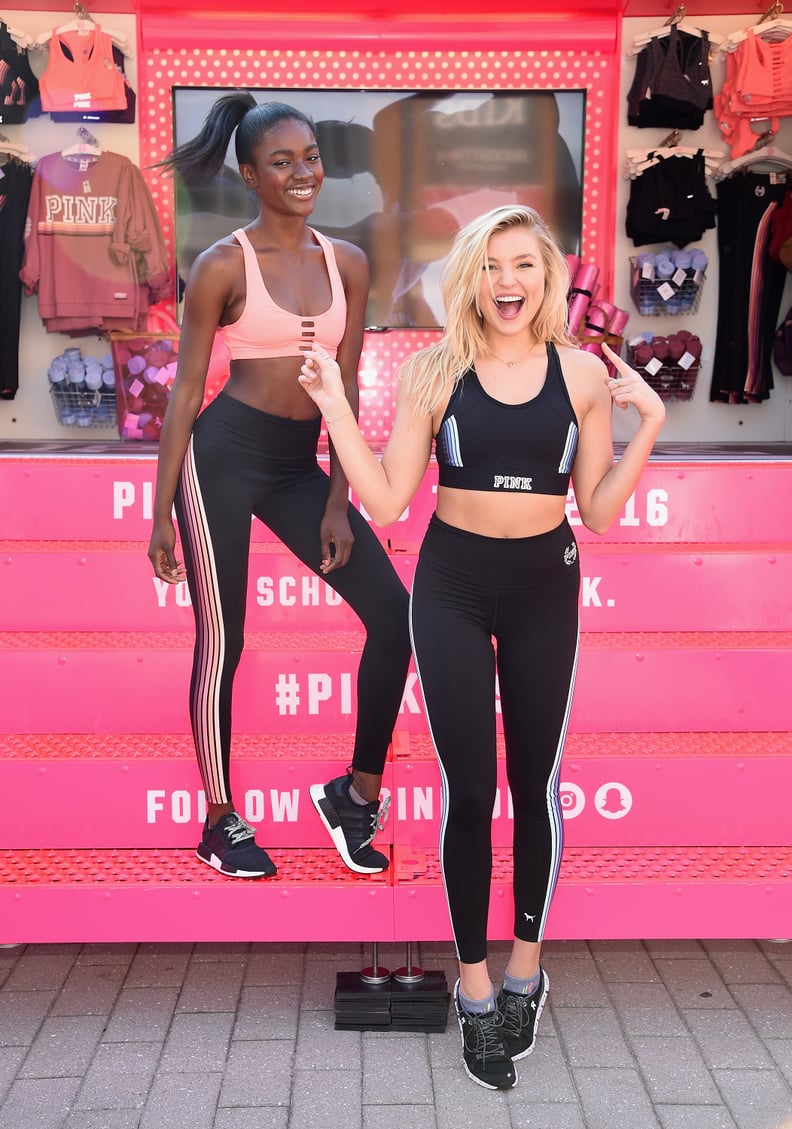 PS: What's in your gym bag?
RH: I always carry my Victoria's Secret Pink gym bag, and also Pink has some new sports bras that I'm obsessed with. I have my yoga pants, I always have a roller to roll out my muscles, and I always have bands to put around my ankles to work the butt and thigh area. I like to bring my jump rope with me, my sliders for the floor — things you'd bring to a hotel room. My roller is a big thing for me — I always have that in my bag.
PS: Do you have any tips for someone getting into shape?
RH: Don't jump in right away . . . gradually ease into it, and don't get upset if you can't do something. Always keep in mind that practice makes perfect! You always have to be practicing, you always have to be doing different things. Don't get frustrated. Just keep doing it and you'll really start to see results.
PS: What was the best piece of advice a coach or trainer ever gave you?
RH: "Stop complaining!" [laughs] My trainer now will say, "It hurts now, but you'll thank me later."
PS: What's your key to relieving stress (besides working out!)?
RH: "I'm obsessed with the infrared sauna. It's literally, I'm telling you, the key to stress relief. I go and sit in the sauna for an hour, and afterwards I have a natural high. It's insane. I'm about to go right now in like 20 minutes.
PS: What about the Paris show are you most excited for?
RH: There are so many things! I mean just going to Paris alone is exciting, but also all the performances going on there, like Lady Gaga, The Weeknd, Bruno Mars . . . I'm just excited to go on the plane to see the excitement from the other girls as well. And to just be in Paris is exciting in itself.
PS: What's the one thing you're looking forward to eating after the show?
RH: I love this question . . . I have my favorite place here [in New York], it's called Prince Street Pizza. I'm gonna get a deep dish pizza. I want it now, but I'll wait [laughs].