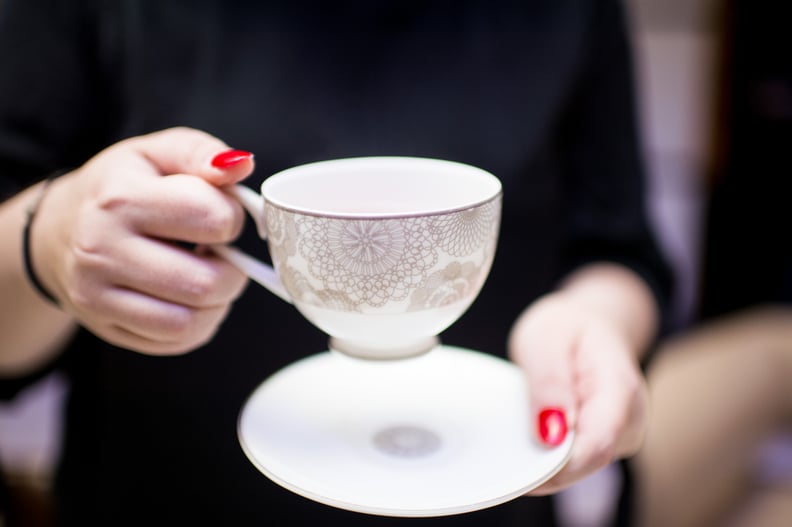 POPSUGAR Photography | Bonnie Burke
POPSUGAR Photography | Bonnie Burke
The health benefits of tea are vast, including soothing an upset stomach or helping to ease congestion. And while we've heard that matcha or peppermint tea are good teas to try if you're looking to lose weight, there's another tea out there that can help as well: white tea. While chatting with Bernadine Tay, global tea curator for Wedgwood, she shared this lesser-known benefit of sipping white tea.
"White tea actually stops new fat cells from forming," Tay told me while showing off Wedgwood's new Wonderlust Tea collection. The weight-loss benefits of white tea have been studied many times, including this study published in the journal Nutrition & Metabolism, and Tay pointed out that while it's been heavily studied, not many people realize that just drinking a few cups of white tea a day can help with losing weight.
White tea shares a lot of health benefits with black tea and green tea, but it goes through the least amount of processing, which makes it the most beneficial overall. It comes from the camellia sinensis plant and appears pale yellow when brewed. Besides stopping new fat cells from forming, white tea is also rich in antioxidants.
Tay noted, however, that while white tea boosts the breakdown of fat and slows down the growth of new fat, it is not a miracle worker. "It can help with weight loss, but it works best if you're healthy otherwise," she said. In other words, you can't eat whatever you want and think the white tea cancels it out. Livestrong recommends pairing the white tea with each meal and keeping up a regular fitness regimen.