As a Mom of 4, Mandi Lost 115 Pounds With BBG and Still Ate a Treat Every Night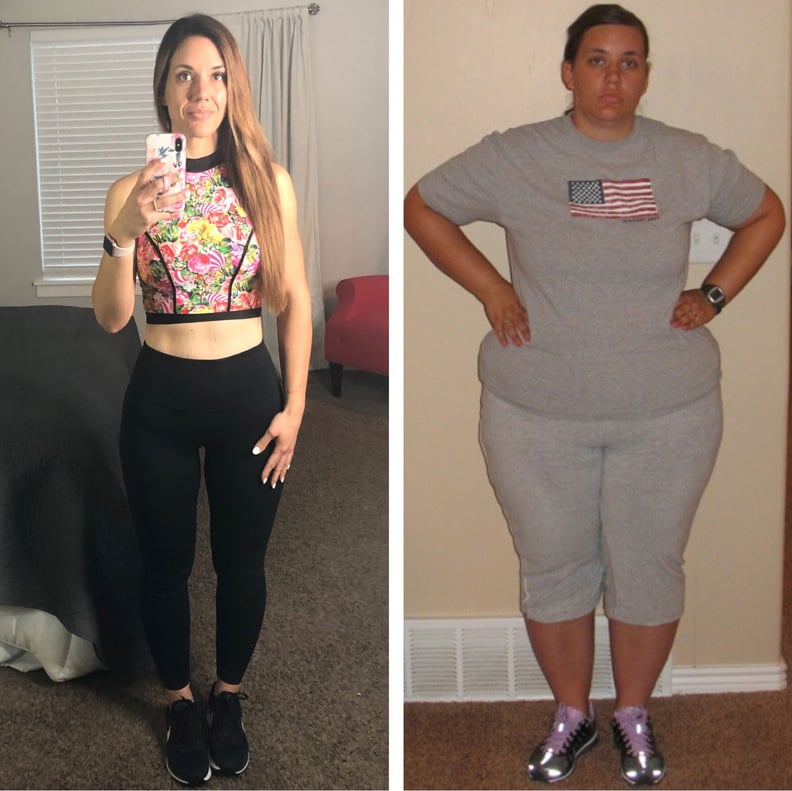 Mandi Jane Wilson
For the moms out there, you'll be able to relate to Mandi Jane Wilson (@mandi_wilson_fitness on Instagram), a 34-year-old mom who gained weight during her pregnancies. At one point, Mandi reached almost 300 pounds, then lost 140 pounds, regained weight again with two more pregnancies, and was able to lose 115 pounds. Keep reading to learn more about her incredible weight-loss journey and transformation.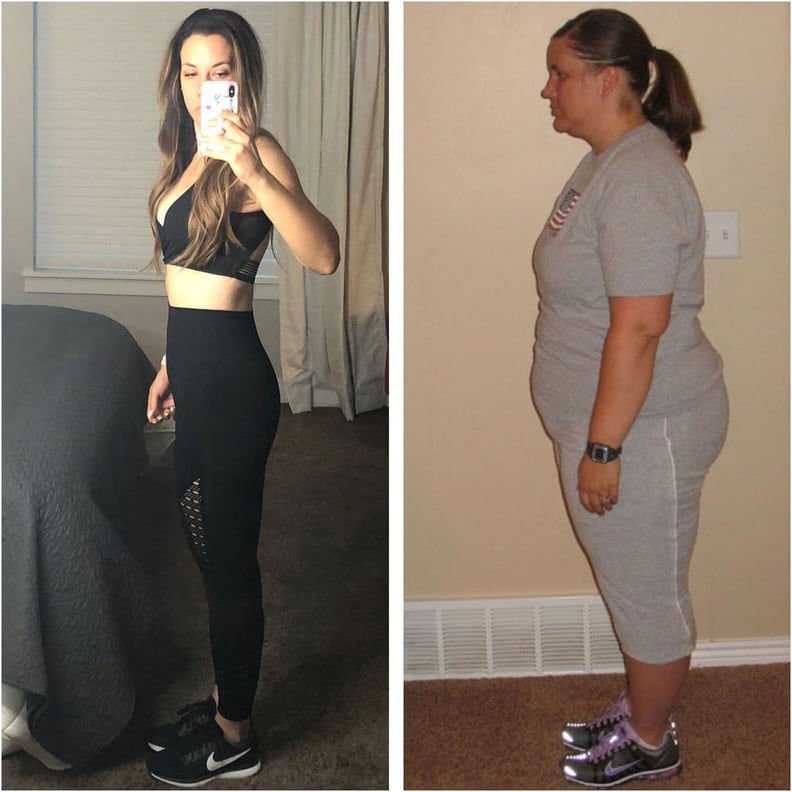 Mandi's History With Weight and Fitness
Growing up, Mandi was a dancer, and although she stayed pretty active, she didn't really have any knowledge of nutrition or how to eat well. "I really started having a hard time with weight gain when I became pregnant at 20. That pregnancy ended in a miscarriage, and I had my first child at age 22," Mandi said.
She had gained 50 pounds with that pregnancy, and combined with the weight she gained from her first pregnancy, Mandi was 80 pounds overweight. "I thought that the weight would 'just come off' with breastfeeding, and it did not," Mandi said.
When her son was around 1 year old, Mandi started working out at home with videos and eating healthier, and she said, "I lost around 25 pounds before becoming pregnant again. That pregnancy ended in a late-term miscarriage."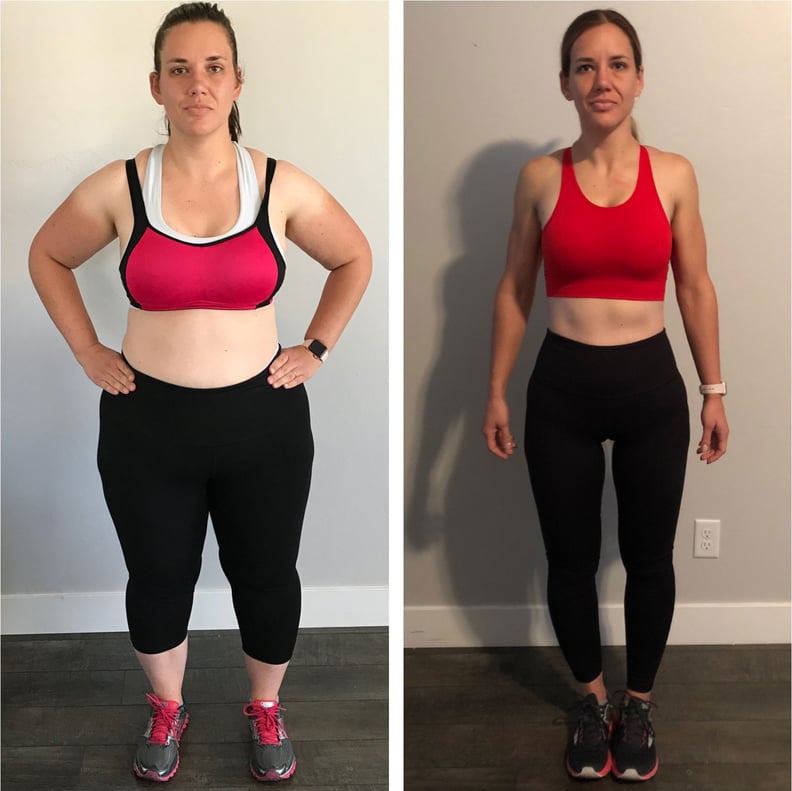 Mandi's Weight-Loss Journey Begins
At age 25, Mandi started her weight-loss journey at around 295 pounds in November 2010 after a family vacation to Knott's Berry Farm. Her youngest son was 5 months old, and she knew she had baby weight to lose but was in denial about how much. When she tried to take her 3-year-old son on a children's ride and couldn't get the seat belt buckled around herself, they asked her to exit. "I knew at that point that I had to change something," Mandi said.
"I tried things off and on that I couldn't stick to because I wasn't realistic about my goals or expectations," Mandi said. In June 2011, after seeing her son's first birthday photos and realizing she was nowhere near where she needed to be, she made a huge life change with health and fitness.
That month, she started by committing to working out 20 out of 30 days and monitoring her calories every day using My Fitness Pal. "I lost 140 pounds in two years," she said. "Forty the first year and 100 the second when I got serious about changing my lifestyle."
That wasn't the only big weight loss Mandi experienced. Mandi got pregnant in 2012 and had her third child in 2013. She gained 80 pounds and lost 60 pounds before getting pregnant with her fourth child in 2015. She gained 90 pounds through that pregnancy, which she said was difficult. Six months after her fourth child was born, Mandi lost 115 pounds in about a year and four months.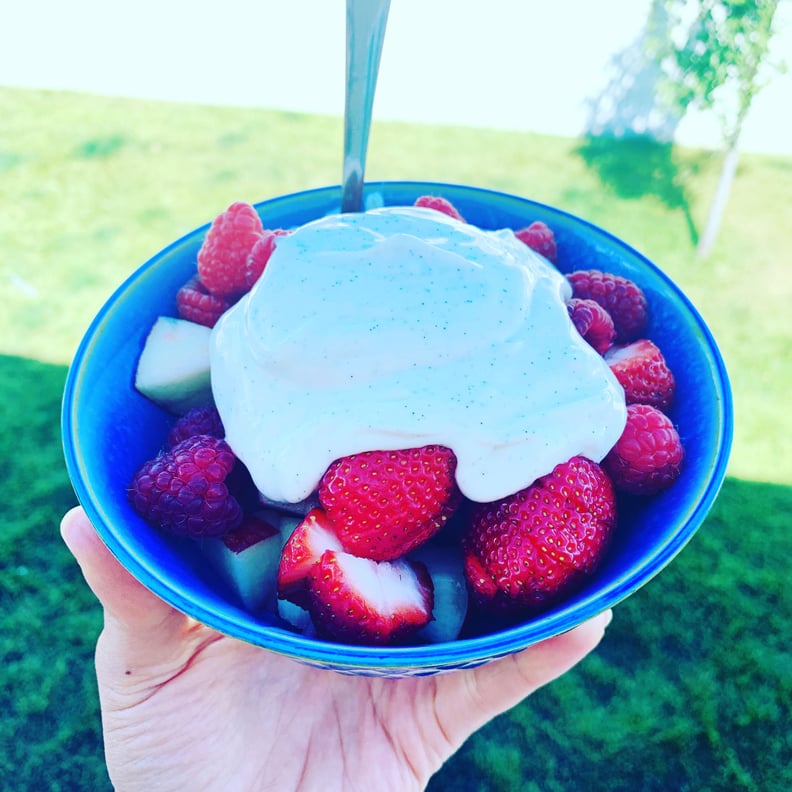 Mandi's Diet
Mandi follows a low-fat, high-protein, moderate-carb diet because it's what makes her body feel best. She counts calories using My Fitness Pal and aims for around 1,500 to 1,800 calories a day, depending on how much she's worked out.
"I have used some meal plans as guides on and off such as the @fitnesscarli meal plan and @cleansimpleeats but have never followed those as prescribed. I usually take inspiration from them and use some of their recipes," Mandi said.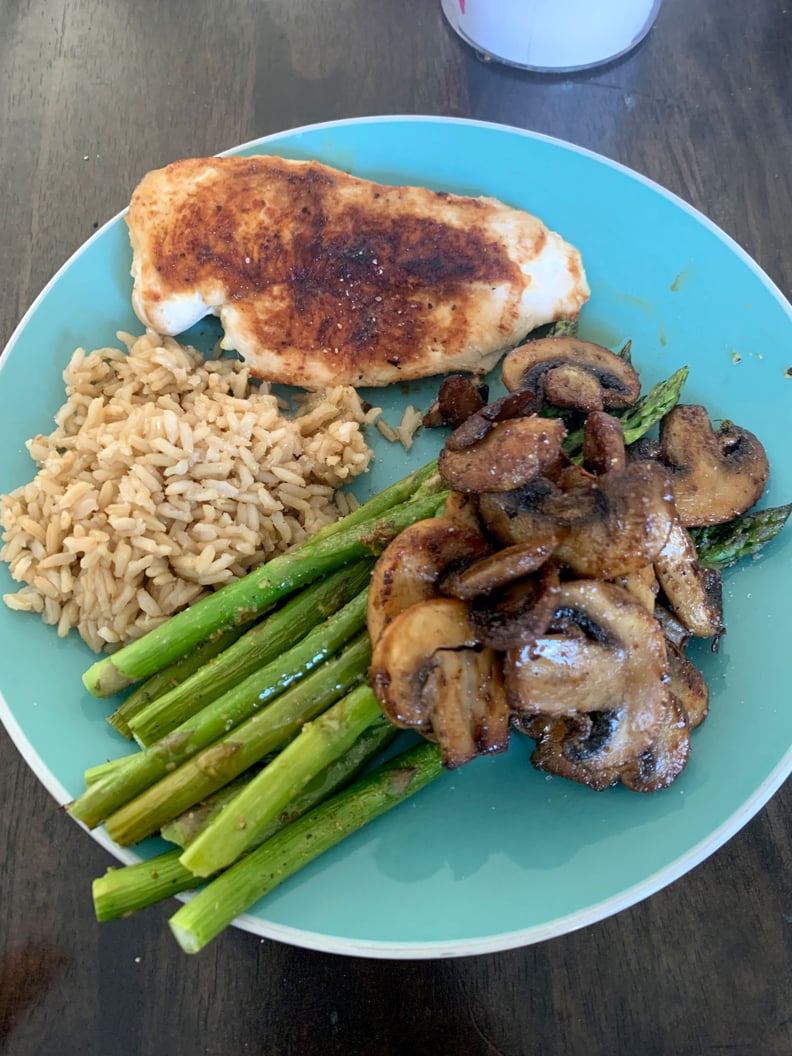 What Mandi Eats in a Day
Here's a typical day of eating for Mandi:
Breakfast/before workout: 100-calorie oatmeal with some fruit and Zipfizz, which is an energy drink mix-powder ("I use Zipfizz as a pre-workout as most pre-workouts are much too strong for me.")
Post-workout snack: protein bar (usually a Fit Crunch bar because they are her favorite) and BCAAs
Lunch: carrots, spinach, and other veggies with a light salad dressing and a chicken sandwich (Thinwich bun, Laughing Cow light cheese spread on the bun topped with rotisserie chicken heated in the oven)
Afternoon snack: homemade peanut butter protein balls or yogurt and fruit
Dinner: protein (frequently chicken or fish), brown rice, and lots of veggies like mushrooms, asparagus, broccoli, etc.
Treat: She has a small treat each night like a Ghirardelli chocolate square, a small Lenny and Larry's protein cookie, or Jo Jo's Chocolate Bark. She keeps it to 200 calories or under.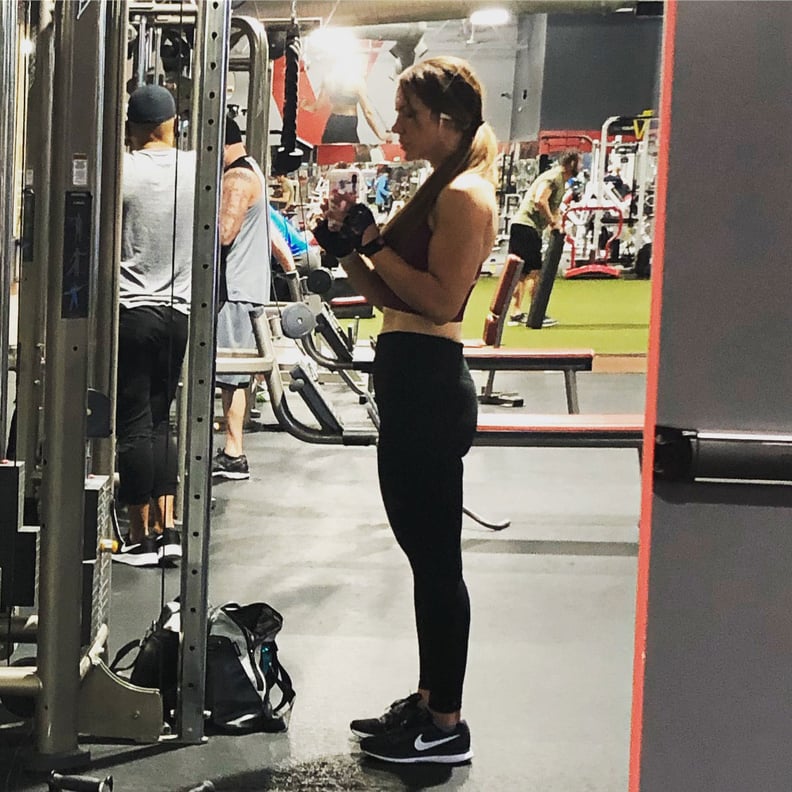 Mandi's Workouts
When Mandi started working out, she did 15 minutes on the elliptical machine three to five days a week "because that's all I could do," Mandi said. As she lost weight and improved her aerobic ability, she started going up to 40 minutes a day.
She then added in things like indoor cycling and pump classes. Then a few years ago, Mandi discovered BBG and added that into her daily workouts. Now, Mandi lifts at the gym with her husband four days a week and teaches two Spin classes, and she said, "I do BBG at home in my basement home gym. I either do one of the strength workouts or I walk on my treadmill at home."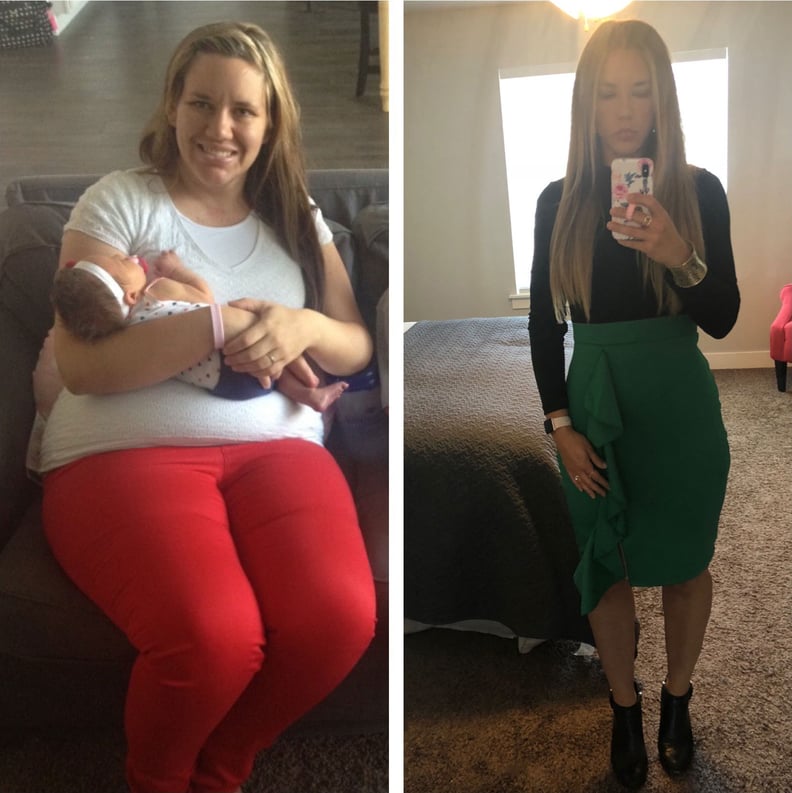 How Mandi Stays Motivated
Working out and eating healthy have really helped Mandi's overall health and wellness. "I was very unhealthy before, constantly sick; I felt sick to my stomach almost nightly. I wasn't able to play with my kids or do the things I wanted with my family. The changes that I have seen in my overall well-being keep me motivated," Mandi said.
Mandi loves the life she has now. She's happier and generally healthy throughout the year. If she does get sick, she said, it's so much easier on her.
"I can do anything I want. From hiking to swimming to riding rides at amusement parks. I don't feel held back. My mental health has improved so much. These things keep me motivated daily. Knowing what I used to feel like compared to how I feel now is a huge motivator," Mandi said.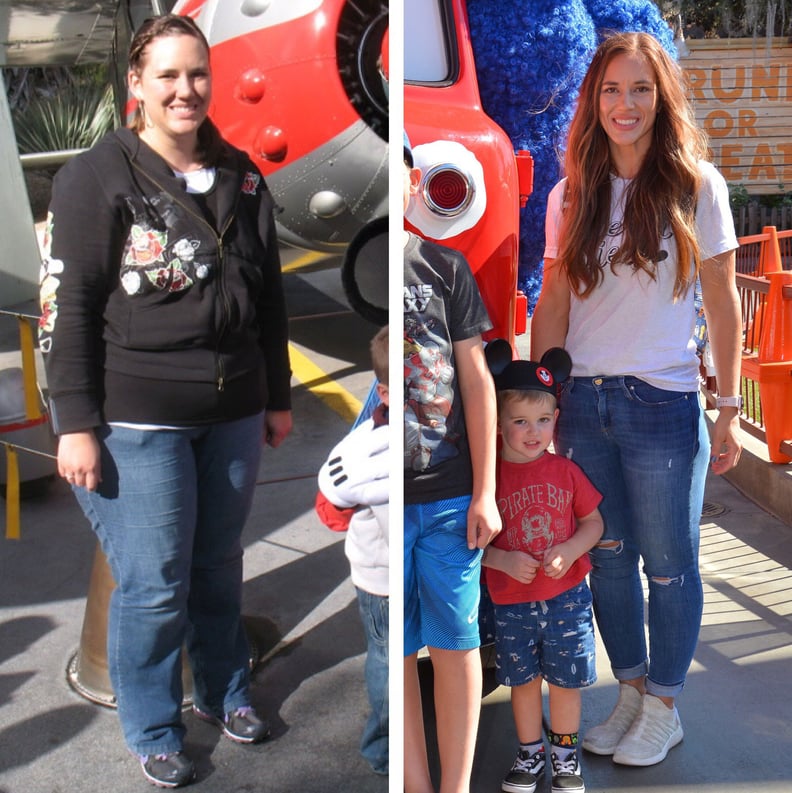 Mandi's Nonscale Victories
Here's a list of Mandi's nonscale victories:
"Putting on my wedding dress again and having it fit. I got married at 19, so this was a huge victory."
"Wearing over-the-knee boots. I had wanted them for a long time but was worried they wouldn't fit. When they did, it was a huge victory."
"Carrying my baby on my back on hikes, like on Diamond Head in Hawaii. I have wanted to be healthy enough that I can do anything I want to with my children, and going on hikes carrying a 40-pound toddler has been a huge victory for me."
"Last October, we went back to Knott's Berry Farm for the first time since I couldn't fit on the ride. I was able to ride everything, and it was such a stark difference from the last time I was there."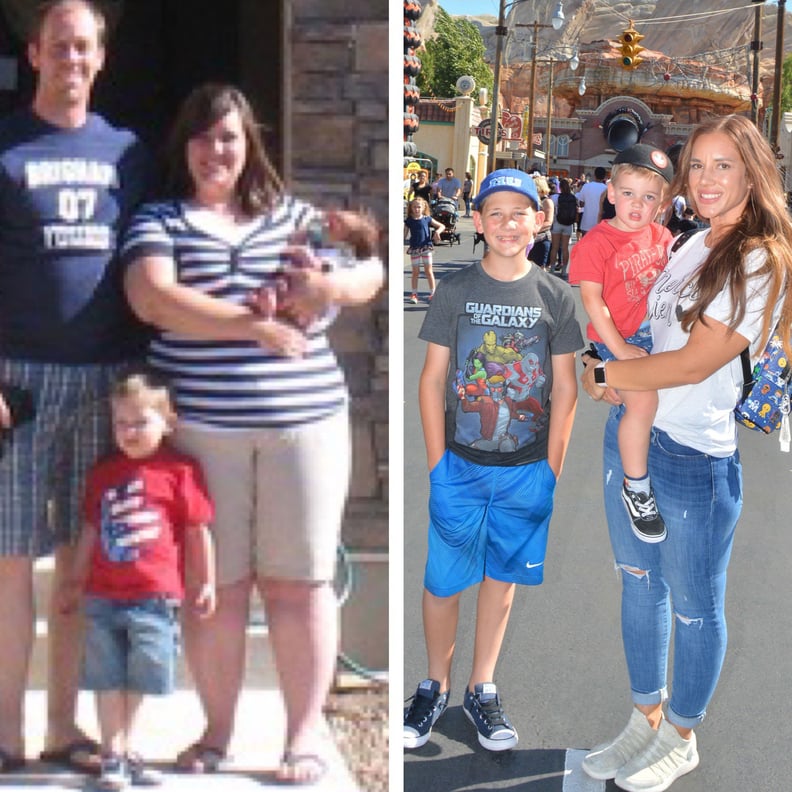 Mandi's Advice
Mandi's advice is to "start small and keep building upon the small changes you make. Eventually, you will be where you want to be." She added, "I feel like what was so overwhelming for me in the beginning was trying to overhaul everything. It just wasn't realistic from where I began," Mandi said. So she started small by just counting calories and slowly incorporating fitness.
Her second piece of advice is to stay consistent. "If you have a bad day, leave it as a bad day and get back to your routine the next day," Mandi said. "Consistency is where you will win!"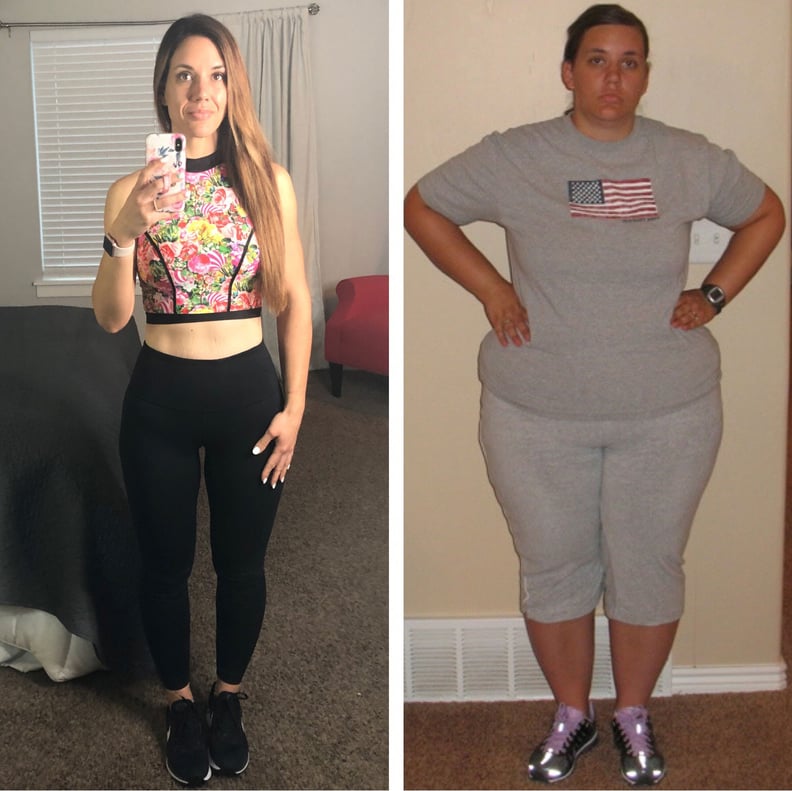 Final Thoughts
"Health and fitness changed my life. I am a completely different person from where I was at 25," Mandi said. Just starting down the road to a healthier life will get you where you want to go, and remember that "any change to improve your health is worth it!"