Claire's Journey to Beat Binge Eating Disorder and Bulimia: "My Weight Is Not My Worth"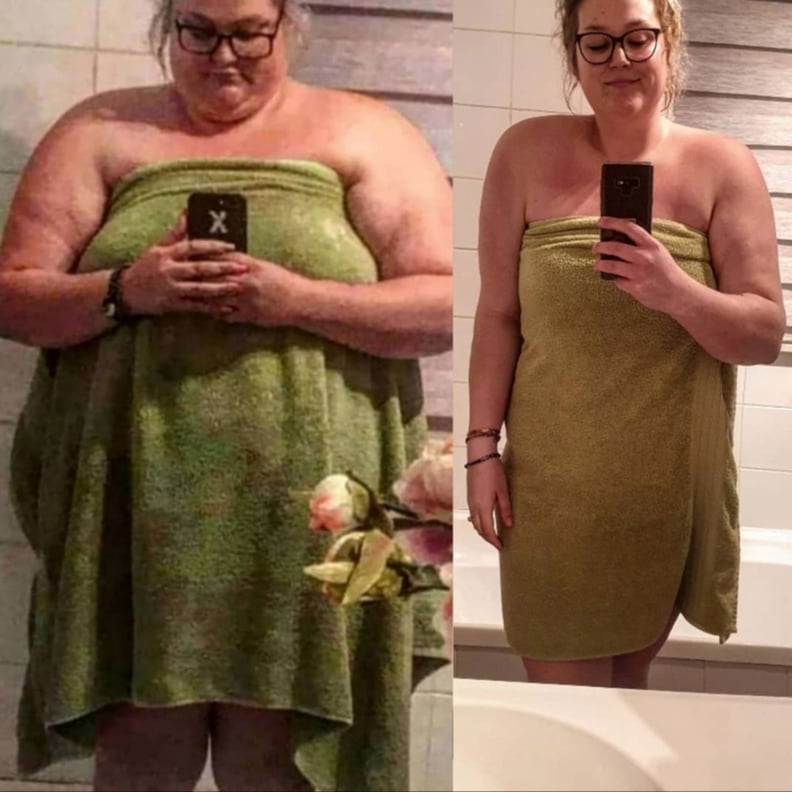 Claireabelle Burt
From a life full of fighting with her weight, a bad relationship with food, and bullying because of it, Claireabelle Burt, 27, has endured bulimia and binge eating disorder. After ending a toxic relationship, she was done hiding from the world and began her journey of self-love. She shares her story now to let others suffering know they aren't alone.
If you or someone you love are experiencing signs and symptoms of an eating disorder, the National Eating Disorders Association has several resources, including 24/7 crisis support by texting "NEDA" to 741741.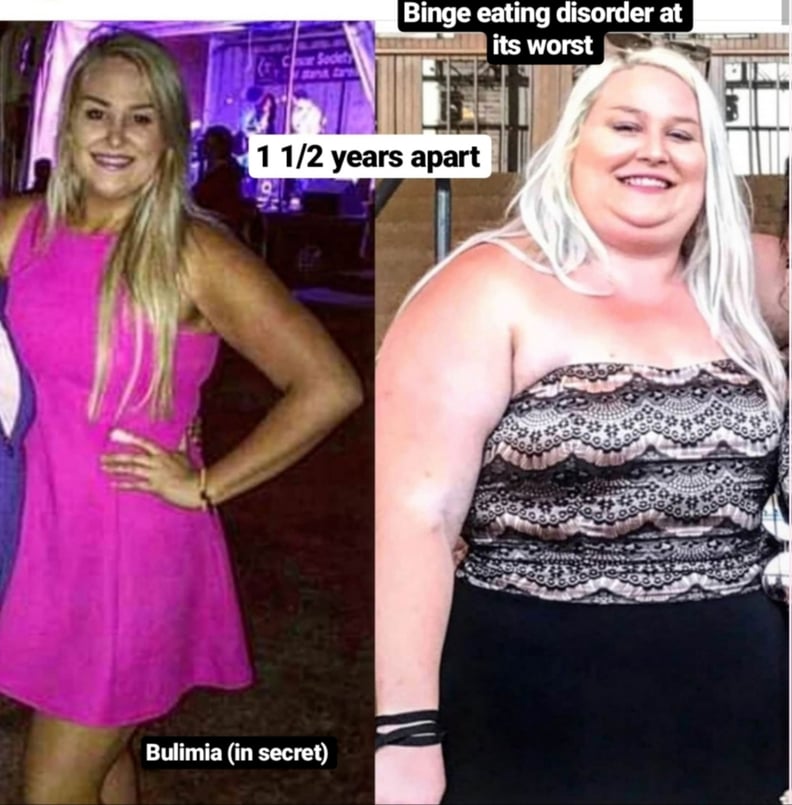 Claire's History With Weight and Bullying
Growing up, Claire was always bigger than her peers, and she was six-feet tall by the time she was 12. Claire said she considered herself chubby and was bullied a lot because she wasn't like every other girl.
"I was called a giant, whale, and Bigfoot all while in primary school, which made me hate myself at the age of only 8, which then contributed to my body image and food issues," Claire said. Her first year of high school was terrible for her; she said she was taller than all the boys and girls in her class, and the bullying got worse.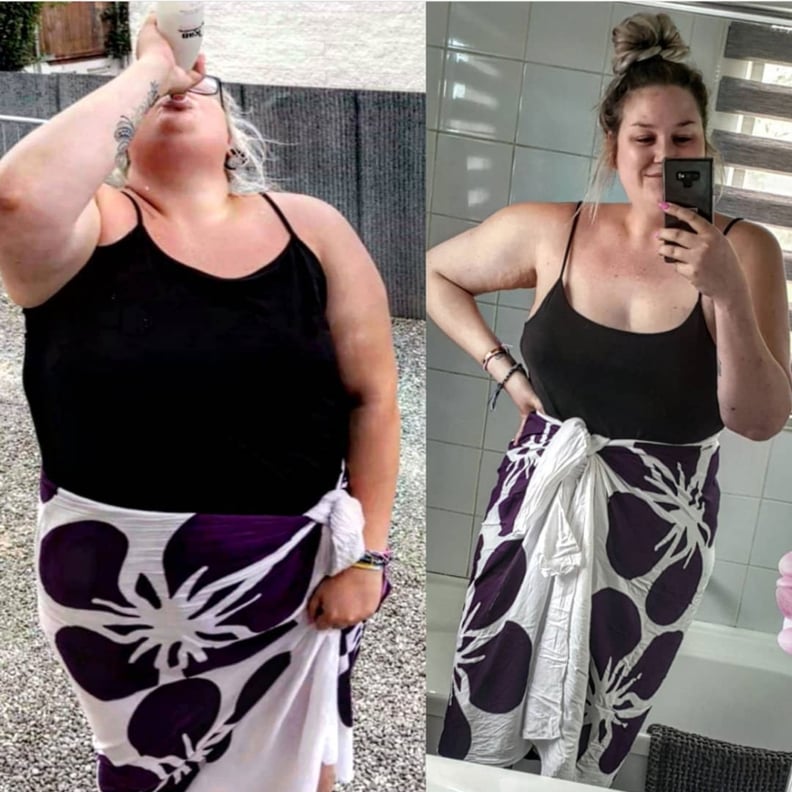 Claire's Bulimia Began
"I started restricting my food intake at 15 and wouldn't eat for days because when I looked in the mirror I thought I was way bigger than I was," Claire said. This was an on-and-off thing until she completed her first year of high school. Then her binge eating disorder (BED) kicked in, and by 2013, she was at almost 300 pounds (136 kilograms).
By 2014, Claire started once again on another diet, which spiraled into major restricting and bulimia. She said if she binge ate, she would end up purging.
"No one around me knew this was happening. I began to lie to everyone. Not only was I starving, but I was overexercising, which led me to get very sick," Claire said. "Everyone was complimenting me on my weight loss, saying how amazing I looked, which made me sink deeper into bulimia. I had a distorted image of myself and had to body check every 20 minutes to remind myself I had lost weight. I look back at photos and think 'OMG, I was tiny,' but at that time I didn't think I was," she said.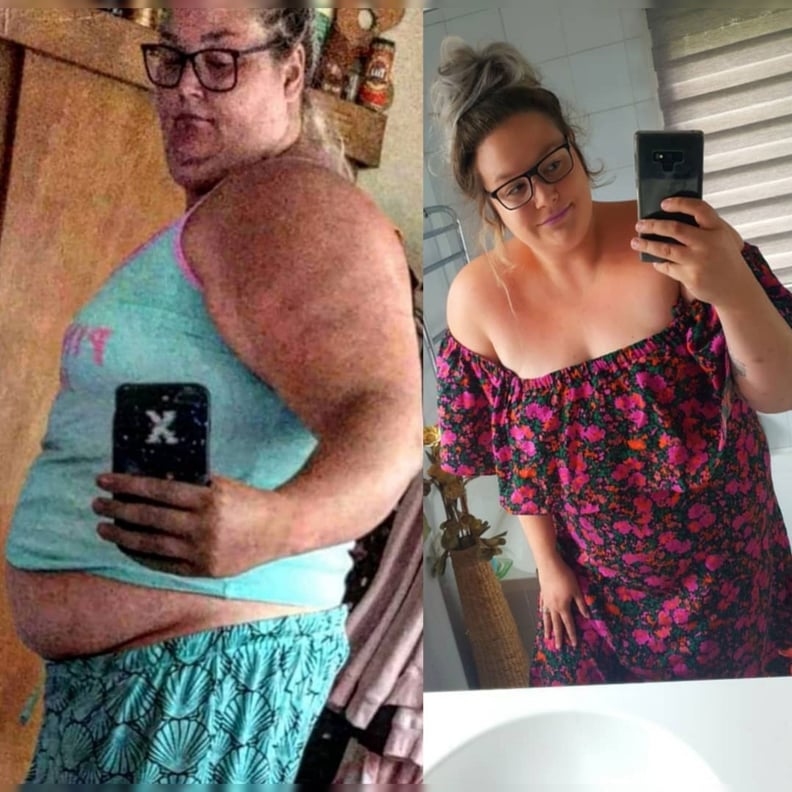 Claire's Struggle With Binge Eating Disorder Continued
By 2015, Claire's binge eating disorder took over again. "I stopped going in public and my binges got bigger and bigger and began to happen every day, and the purging stopped so I was gaining weight by the day, literally," Claire said. At the time, she was in a toxic relationship, which added to it all. She said, "I sunk into a deep depression and had no self-love or self-worth, and I hated myself so much." She added, "I thought I was disgusting and a monster, so I thought the world would see me in that way, too."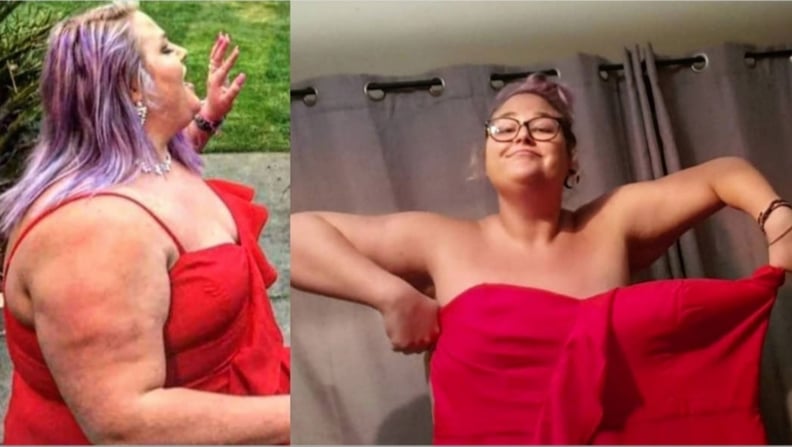 How Claire Began Her Road to Recovery
Claire's binge eating disorder increased her weight to over 375 pounds (170 kilograms) over a short period of time, and it wasn't until the start of 2019, at age 26, that she finally started fighting it after getting help.
"I had gotten to the point where I hid away from the world and couldn't even go to the supermarket because I was so scared of anyone seeing me at the size I had gotten. It was time to change this and get my life back," Claire shared.
She went to see her doctor, who just told her to eat less and exercise more and didn't diagnose her as having an eating disorder. Then her parents got her a private psychologist who specialized in eating disorders and diagnosed Claire with binge eating disorder. This professional helped Claire combat BED.
That's when she started her Instagram page @life_of_a_binge_eater_, and she said, "It has been such a massive help to fighting my BED because I have connected with so many others who struggle with it. It's also helped me with my self-love and self-worth. I can truthfully say I love myself so much now," Claire said.
One of the biggest reasons Claire is so open on her page is so she can bring awareness to BED and other taboo topics that need to be talked about. She aims to help others not feel so alone.
Claire's Recovery Journey
After getting help for her BED, Claire lost over 88 pounds (40 kilograms) last year. Now at age 27, she ended up gaining back 44 pounds (20 kilograms), but she said, "I'm OK with that. In the past, I would have been so upset and my mental health would have been affected dramatically."
She's still battling her binge eating disorder, but said, "My weight is not my worth. That's what I have to tell myself. My health is the most important thing."
To lose the weight, Claire changed her eating habits and started eating Paleo, walked most days, and fought her brain every day not to binge. "There were bad days where my binge brain won, but the bad days seemed to get further and further apart and the binges were getting smaller," she said. "I credit my hard work and my constant fight every day with the support of my family and the online community I have with my Instagram keeping me strong and motivated."
She posted on her Instagram page every day for accountability and support. The more people saw her posts, the more self-love and confidence she gained, which inspired Claire to continue showing her raw and real self.
She posted her ups and downs, and her followers supported her throughout her journey. "I have been very lucky to gain some of my followers as friends who I couldn't see my life without now," Claire said. "They all understand what I'm going through because they have, too."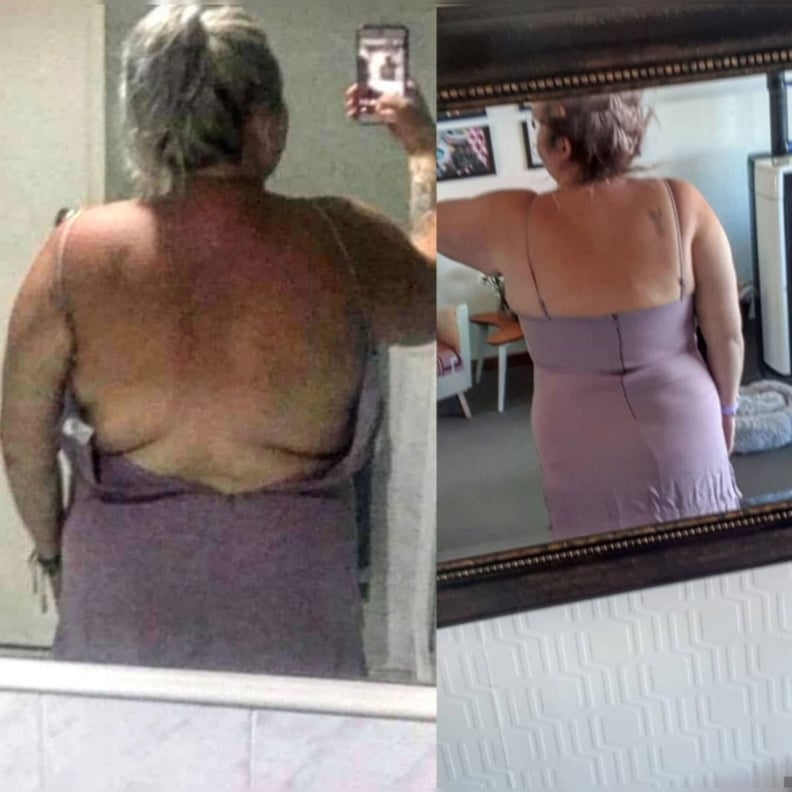 Claire's Nonscale Victories
Claire appreciates that now she's able to move around and do everyday things that are normal for most people. She no longer has to deal with the struggles of going to the bathroom and washing in the shower, and she's sleeping better. She's able to fit into clothes she hasn't worn for years, and loves the confidence she's gained.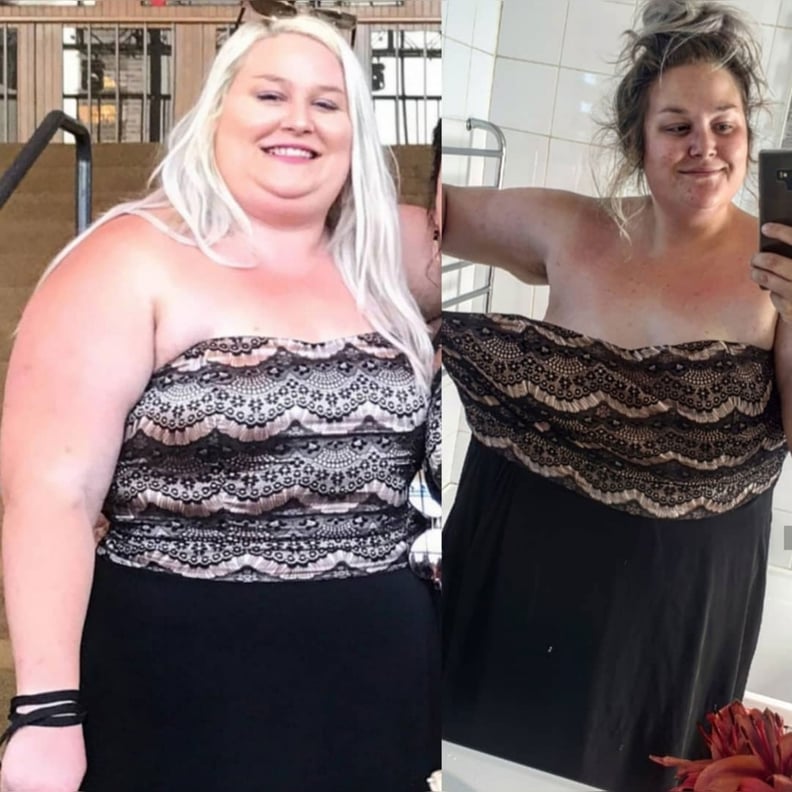 Claire Is Planning to Have Weight-Loss Surgery to Help Her BED
After years of dieting and gaining and losing weight again and again, Claire decided this was her last chance. She has decided to have gastric sleeve surgery where surgeons cut your stomach to the size of a banana so she won't physically be able to binge.
"I didn't make the decision lightly and have done so much research on it," Claire said. "I have talked to hundreds of people with BED who have had the surgery and their lives have changed forever." Claire is currently on the pre-op diet, and her health insurance is giving her money toward the surgery.
"I'm ready for this life-changing operation. I will use it as a tool to get me as healthy as possible and to stop me from bingeing," Claire said. She'll be seeing a psychologist regularly after the procedure to keep her and her BED on track since the surgery is only on her stomach and it won't change her brain.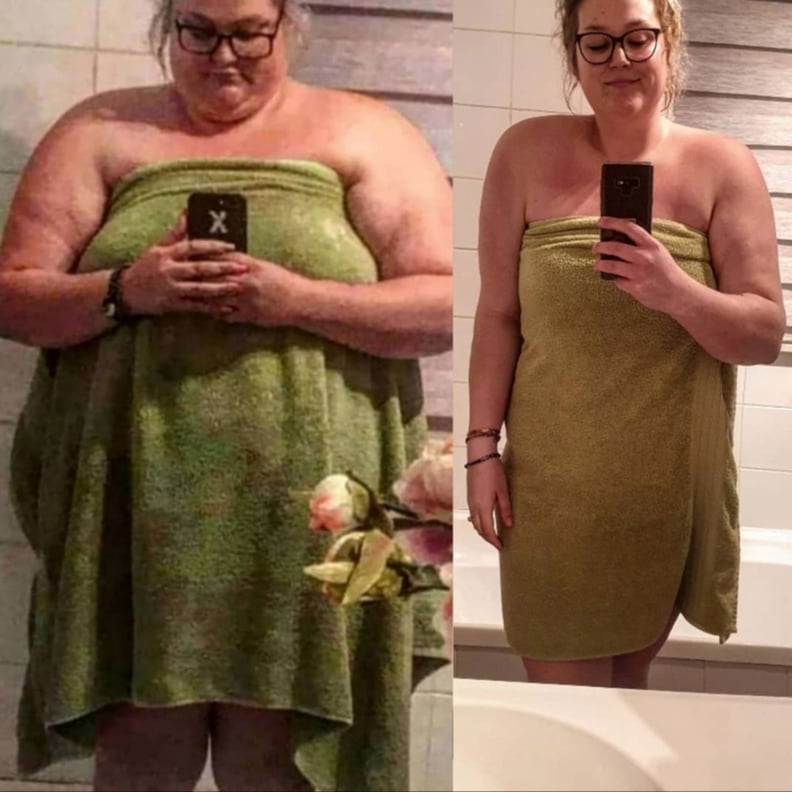 Claire's Advice For Others Struggling With BED or Bulimia
"If I could talk to anyone struggling with any mental illness or eating disorder, I would tell them to reach out to me or someone they trust and open up about their feelings because weight gain and weight loss isn't just physical," Claire said.
Talking to a psychologist helped Claire learn how to be mindful of her thoughts with food and took some of the control away from the eating disorder.
"I found with my BED, if I was in binge mode and I said it out loud to someone or put it on my page, I was less likely to binge," she said. "If I didn't, the binge brain would end up winning." Claire explained that BED is like having a second person in your head. "I would be saying, 'No, I don't need this,' and my binge brain would be like, 'Do it, come on, who cares? You can start again tomorrow,' and this would go on and on."
Claire said, "Putting myself out there so raw and real not only helps me but it helps others learn to love themselves and know they are never alone."
She added, "My page is a safe place for anyone to message me. I reply to everyone; I know what it feels like to feel alone because no one around you understands what you're going through." She also plans to speak at high schools in her hometown to bring awareness to eating disorders to help as much as she can to prevent teens from suffering in silence.
If you or someone you love are experiencing signs and symptoms of an eating disorder, the National Eating Disorders Association has several resources, including 24/7 crisis support by texting "NEDA" to 741741.