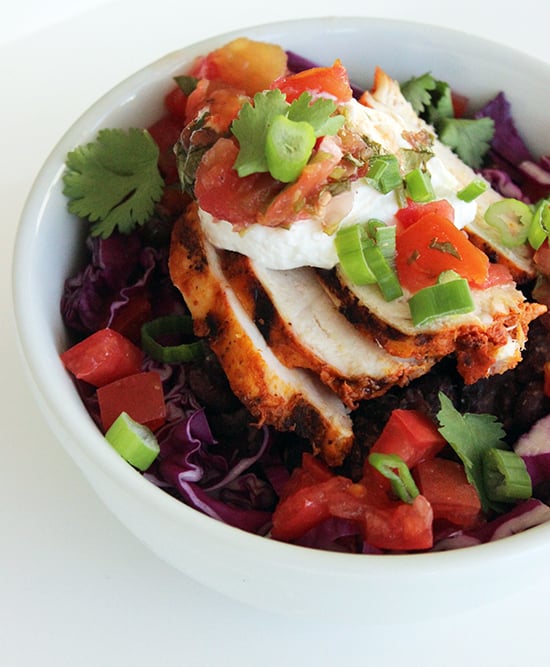 POPSUGAR Photography | Lizzie Fuhr
POPSUGAR Photography | Lizzie Fuhr
After breaking down your muscles during a weight-training workout, they need the right kind of food for recovery — and that means adequate protein, about 10 to 20 grams within 30 minutes to an hour after your workout. The following light dinners won't leave you feeling too full before bed, but they're still packed with the nutrition you need. Each of these quick recipes has at least 10 grams of protein along with a dose of healthy carbs and weighs in at 350 calories or less.
01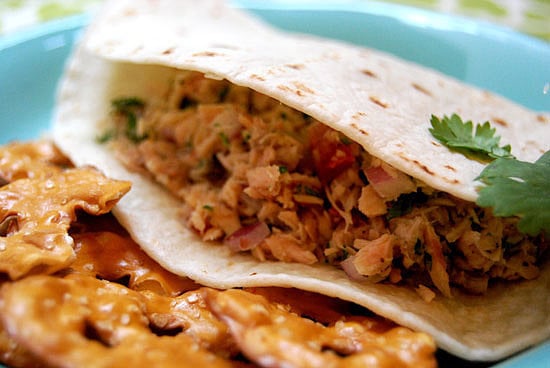 Lemon Tuna Pita Pocket
Yes, you can have a high-protein lunch ready in five minutes flat. This fresh tuna salad forgoes the fatty mayo and goes light and bright with lemon, a little olive oil, and a few additional seasonings for flavor.
Total calories: 323
Total protein: 27.9 grams
02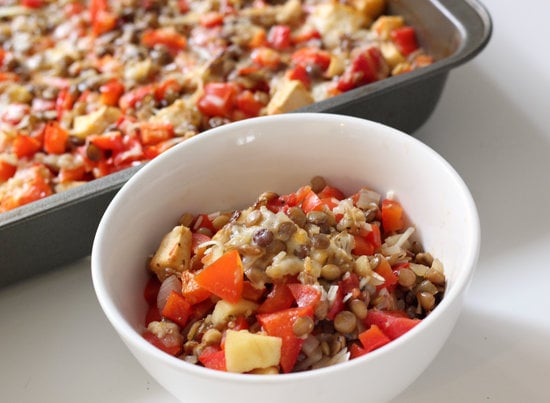 Red Pepper and Lentil Bake
High in vitamin A, vitamin C, and fiber, red bell peppers make a perfect accompaniment to protein-rich lentils in this low-calorie red pepper and lentil recipe. Bake a batch of this dish in advance and reheat as you need a quick evening meal.
Total calories: 233
Total protein: 11.6 grams
03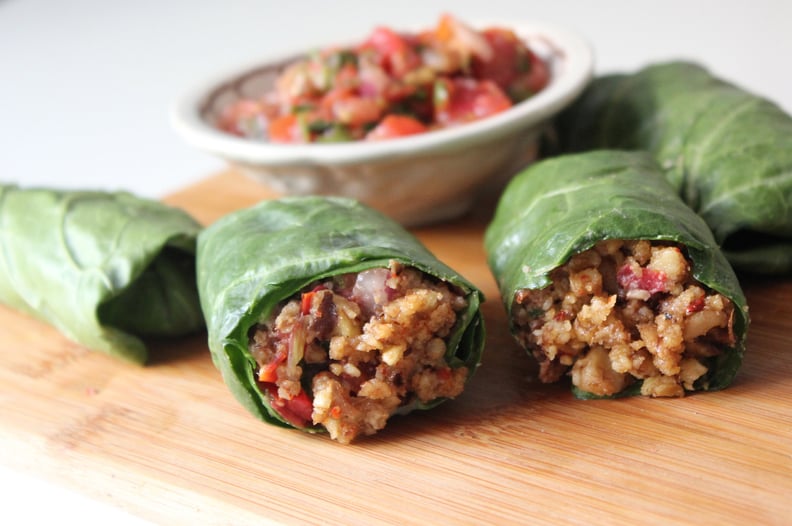 Raw Gorilla Wraps
These fresh, raw, and fast collard green gorilla wraps feature a unique filling: ground walnuts, seasoned with tamari, cumin, and other spices, and topped with your favorite salsa.
Total calories: 275
Total protein: 11.2 grams
04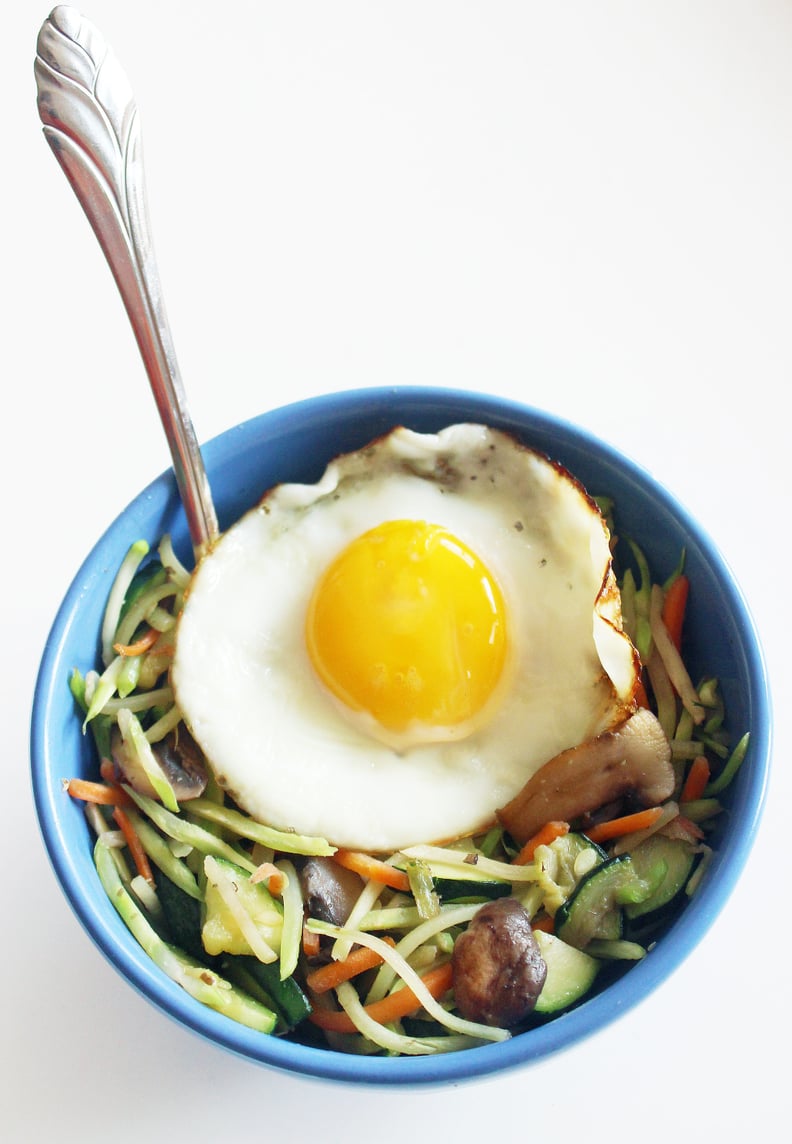 Broccoli Slaw With an Egg
With over 300 percent of your recommended daily vitamin C, 27 percent of your recommended fiber, and over 14 grams of protein, this 347-calorie broccoli slaw with an egg is a delicious recipe that boosts your immunity while fueling your muscles. I added mushrooms and zucchini to the mix, but whatever vegetables you have hiding in your fridge will fit the bill.
Total calories: 347
Total protein: 14.8 grams
05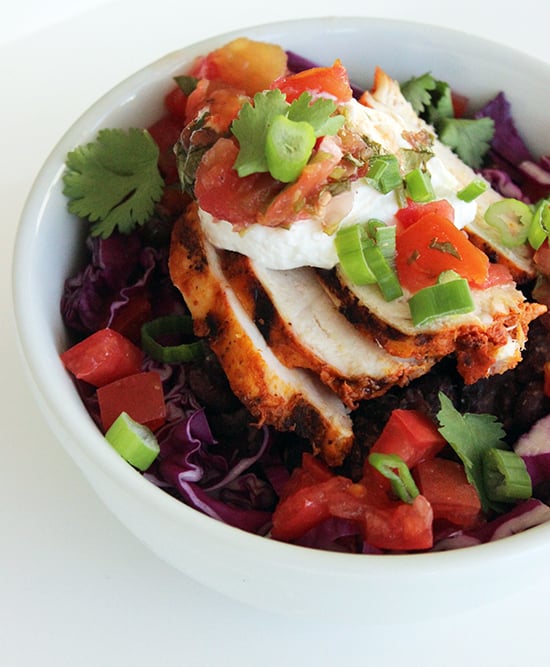 Fresh Burrito Bowl
Cut all the long Chipotle lines — and more than half the calories! — with this quick and delicious burrito bowl you can make at home in less than 10 minutes. A precooked chicken breast, fresh produce, and a few healthy staples are all you need for this nutrient-dense, low-calorie meal that will satisfy your Mexican fast-food cravings and post-workout needs.
Total calories: 350
Total protein: 42.6
06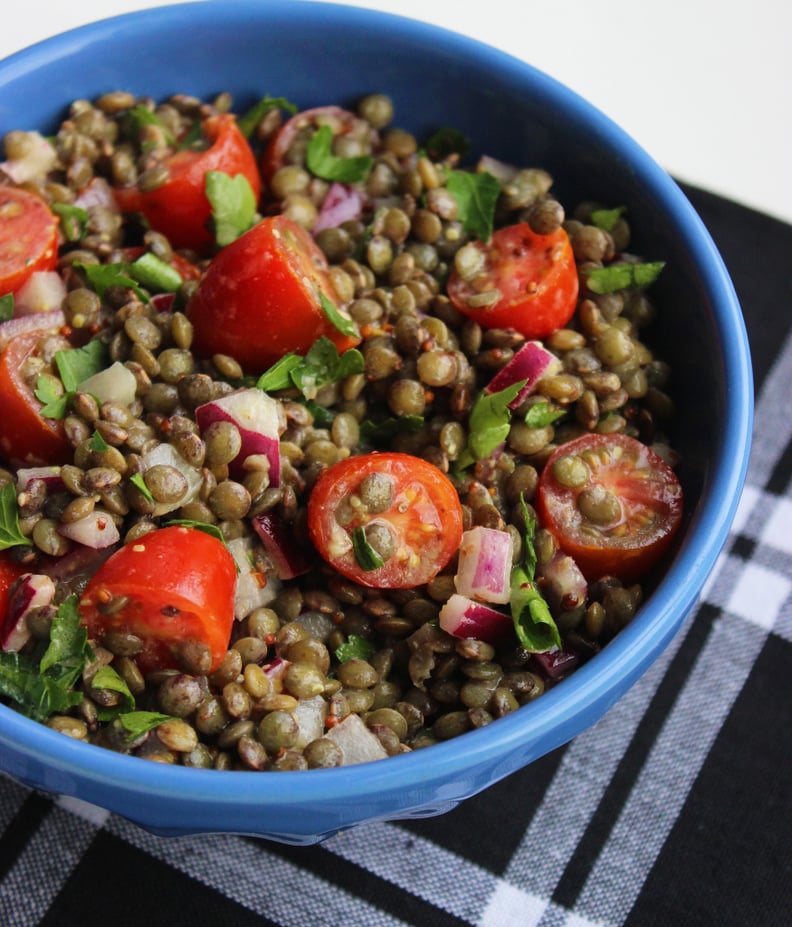 Goop's Mustard Lentils
Naturally gluten-free and full of fiber, these tiny legumes are a healthy pantry staple you should always have on hand — and they're absolutely delicious in this lentil salad from Goop. Tangy and clean, this recipe makes for a light yet filling recipe and even better leftovers; the longer this salad sits in the fridge, the better it tastes.
Total calories: 253
Total protein: 13.3 grams
07
Tortilla-Less Soup
This fresh and spicy tortilla-less soup is high in vitamin C and packed with protein. Cook up a big pot, and you'll have a satisfying meal to hold you over for the next few days.
Total calories: 291
Total protein: 39.1 grams
08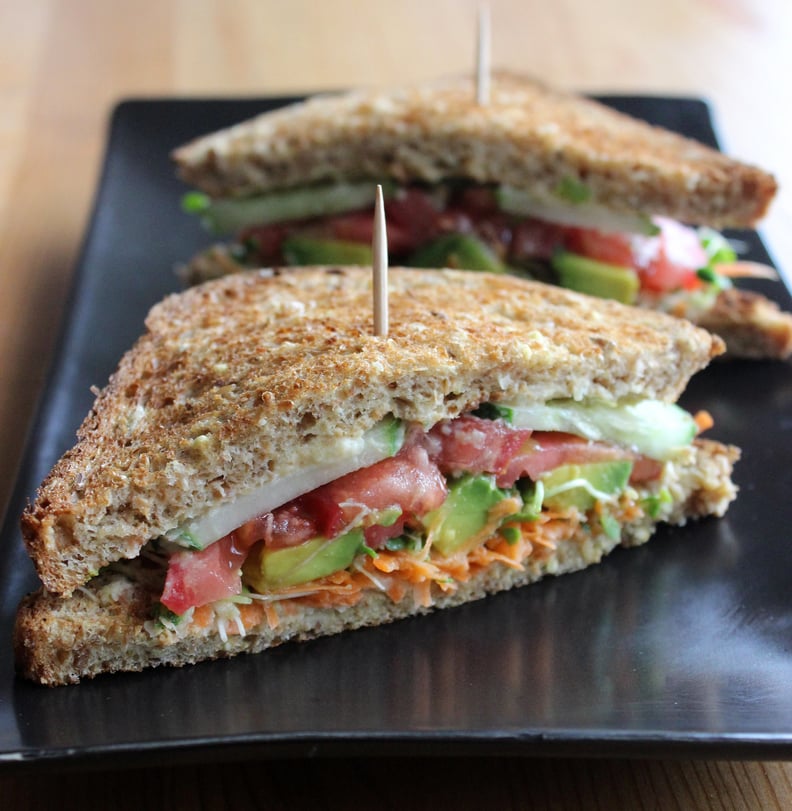 Hummus and Veggie Sandwich
You wouldn't believe a vegan sammy could taste so good, until you take a big bite out of this quick and easy veggie sandwich. Hummus and avocado provide the protein your muscles need, and layers of tasty veggies offer crunch, flavor, and other essential nutrients.
Total calories: 336
Total protein: 12.4 grams
09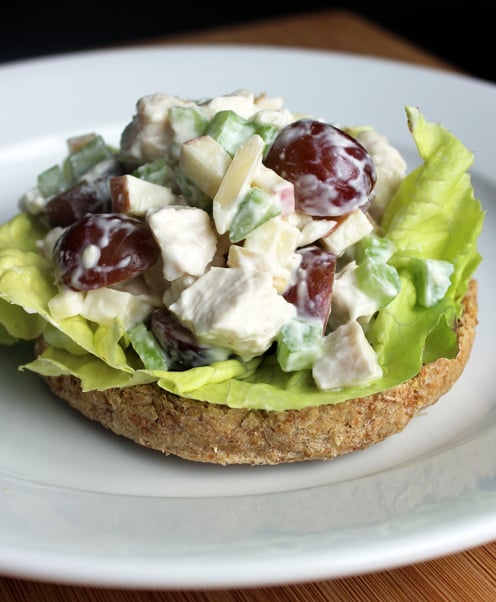 Greek-Yogurt Chicken Salad
Sub in nonfat Greek yogurt to keep the same texture and tang you love in the mayo-laden version, but cut the calories and fat of the traditional in half with this lightened-up chicken salad. Serve yours over a bed of greens or toasted English muffin for a light yet filling late-night meal.
Total calories: 139
Total protein: 19.6 grams
10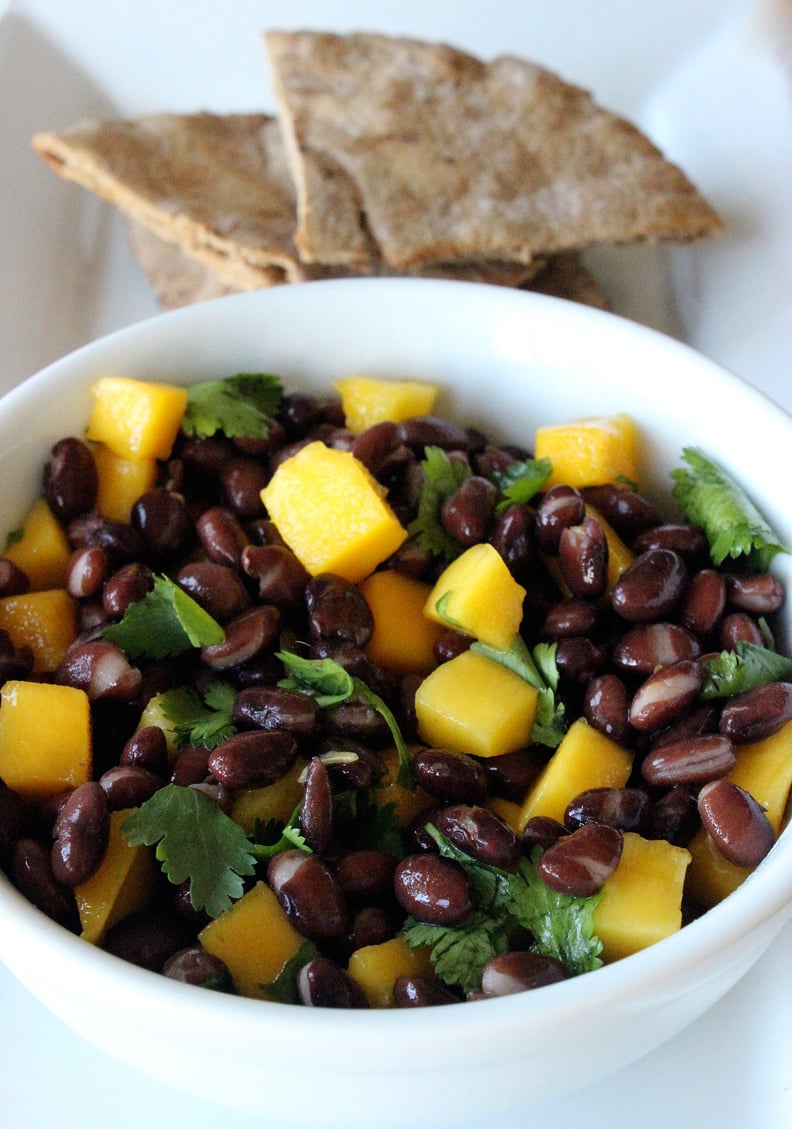 Black Bean and Mango Salad
After a hard workout, this gluten-free bean salad is the perfect protein-packed meal. It has more than 13 grams of fiber and nearly 17 grams of protein to fill you up and help your muscles recover.
Total calories: 349
Total protein: 16.9 grams
11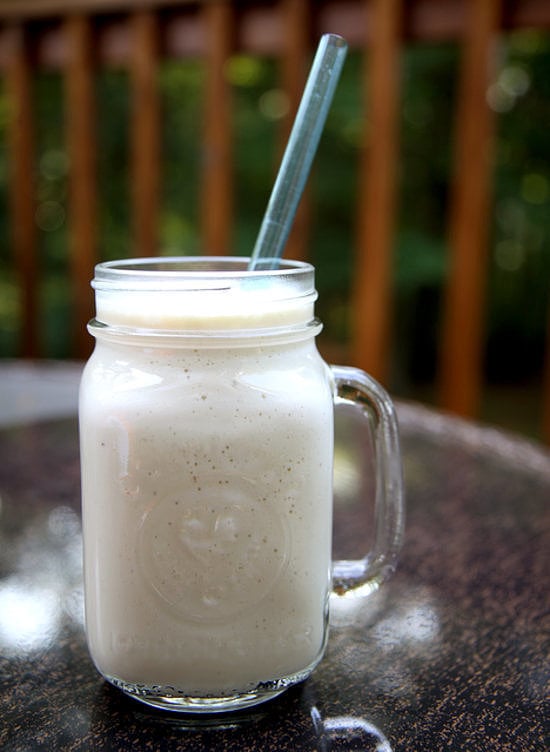 Post-Workout Smoothie
If you think that smoothies are only suitable for breakfast, it's time to retrain your brain. There's a reason you see tons of strong folks at the gym with a BlenderBottle in hand — they're repairing their muscles ASAP. Try this vegan vanilla shake or one of these other high-protein smoothies that offer over 13 grams of protein.
Total calories: 328
Total protein: 17.4 grams
12