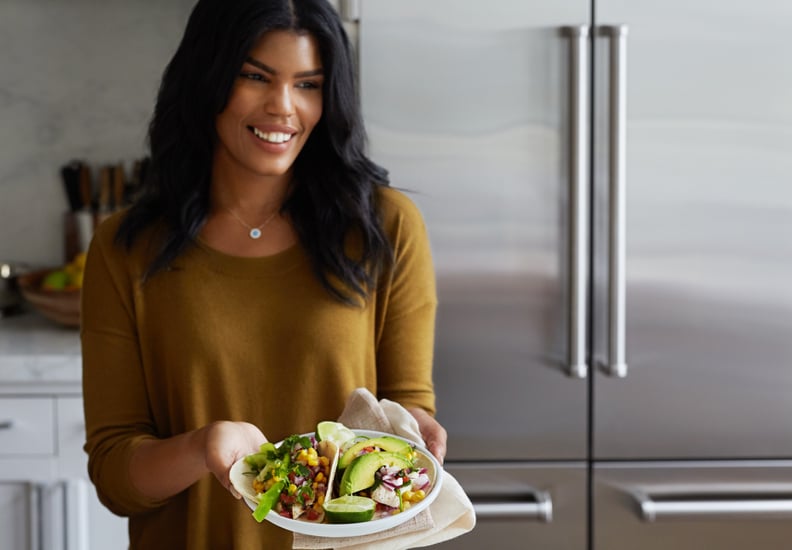 POPSUGAR Photography | Sheila Gim
POPSUGAR Photography | Sheila Gim
Let's say you happen to have a "double" one day and do more than just your daily workout. You got an hour of strength training in before work, but a friend invites you to go to SoulCycle after work and you just can't pass it up. Go you!
Alternate scenario: you're training for a half or full marathon, and your long runs are well over an hour. You've got a diet structured for your daily 60-minute workouts, but what happens after that hour of exercise? How do you adjust your diet to support the extra fitness?
In order to maintain your weight, Tone It Up's dietitian Lori Zanini has a quick fix, and it's a ratio — one extra hour of exercise to one extra serving of carbs. So for every hour you're working out beyond your daily 60 minutes, up your daily carb intake by one serving.
We asked Lori to expand a bit more on the carb addition to our diet. "Carbohydrates are the preferred energy source during physical activity and exercise," said Lori. "I recommend 30-60 grams of carbohydrates per hour after the initial 60 minutes." A cup of quinoa, a large banana, or a sweet potato will bring you about 30 grams of carbohydrates, while a cup of brown rice has about 45 grams.
Keep in mind that she's talking about intense exercises and cardio; if you're doing two hours of yoga per day, you're good to go with your regular diet.
Make sure you're getting a healthy serving of carbohydrates, like whole grains or fresh fruit. This will help keep your diet clean while you're giving your body the fuel it needs to crush those extra workouts.