Megan Rapinoe took the world by storm during the 2019 Women's World Cup, capturing hearts with her blend of energetic play, entertaining celebrations, and fearless leadership on and off the field. The US Women's National Team (USWNT) player, who's instantly recognizable for her iconic pixie cut — which has been dyed pink, blue, purple, and even icy blond — has competed on the international stage for 17 years and racked up some impressive accolades along the way.
Rapinoe (pronounced ra-pee-no) has played professionally for the OL Reign since its inception in 2013 and went to the University of Portland, where she won a national title and helped the team to an undefeated season in her freshman year. She made her USWNT debut in 2006 and, despite being sidelined by knee injuries in 2008 and 2009, returned to help the US become runners-up at the 2011 World Cup and win the 2012 Olympics. Once known more for her assists than her goals, she won the Golden Boot after scoring most goals in the 2019 World Cup, including one during the quarterfinals against France and an ice-cold penalty in the final versus the Netherlands. And of course, beyond her on-field heroics, Rapinoe is famous for being a leader in the team's victorious fight for equal pay and a vocal advocate for racial justice.
Now, Rapinoe is taking the field with the USWNT at the 2023 FIFA Women's World Cup, which will be her last. That's right: this will be the soccer legend's final World Cup; Rapinoe announced that she's retiring after this World Cup and the 2023 National Women's Soccer League season, which ends in October.
Keep reading to get to know Rapinoe and learn more about her iconic career before she steps off the field for the last time as a professional athlete.
— Additional reporting by Lauren Mazzo
01
How Old Is Megan Rapinoe?
02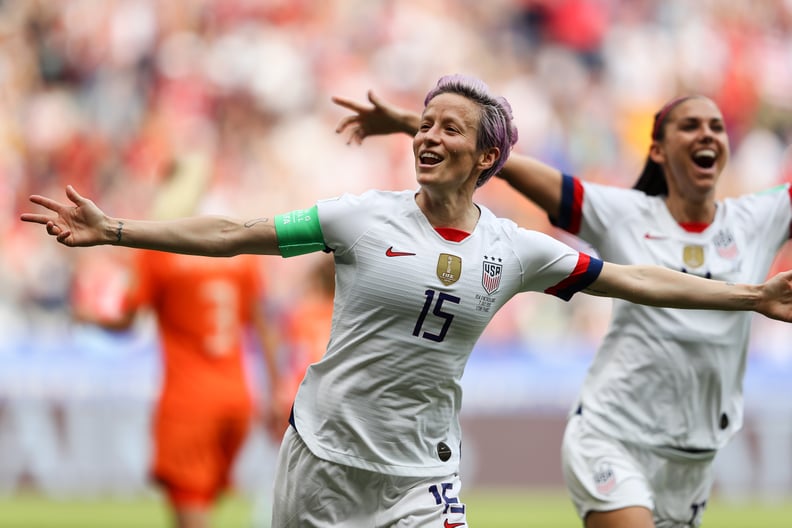 Megan Rapinoe Has Played For the USWNT For 17 Years
Rapinoe has played as a forward for the USWNT for 17 years and in that time has officially hit 200 caps (i.e. national team appearances) and made 63 goals, according to US Soccer.
As one of the most experienced veterans on the team, Rapinoe stepped into a leadership role with the 2019 World Cup. In previous tournaments, "I was able to kind of fly under the radar a little bit and not have too much pressure," she told POPSUGAR at the time. "But being one of the older veteran players, that's definitely a role that I and a lot of other players have taken on." She served as a cocaptain, along with Alex Morgan and Carli Lloyd, on the team that won the 2019 World Cup, where she earned both the Golden Ball and the Golden Boot.
Though she's not a captain at the 2023 tournament, Rapinoe still acts as a leader for the team both on and off the field.
03
Megan Rapinoe Is a Twin
Rapinoe and her twin sister, Rachael, played soccer together through college at the University of Portland. The fraternal twins both came out to each other during their sophomore year there: "It was just a matter of one of us saying it first," Rachael told The New York Times during an April 2013 interview. "That was really it. I had been dating someone and one of us said it first. It was a ripple effect. We both kind of came to the realization that we're in this together.""
The siblings work together at a CBD recovery company called Mendi, with cofounder Rachael serving as CEO and Megan on board as an adviser.
04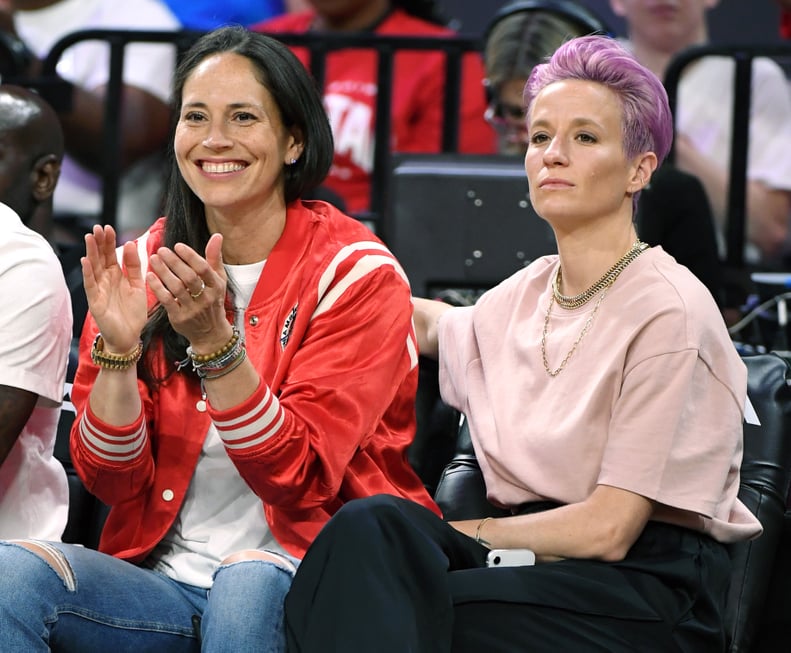 Megan Rapinoe Is Engaged to WNBA Superstar Sue Bird
Yep, Rapinoe is one half of a sports power couple. She met basketball star Sue Bird at a sponsor event at the 2016 Olympics, and they started dating that September. Bird, now retired, used to play for the WNBA's Seattle Storm. Between them, the couple have a ton of hardware: Bird has five Olympic gold medals and four WNBA titles under her belt, while Rapinoe has her own Olympic gold and bronze, plus two World Cup titles.
They were also the first gay couple to appear in ESPN Magazine's Body Issue, and Rapinoe helped Bird see the importance of publicly talking about her sexuality. "Megan and I would have conversations about it, and she opened my eyes to another way of looking at it, which is that in today's time, in today's society, it's still important to kind of say it to make it the norm," Bird told The Seattle Times in 2018.
The couple got engaged in October 2020 but have yet to set a wedding date. See a full timeline of Rapinoe and Bird's relationship here.
05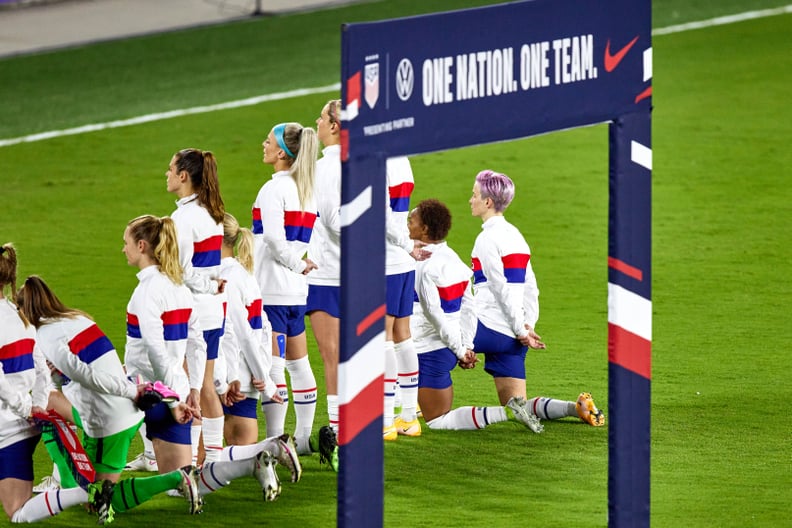 Megan Rapinoe Is a Racial-Justice Activist
Beyond her support for equal pay, Rapinoe has been a forceful advocate for racial justice throughout her career. An early supporter of Colin Kaepernick, Rapinoe knelt for the national anthem during a USWNT game in 2016 and faced immediate criticism for it.
"I think it's actually pretty disgusting the way [Kaepernick] was treated . . . We need to have a more thoughtful, two-sided conversation about racial issues in this country," she told American Soccer Now at the time. As part of the LGBTQ+ community, she continued, "I know what it means to look at the flag and not have it protect all of your liberties. It was something small that I could do and something that I plan to keep doing in the future and hopefully spark some meaningful conversation around it. It's important to have white people stand in support of people of color on this."
In 2017, US Soccer banned players from kneeling during the national anthem. Rapinoe was left off the national team roster for over six months after she knelt during the anthem, though Coach Jill Ellis said it was performance-related. US Soccer ultimately repealed the rule in 2021.
06
Megan Rapinoe Has Torn Her ACL 3 Times
Torn anterior cruciate ligaments (ACLs) plague women athletes, who are at a significantly higher risk of the injury than men. Rapinoe alone has endured three different ACL tears; the first time was in 2006 while playing soccer for the University of Portland, and the second was during the following season, when she tore the same ACL (in her left knee) again.
Then, in December 2015, Rapinoe tore her right ACL during training with the USWNT. While it kept her from playing for a little while, Rapinoe took it in stride: "I want everyone to know that I'll be fine, and that I'm currently accepting any recommendations for TV shows to binge watch and great restaurants that deliver in Seattle. I'm also going to get really good at FIFA 16," she told US Soccer at the time.
07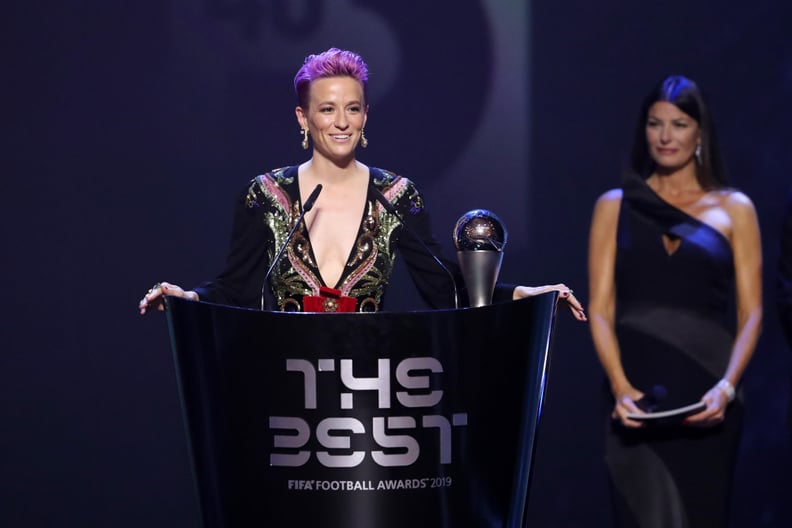 Megan Rapinoe Was Named Best FIFA Women's Player in 2019
After leading the USWNT to their fourth World Cup title, Rapinoe was named the Best FIFA Women's Player of the Year in 2019. Rapinoe used her acceptance speech to call for an end to racism in soccer, especially directed from fans to players, and to give support to other athletes who faced hatred or rejection because of their sexuality, race, or gender.
"I feel like if we really want to have meaningful change, what I think is most inspiring would be if everybody other than [Black players like] Raheem Sterling and [Kalidou] Koulibaly, if they were as outraged about racism as they were," Rapinoe said. " If everybody was as outraged about homophobia as the LGBTQ players . . . if everybody was as outraged about equal pay or the lack thereof of the lack of investment in the women's game other than just women. That would be the most inspiring thing to me."
08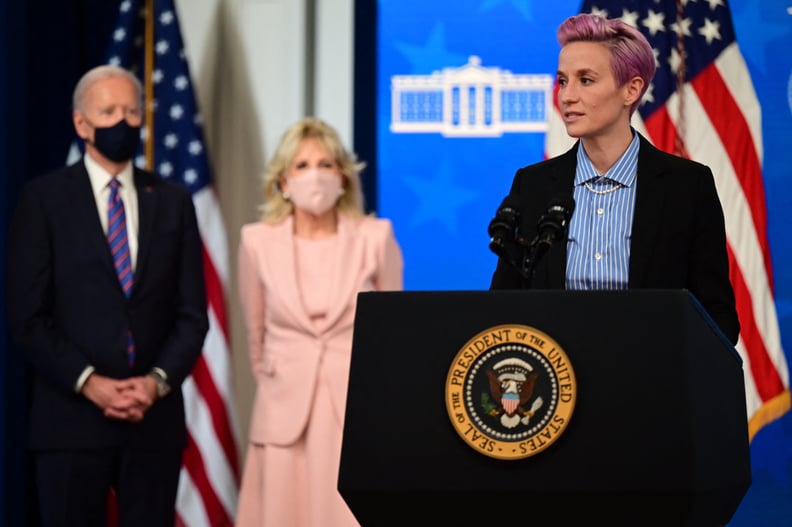 Megan Rapinoe Is an Outspoken Supporter of Equal Pay
Along with her fellow USWNT members, Rapinoe has ben a leader in the fight for equal pay for women. The team and former players issued a gender-discrimination lawsuit against US Soccer in 2019, and after years of work, made history when they reached an agreement with US Soccer that guarantees equal pay through 2028.
Rapinoe and USWNT teammate Margaret Purce both spoke at the White House in March 2021 for Equal Pay Day, and Rapinoe later addressed a House of Representatives committee on the same subject.
"You want stadiums filled? We fill them," Rapinoe said. "You want role models for your kids, your boys and your girls and your little trans kids, we have that . . . you want us to represent America in the best way possible. We've done all of that, and simply there's no reason why we're underpaid for the exception of gender."
In July 2023, the USWNT won the Arthur Ashe Award for Courage at the ESPYs for their work on equal pay, which is having a ripple effect outside the world of sports.
09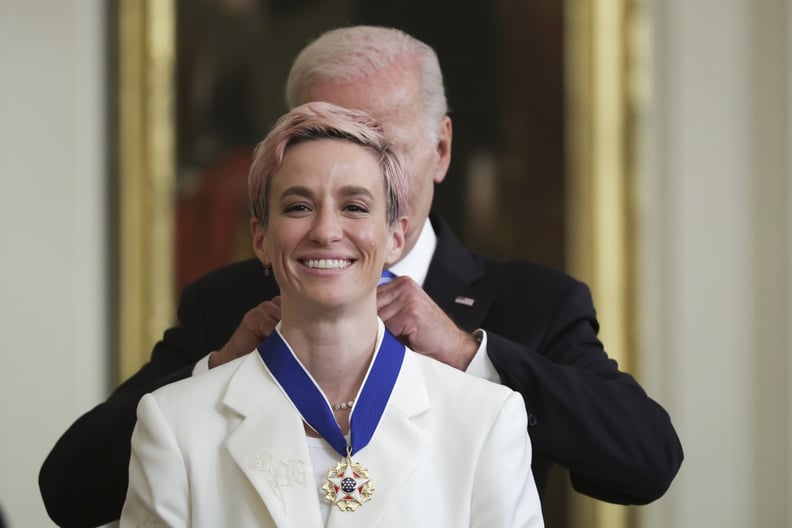 Megan Rapinoe Received the Medal of Freedom From President Joe Biden
In July 2022, President Joe Biden presented Rapinoe with the Medal of Freedom, the nation's highest civilian honor, along with 17 other recipients, including gymnast Simone Biles. Rapinoe was the first soccer player to receive the award and one of just six female athletes or coaches, according to NBC News.
When Rapinoe announced her retirement, President Biden commented on her Instagram post sharing the news, writing: "World Cup and Olympic Champion. Medal of Freedom recipient. Tireless advocate of equal pay for women and for the dignity and respect of all. Congrats on an incredible career. Looking forward to seeing how you continue to help people believe in themselves and the possibilities of our nation."
10
Megan Rapinoe Has Become a Fashion Icon
As if her athleticism and advocacy weren't already enough to make her a superstar, Rapinoe also has a one-of-a-kind fashion sense. She described it in a 2022 video with Victoria's Secret as: "sometimes it's a hurricane, sometimes it's very plain, sometimes it's sort of wild . . . I just sort of wear what I like."
When she became the face of the luxury fashion brand Loewe in January 2020, Rapinoe told CNN that fashion keeps her from feeling pigeonholed as an athlete. "Any chance I get to do something outside of sport, particularly in fashion, I'm all over that. Particularly in the context of women's sports, where I feel we're very boxed in . . . For me, [fashion] is my way of getting to do and look and express myself exactly the way that I want to."
In 2019, she even cofounded a brand called re—inc alongside fellow and former USWNT members Tobin Heath, Meghan Klingenberg, and Christen Press; the company offers eco-conscious fashion for all gender identities and body types to "boldly reimagine the status quo."
11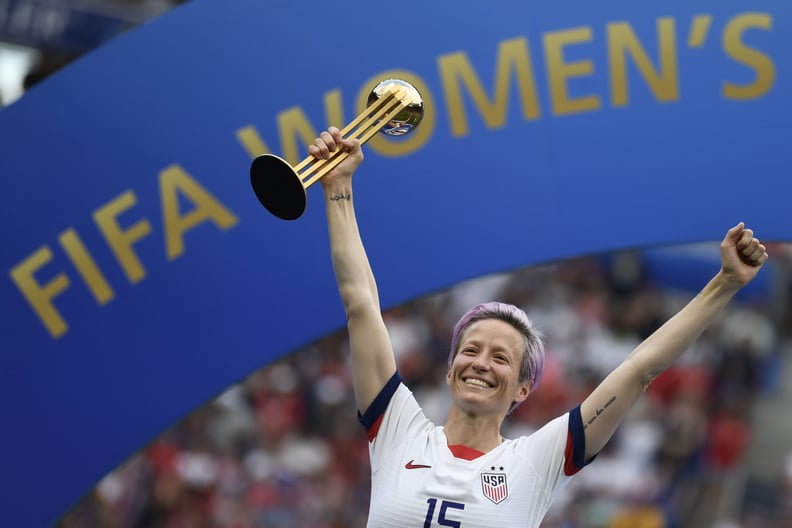 Megan Rapinoe Is a New York Times Bestselling Author
Rapinoe's memoir, "One Life", came out in 2020 to rave reviews, quickly becoming a New York Times bestseller. In the book, Rapinoe tells her life story, from growing up in Redding, CA, to coming out as gay in college, kneeling for the national anthem in 2016, and her continued work as an activist coming to terms with her own privilege.
12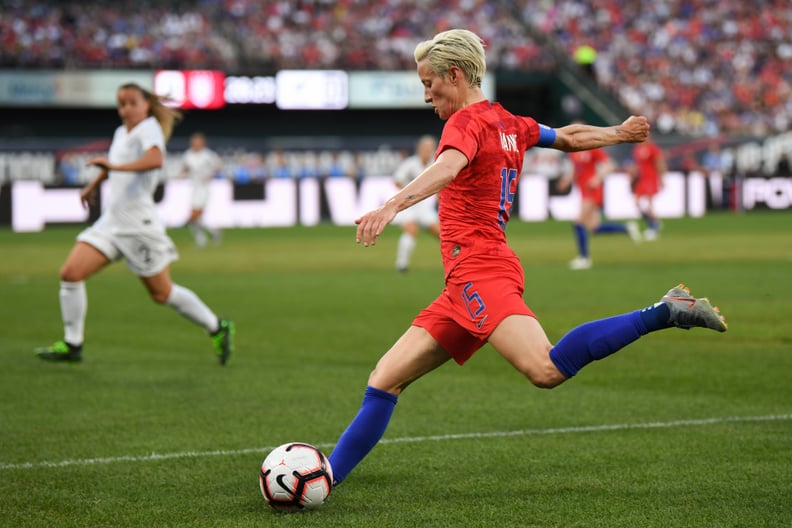 For Abs, Megan Rapinoe "Loves a Good Plank"
"Abs are made in the kitchen," Megan told POPSUGAR — which is where her healthy diet comes into play. "A good plank, though, I love a good plank. I don't do a lot of sit-ups or — I actually do zero sit-ups or crunches or anything like that. I do plank." Pick a few favorite plank variations to feel the burn for yourself.