Exercise must be part of the equation if you're trying to stay healthy, with many experts recommending at least 30 minutes of activity, five times a week. When dropping pounds is your goal, the recommendation jumps up to an hour per day, five times per week, and we're talking heart-pumping exercise, not a leisurely walk around the block. Since running for a straight hour is pretty intense, especially if you're an exercise newbie, brisk walking is a great option. But what if you're short on time? Would a 30-minute run be as beneficial?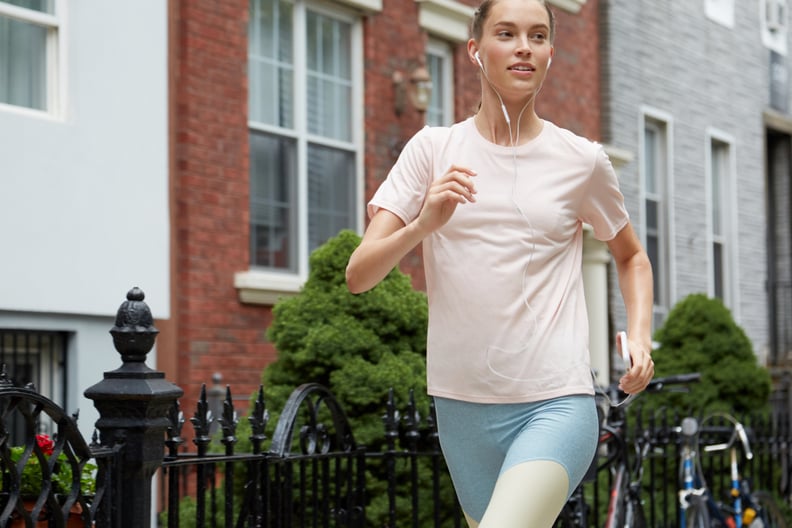 Losing weight is all about creating a calorie deficit. In order to lose a pound a week, you need to cut out or burn a total of 500 calories a day. If you ditch 250 calories from your diet, you'll need to burn 250 with exercise. Here's how many you'll burn briskly walking compared to jogging:
Walking:
60-minute walk at 4 mph (15 minutes per mile): 243 calories burned
60-minute walk at 4.6 mph (13 minutes per mile): 270 calories burned
Running:
30-minute run at 6 mph (10 minutes per mile): 270 calories burned
30-minute run at 6.7 mph (9 minutes per mile): 300 calories burned
Both the 60-minute walk at 4.6 mph and the 30-minute run at 6.0 mph burn the same number of calories. But if you tend to walk slower, then you definitely won't burn as many, and if your jogging pace is closer to 7 mph, then you'll make more use of your 30 minutes by jogging.
Whether you walk or run, instead of keeping a consistent pace, an even better option is to incorporate speed intervals. Every minute of sprinting at 8.5 mph not only burns 13 calories (as compared to 4 calories at 4 mph and 9 calories at 6 mph), but will also help diminish belly fat faster. Or, if sprinting isn't your thing, add incline. A 60-minute walk at 4 mph with a 10 percent incline burns 567 calories! If you'd rather pick up the pace and jog at 6 mph for 30 minutes with a 5 percent incline, then you'll burn 363 calories.
The bottom line is that the harder you work, the more calories you'll burn, which is the key to losing weight. Jogging burns more calories per minute than walking, so you can lose weight faster by learning to love running — here's an eight-week plan to get you up to speed. So even if you have an hour to work out, spend 30 minutes running, 20 minutes doing strength training (muscle mass increases your metabolism, which helps you burn calories faster), and 10 minutes stretching (to help prevent injury and soreness). That intense, jam-packed hour will definitely help you reach your weight-loss goals quicker than just going for a walk.
Calculations are based on a 130-pound woman.