No-Cook Tomato Sauce Recipe
Heat Wave Cooking: Raw Tomato Sauce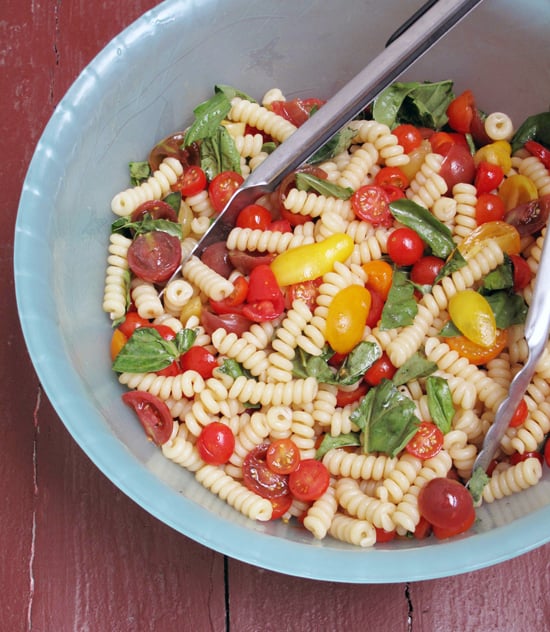 Not to be a downer, but I've become acutely aware that we only have a month or two of the Summer produce season until next year. Every time I smell a buttery, ripe peach, I cry a little inside, then I buy more peaches than I need. The same goes with basil; I'm pretty sure I have more than two bunches of basil in my refrigerator, in the event of an emergency. And each time I think of my next meal, I wonder if it can't be a dish that incorporates the sweet-tart jelly insides of a ripe tomato.
It's been easy to try (and fall for) tomatoes in many iterations, from Southeast Asian salad to pickled farm-stand tomatoes. But I'm convinced that my latest discovery, fusilli with no-cook tomato sauce, has to be the greatest.
Keep reading for the recipe.
All you do is start with plump, snappy cherry tomatoes, halved to expose their flesh and jellylike seeds. Add in a mixture of olive oil and balsamic, then toss with freshly cooked pasta.
There's not one element that makes this dish. It's the amalgam of everything. Tomatoes, at the peak of their ripeness, marry with oil and vinegar to create a sweet, tangy liquor of sorts. Steaming coils of al dente fusilli, with nooks and crannies to capture every bit of that liquor. Oh, and tender leaves of licorice-scented basil — that's the icing on the cake.
The sad truth is that I can't make tomato season last longer. But in the meantime, I can make it taste more vivid than ever, something that memory and imagination will appreciate until the next tomato season is upon us.
Fusilli With No-Cook Tomato Sauce
Adapted from Bon Appétit
Ingredients
1/2 cup extra-virgin olive oil
1-1/2 tablespoons balsamic vinegar
2-1/2 pounds cherry tomatoes, halved if small and quartered if large
1/2 cup fresh basil, torn
Sea salt and freshly ground black pepper
1 pound dry fusilli or spiral-shaped pasta
Directions
Whisk 1/2 cup oil and vinegar in a large bowl to blend. Add chopped cherry tomatoes. Season to taste with salt and pepper.
Add pasta to a large pot of salted boiling water, stirring occasionally, and follow directions on box to cook until al dente.
Drain; return pasta to pot and add to tomato mixture. Stir in basil, and toss to evenly incorporate. Season pasta to taste with salt and pepper and drizzle with more oil, if desired.
Information
Category

Pasta, Main Dishes

Cuisine

Italian

Yield

Serves 6