1080 Side: Potatoes with Bacon and Chorizo I came across this recipe from 1080 Recipes — Spain's "answer to Joy of Cooking," which was recently translated into English — and knew I had to share it with you. Partly because it looks so beautiful and partly because it involves bacon — sorry vegetarians, this one's pretty unfriendly. If you're looking for something to accompany your dinner tonight, then look no further. Get the recipe for Potatoes with Chorizo and Bacon after the jump. I guarantee you'll be drooling once you
.



Potatoes with chorizo and bacon
From 1080 Recipes by Simone and Inés Ortega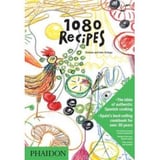 Ingredients
3 tablespoons butter or 4 tablespoons lard
5 tablespoons sunflower oil
2 ounces chorizo sausage, peeled and thinly sliced
3.5 ounces thickly sliced bacon, cut into 1/2" wide strips
3 1/4 pounds small potatoes, preferably new potatoes, unpeeled
1 tablespoon chopped fresh parsley
1 clove garlic, finely chopped
salt
Directions
Melt the butter or lard with the oil in a pan or large skillet. (It needs to be big enough to hold the potatoes in a single layer.)
Add the chorizo and bacon and cook over medium heat, stirring constantly, for a few minutes then add the potatoes.
Season with salt and cook covered over low heat, shaking the pan occasionally, for 45-60 minutes, until the potatoes are evenly browned.
Just before serving, sprinkle with parsley and garlic and stir for a few minutes more.
Transfer to a warm serving dish and serve immediately.
Note: Some types of chorizo become hard with prolonged cooking. To prevent this, cook the slices with the bacon, then remove and set aside. About 10 minutes before serving, return the slices of chorizo to the pan.
Information
Category

Side Dishes, Potato

Cuisine

Spanish/Portuguese