12 Days of Edible Gifts: Hazelnut Kiss Cookies Every holiday season, I love indulging in those classic peanut butter cookies dimpled with a Hershey Kiss center. For our 12 Days of Edible Gifts, I experimented with this same concept to create a Ferrero Rocher-inspired treat. The combination of hazelnuts and chocolate is always divinely delicious and these crumbly hazelnut cookies with chocolate middles are no exception. They're simple to make and easily gifted in a festive basket or decorative to-go container. To make these delectable cookies for your friends and family,
.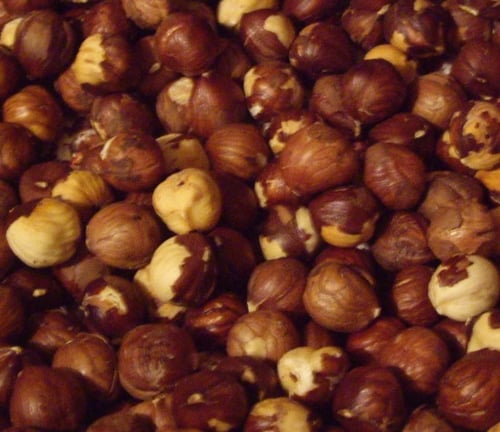 Ingredients
1 1/2 cup butter, softened
1 cup Sugar
2 eggs
2 egg yolks
1 teaspoon vanilla extract
3 cup all purpose flour
1 teaspoon salt
1 1/2 cup ground roasted hazelnuts
48 unwrapped Hershey Kisses
Directions
Preheat oven to 350. Place whole hazelnuts on a large cookie sheet. Bake for 8-12 minutes until fragrant. Be careful to not burn the nuts. Fresh from the oven place hazelnuts in a clean dish towel, rub against the towel to remove the skin. Grind or finely chop hazelnuts.
In a large mixing bowl, cream butter and sugar until light and fluffy. Mix eggs, yolks and vanilla well. Combine flour and salt and add a third at a time to the creamed mixture, beating well after each addition. Stir in nuts.
Roll dough into 1 inch balls. Place 2 inches apart on ungreased cookie baking sheets. Flatten each ball and place a Hershey Kiss in the center of each cookie.
Bake at 350 for 10-12 minutes until cookies have set. Only the bottom of cookie will turn golden brown. Watch the cookies closely as the tip of the chocolate can burn. Remove to wire racks to cool completely.
Makes 4 dozen cookies.
Information
Category

Desserts, Cookies