12 Days of Edible Gifts: Stout Spice Bread I've been longing to make my friends baked goods in some form other than Christmas cookies, and decided this stout spiced bread was different yet delicious.
I love the idea of individually sized breads, as well as the eco-friendly concept of reusing something disposable. To prevent sticking, remember to butter the canisters and let them cool slightly but not entirely before removing them from their cans. Your home will be filled with the aroma of sugar and spice — and your friends will all be indebted to you! To see the recipe,
.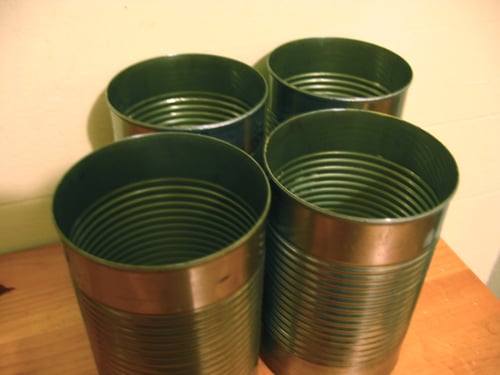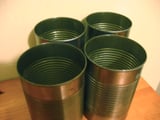 Ingredients
2 tablespoons unsalted butter, softened
3 3/4 cups all-purpose flour
1/2 teaspoon plus 1/8 teaspoon baking soda
1 3/4 teaspoons baking powder
1 1/4 teaspoons salt
1 tablespoon ground cinnamon
1 1/4 teaspoons ground nutmeg
1 1/4 cups vegetable oil
1 1/4 cups unsulfured molasses
1/2 cup packed light brown sugar
2 large eggs plus 1 large egg yolk
1 1/4 tablespoons finely grated orange zest
1 1/4 cups stout, such as Guinness, poured and settled
Confectioners' sugar, for dusting (optional)
Equipment: 4 clean 19-ounce soup cans (cannot be enamel-lined), free of sharp edges
Directions
Preheat oven to 350ºF. Using a pastry brush, generously butter the insides of four 19-ounce soup cans.
Sift together flour, baking soda, baking powder, salt, and spices; set aside. Put oil, molasses, brown sugar, eggs, yolk, zest, and stout in the bowl of an electric mixer fitted with the paddle attachment; mix on medium-low speed. Reduce speed to low; gradually add flour mixture.
Divide batter among cans, filling them no more than two-thirds full. Transfer to baking sheet. Bake until a cake tester comes out clean and breads are pulling away from sides. Cool in cans on wire rack 20 minutes; then unmold and let cool completely.
To package, return breads to clean cans. Dust with confectioners' sugar before serving, if desired. Store in an airtight container at room temperature up to 2 days.
Makes 4 individual breads.
Information
Category

Breads, Dessert Bread