12 Days of Edible Gifts: Sweet and Spicy Brittle
During the holidays, I keep homemade brittle in pretty packages to ensure that unexpected guests don't leave empty handed. This year, I made two different types of brittle: a classic peanut brittle and a more exotic, spicy brittle with pine nuts. However, it's easy to make brittle with any nut, seed, spice, or dried fruit. Making brittle can be a daunting task, but with a couple of helpful tips, the procedure is uncomplicated. A candy thermometer is essential. There's a limited amount of time between brittle and burned sugar disaster, so have all the nuts and other ingredients ready and waiting. When the amount of steam produced by the boiling water and sugar mixture lessens, you have reached the hard-crack stage. Most importantly, remember to be patient! Get started on this crunchy, sweet, and spicy gift when you
.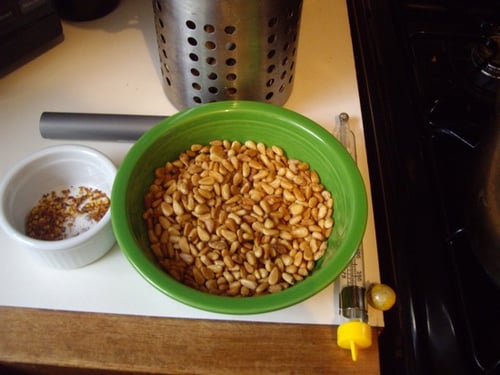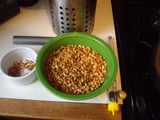 Ingredients
Classic Peanut Brittle
1 cup sugar
1/2 cup water
1/2 cup salted peanuts
Spicy Pine Nut Brittle
1/2 cup toasted pine nuts
1 cup sugar
1/2 cup water
1 teaspoon dried hot red pepper flakes
1/2 teaspoon salt
Directions
Preheat oven to 250°F. Lightly oil a large sheet of foil on a baking sheet, then warm in oven.
Cook sugar and water in a deep 2-quart heavy saucepan over moderately low heat, stirring slowly with a fork, until melted and pale golden.
Cook caramel without stirring, swirling pan, until golden. If making the spicy variation, immediately stir in red pepper flakes, salt, and nuts and cook, stirring, until nuts are golden, about 1 minute.
Once brittle reaches hard-crack stage (about 300°F) quickly pour onto foil, tilting baking sheet to spread brittle evenly before it hardens. (If caramel hardens too fast, put in a 400°F oven until warm enough to spread, 1 to 2 minutes.) Cool brittle on baking sheet on a rack until completely hardened, then break into large pieces.
If you want to create brittle pops, cut skewers into thirds. Alternate the sticks on a foiled and oiled cookie sheet. Cook the brittle as directed above, pour on the foil covering 1/3 of the top of each stick. Once cooled, carefully break apart brittle pops.
Makes 1 1/2 cup brittle of each type.
Information
Category

Desserts, Candy