2006 Clarendon Hills Grenache
Wine of the Day: 2006 Clarendon Hills Grenache
"Don't judge a book by its cover," or so the old adage goes. After a recent revelation, I'm convinced the same should apply to vino: don't judge a wine by its stereotype.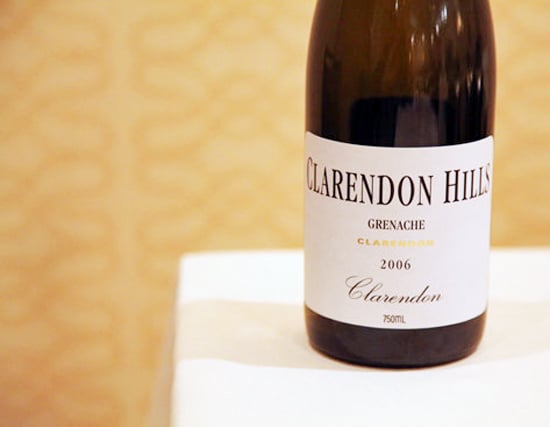 I learned this thanks in part to a recent blind wine tasting organized by SF Chefs and hosted by Wine Spectator's Gwendolyn Osborn. The panel included some of the country's most esteemed wine experts: wine importer and Master Sommelier Jesse Becker, Master Sommelier and CIA wine instructor Christie Dufault, and A16 wine manager Nico Sciackitano.
I've always said I prefer white over red and Old World wine over New World varieties, but that notion was flipped on its head when I blind-tasted the 2006 Clarendon Hills Grenache ($36). From the minute this brick-red wine stained my wine glass, I had an affinity for it, despite not knowing what it was. I was drawn in by the layers of cherry vanilla, spice, and stewed fruit on the nose, then left mystified by a eucalyptus, cinnamon-like flavor on the palate. And despite the moderate amount of tannin in the wine, it lingered with a silky, acid-forward finish. "It reminds me of Big Red gum," one sommelier declared. He was spot on.
I was convinced the wine was an older Napa Zinfandel, and so were all the sommeliers, so we were shocked to discover this wine was from South Australia. It was just proof that wines never cease to surprise. What was the last wine to shock you?
Photo: Nicole Perry