2010 Arnaldo Caprai Grecante Grechetto dei Colli Martani Review
Wine of the Day: 2010 Arnaldo Caprai Grecante Grechetto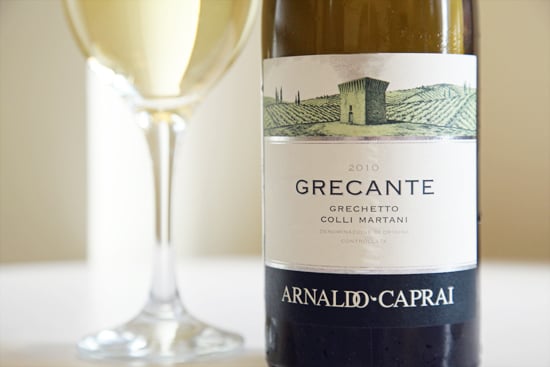 While Susannah will be in Germany sampling Rieslings at their source this Labor Day weekend, I'll be stuck stateside, but believe it or not, I'm not lamenting my lack of long-weekend plans. That's because I'll be taking things easy, sipping on a well-chilled glass of 2010 Arnaldo Caprai Grecante Grechetto dei Colli Martani ($20), an Italian white wine that I consider my Summer secret weapon.
While any variety of drinks might do the trick, Grecante is my wine of choice for sweltering Summer days; it's immensely refreshing, thanks to its mouth-puckering acidity and smooth long finish. I'll be pairing mine with a good book, but it'd be equally at home consumed in concert with grilled fish, burrata stuffed squash blossoms, or a simple appetizer of cheese and crackers.
What will you be drinking this Labor Day weekend?
Photos: Anna Monette Roberts