2010 Franciscan Estate Cuvee Sauvage Chardonnay
Wine of the Day: 2010 Franciscan Estate Cuvée Sauvage Chardonnay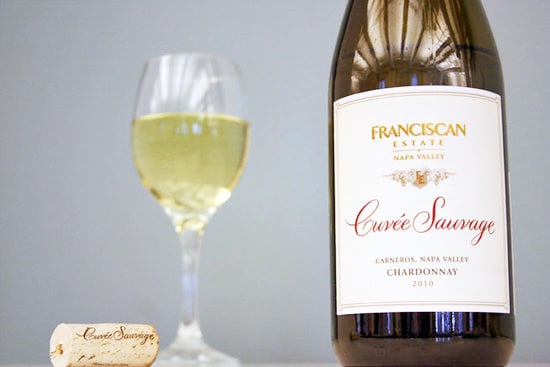 Chardonnay typically runs in two veins: either crisp and apple tart or buttery and oaky. People feel strongly about both sides, but those who gravitate toward latter flavors will love this 2010 Franciscan Estate Cuvée Sauvage Chardonnay from Napa Valley. At $40 a bottle, this is no table wine, but its unique method of fermentation and big, bold flavors make it worthy of opening on a special occasion.
Customarily, winemakers add yeast to the grapes to propel fermentation, but this Chardonnay is a cuvée sauvage. Sauvage in French means "wild" or "natural," indicating the grape juice, stored in a barrel, slowly developed natural yeast strains and fermented on its own. The fermented wine is then aged in oak barrels sur lie — meaning "on the yeast" — which contributes to added flavor complexity.
The wine pours out a golden hue, a sign that our palates are in for a strong, heavy white that holds its own and offers enough depth and intricacy to appeal to red-wine drinkers. On the nose and tongue, the scent and flavors sync harmoniously. Vanilla bean, butter, caramelized sugar, hazelnut, and toasty oak swirl together for a hefty, rich combination. Perhaps there's a slight hint of apple and lemon, but the fruitiness of the wine subtly lingers in the background. With each swallow, the velvety tannins from the oak coat the tongue and throat but don't stick there relentlessly. Red-wine drinkers, I challenge you to taste and enjoy this Chardonnay.