2010 Stoneleigh Pinot Noir Review
Wine of the Day: 2010 Stoneleigh Marlborough Pinot Noir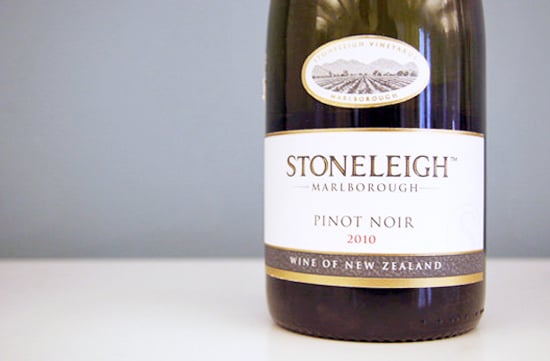 The Marlborough region of New Zealand has become world famous for its tropical fruit-tinged, grassy Sauvignon Blancs, but I've developed a recent interest in the Kiwi region's other grape of note, Pinot Noir.
Although Central Otago is perhaps best known for its Pinot (case in point: Peregrine's excellent 2007 vintage), Pinot Noir is a popular but finicky grape that does best in lower-temperature climes, and Marlborough's cooler nights lend themselves well to the grape's growth. I loved the drinkability of this 2010 Stoneleigh Pinot Noir ($13), which started out with smooth berry notes and ended on an earthy note. Its tannin made me dream of pairing it with food, rather than consuming it alone; it'd be great for dinner this time of year, paired with duck legs and grilled plums.
Where do your favorite Pinot Noirs come from? Have you tried any of New Zealand origin?
Photo: Anna Monette Roberts