2011 Georges Duboeuf Domaine Les Chenevieres Macon-Villages
Wine of the Day: 2011 Duboeuf Domaine Les Chenevières Mâcon-Villages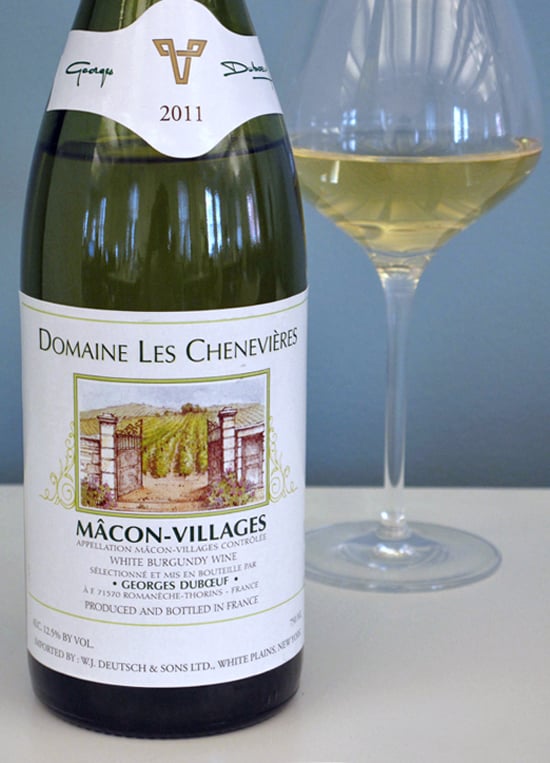 I've always associated Georges Duboeuf — one of the largest wine producers in France — with Beaujolais, be it the young, fruity Beaujolais Nouveau that comes out every November, one of the more serious Crus, or the lighthearted Beaujolais-Villages. But after sipping on some of the brand's Mâcon-Villages, I'm now convinced that the brand makes some pretty solid Chardonnay, too.
I'll admit, I'd never have thought to buy Georges Duboeuf's 2011 Domaine Les Chenevières Mâcon-Villages: as someone who lacks patience as a virtue, the wine has far too many accented and unpronounceable descriptors for me to bother even pulling it off the shelf when, say, a California Chardonnay is also staring back at me.
But now that I've tried it, I absolutely would: from the minute the pour hit my glass, I knew this wine and I were destined to be friends. The glass had such a saturated straw hue, it was like Rapunzel spun gold! One sniff brought a bevy of aromatics — nuts and fruit like apples and pears, and floral notes, like rose petals — followed by a creamy mouthfeel, citrus midpalate, and a long, lingering finish.
I wasn't the only one: "This is maybe the best wine I've ever had. I want to drink it all day, every day," another taster told me. "It's the type of dry white I'm always looking for: dry with a very slight sweet aftertaste," she explained. Everyone was shocked to find out its sticker price was a mere $14, and we all agreed that despite having a mouthful of a name, this white Burgundy is well worth seeking out.