2011 James Beard Award Winners
Announcing the 2011 James Beard Award Winners!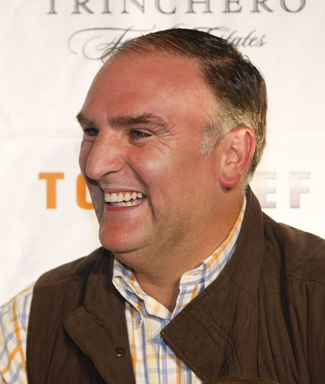 After months of media buzz, the winners of this year's James Beard Awards are in. The awards — which are being bestowed upon the nation's top chefs thisveryminute by the likes of Tom Colicchio, Ming Tsai, and Traci Des Jardins — are taking place at a star-studded gala in New York's Lincoln Center.
As for the winners: José Andrés was predicted to take home the Outstanding Chef Award, which he did — while Eleven Madison Park in New York City took home the year's award for best restaurant. To see the most updated list of accolades, keep reading.
Outstanding Chef Award
José Andrés
Minibar by José Andrés
Washington DC
Outstanding Restaurant Award
Eleven Madison Park
New York, NY
Chef: Daniel Humm
Owner: Danny Meyer
Best New Restaurant
ABC Kitchen
New York, NY
Chef/Owner: Jean-Georges Vongerichten
Owner: Phil Suarez
Outstanding Restaurateur Award
Richard Melman
Lettuce Entertain You Enterprises
Chicago, IL
Rising Star Chef of the Year Award
Gabriel Rucker
Le Pigeon
Portland, OR
Outstanding Pastry Chef Award
Angela Pinkerton
Eleven Madison Park
New York, NY
Outstanding Service Award
Per Se
New York, NY
Chef/Owner: Thomas Keller
Outstanding Wine Service Award
The Modern
New York, NY
Wine Director: Belinda Chang
Outstanding Wine and Spirits Professional Award
Julian P. Van Winkle III
Old Rip Van Winkle Distillery
Louisville, KY
Best Chef: New York City
Gabrielle Hamilton
Prune
Best Chef: Great Lakes (IL, IN, MI, OH)
Alex Young
Zingerman's Roadhouse
Ann Arbor, Michigan
Best Chef: Mid-Atlantic (DC, DE, MD, NJ, PA, VA)
Michael Solomonov
Zahav
Philadelphia, PA
Best Chef: Midwest (IA, KS, MN, MO, NE, ND, SD, WI)
Isaac Becker
112 Eatery
Minneapolis, MN
Best Chef: Northeast (CT, MA, ME, NH, NY, RI, VT)
Tony Maws
Craigie on Main
Cambridge, MA
Best Chef: Pacific (CA, HI)
Michael Tusk
Quince
San Francisco, CA
Best Chef: Northwest (AK, ID, MT, OR, WA, WY)
Andy Ricker
Pok Pok
Portland, OR
Best Chef: South (AL, AR, FL, LA, MS)
Steven Stryjewski
Cochon
New Orleans, LA
Best Chef: Southeast (GA, KY, NC, SC, TN, WV)
Andrea Reusing
Lantern
Chapel Hill, NC
Best Chef: Southwest (AZ, CO, NM, NV, OK, TX, UT)
Tie: Saipin Chutma and Tyson Cole

Saipin Chutima
Lotus of Siam
Las Vegas, NV

Tyson Cole
Uchi
Austin, TX

Outstanding Restaurant Design
Bar Agricole
San Francisco, CA
Design Firm: Aidlin Darling Design
Outstanding Restaurant Graphics
The National Bar & Dining Rooms
New York, NY
Design Firm: Love and War
America's Classics Awards

Chef Vola's
111 S Albion Pl
Atlantic City, NJ
Owners: Louise Esposito, Michael Esposito, Michael Esposito Jr. and Louis Esposito

Le Veau d'Or
129 East 60th Street
New York, NY
Owners: Robert and Cathy Tréboux

Watts Tea Shop
761 N. Jefferson Street
Milwaukee, WI
President and CEO: Sam Watts

Crook's Corner
610 West Franklin Street
Chapel Hill, NC
Owner: Gene Hamer; Executive Chef: Bill Smith

Noriega Restaurant and Hotel
525 Sumner Street
Bakersfield, CA
Owners: Rochelle Ladd and Linda Elizalde McCoy

Who's Who of Food & Beverage in America Inductees
Jonathan Gold
Food Writer
LA Weekly
Los Angeles, CA

Farmer Lee Jones
Founder, Culinary Vegetable Institute
Huron, OH

Charles Phan
Chef/Owner, The Slanted Door
San Francisco, CA

Frank Stitt
The Highlands Bar & Grill
Birmingham, AL

Nick Valenti
CEO, Patina Restaurant Group
New York, NY

Lifetime Achievement Award
Kevin Zraly
Wine educator and founder, Windows on the World Wine School
Humanitarian of the Year
David Lee
Founder, FareStart, Seattle, WA