2011 Thanksgiving Trends
6 Trends Hitting Tables This Thanksgiving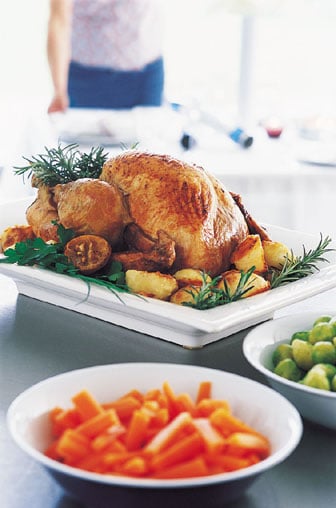 Thanksgiving may be a tradition we look forward to repeating every year, but no two turkey days are ever alike. While there are mainstays (an over-the-top feast, a serious selection of sides, and an attitude of gratitude) that will never go away, thanks to the ever-changing times, we're seeing a few new trends, too.
Here are a few themes we've seen everywhere this holiday.
East- and South Asian-inspired birds. For something different, well-traveled gourmands are turning to ingredients from the near and far East, using the likes of soy sauce and garam masala for a more dynamic bird this year.
Keep reading for more Thanksgiving trends.
Brussels sprouts are making a comeback. Whether it's roasted in the pan, deep-fried in oil like a chip, or shredded in slaw, these petite cabbage heads are everywhere this year. Try them pan-fried, in a hash, or even raw and chopped into salads.
Heritage turkeys. They've been around for hundreds of years, but it's finally time for heritage turkeys to shine. Because they're bred naturally and grow slowly, they're known for their succulent texture and depth of flavor.
Pass the cranberry salsa and relish. Although cranberry jelly and sauce will always have a place at the table, lighter cranberry preparations — even raw preparations, like a jalapeño-lime salsa — have shown up in recent spreads, too.
Meat-free feasting. From quinoa-stuffed acorn squash to cheesy butternut squash bread pudding, vegetarian and even vegan alternatives to turkey are all the rage.
Kitschy, nostalgic fare. Autumn cobblers, pumpkin fries, and turkey sliders are all part of a throwback to 1950s nostalgia.
How many of these Thanksgiving trends have you spotted lately? What, in your opinion, is the next big Thanksgiving thing?