2011 Yellow Tail Moscato Review
Happy Hour: 2011 Yellow Tail Moscato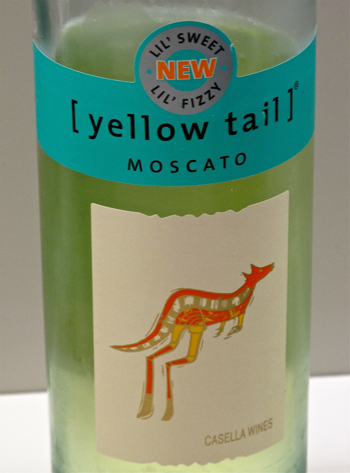 What would you say is the fastest-growing grape in the country? If you guessed Sauvignon Blanc, Pinot Noir, or any of the other usual suspects, you're wrong. The answer's muscat, the sweetly fragranced grape that's often the bane of any drinker who's sworn off sweet wines.
That's right: according to AC Nielsen, muscat is the fastest-growing grape variety in the United States, and even global brands like Yellow Tail have caught on. The Australian wine company's newest label is its 2011 Moscato. As a longtime moscato d'asti lover, but a recent critter wine skeptic, I wasn't sure what to expect. The results were pleasantly surprising.
The wine, while relatively straightforward, managed to be incredibly peachy and floral without tasting soapy, then had a nice level of acidity and a small amount of effervescence to balance out the body and sweetness. "It'd be wonderful with sorbet," one taster commented. I instantly envisioned serving it in a Champagne coupe with a just-frozen-enough scoop of pear sorbet on top. For $6.99, you can't find a better value in this category. Muscat lovers: what's your favorite moscato frizzante?