2012 IACP Best Cookbook Finalists
Check Out the Top Contenders For Best Cookbook of the Year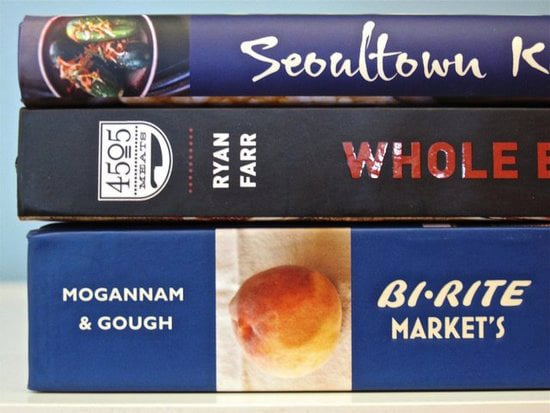 Thousands of cookbooks were published in the last year, but which ones are really worth buying? The International Association of Culinary Professionals, or IACP, tackled the question as it announced its cookbook award finalists for 2012 today.
Among them: plenty of cookbooks from top restaurant chefs, like Jean-Georges Vongerichten, John Besh, and Andrew Carmellini, as well as new books from reputed publications such as Fine Cooking and Cook's Illustrated.
Cookbook winners will be announced on April 2 in an award ceremony hosted by Mo Rocca, where the honor of best cookbook of 2012 will also be announced. To see the entire list of award winners, keep reading.
American
American Flavor 
Author: Andrew Carmellini
 Editor: Libby Edelson
 Publisher: Ecco/Harper Collins
The Apple Lover's Cookbook 
Author: Amy Traverso 
Editor: Maria Guarnaschelli
 Publisher: W. W. Norton & Company, Inc.
The Homesick Texan
 Author: Lisa Fain 
Editor: Leslie Wells
 Publisher: Hyperion
 
Baking
Baking Style: Art Craft Recipes
 Author: Lisa Yockelson
 Editor: Pamela Chirls 
Publisher: John Wiley & Sons, Inc.

Cooking With Chocolate: Essential Recipes and Techniques 
Author: Frédéric Bau
 Editor: Kate Mascaro
 Publisher: Flammarion
Illustrated Step-by-Step Baking
 Editor: Rebecca Warren 
Publisher: DK/Penguin Group
 
Chefs and Restaurants
The Art of Living According to Joe Beef: A Cookbook of Sorts
 Authors: Frederic Morin, David McMillan, Meredith Erickson 
Editor: Julie Bennett 
Publisher: Ten Speed Press
The Blue Tomato: The Inspirations Behind the Cuisine of Alan Wong
 Author: Alan Wong
 Publisher: Watermark Publishing
Home Cooking With Jean-Georges 
Author: Jean-Georges Vongerichten 
Editor: Rica Allannic
 Publisher: Clarkson Potter/Random House
 
Children, Youth, and Family
The Best Homemade Baby Food on the Planet 
Author: Tina Ruggiero
 Editor: Amanda Waddel
 Publisher: Fair Winds Press
The Family Dinner
 Author: Laurie David
 Editor: Karen Murgolo 
Publisher: Hachette Book Group
My Family Table 
Author: John Besh 
Editor: Jean Lucas 
Publisher: Andrews McMeel
 
Compilations
The Cakebread Cellars American Harvest Cookbook 
Authors: Jack & Dolores Cakebread, Brian Streeter, Janet Fletcher
 Publisher: Ten Speed Press
The Cooks' Illustrated Cookbook 
Editors: Jack Bishop, Elizabeth Carduff, Lori Galvin 
Publisher: America's Test Kitchen
Fine Cooking in Season
 Authors: Fine Cooking Editors 
Publisher: Taunton Press
 
Culinary History
Dying on the Vine: How Phylloxera Transformed Wine
 Author: George Gale 
Editor: Blake Edgar
 Publisher: University of California Press
High on the Hog
 Author: Jessica Harris 
Editor: Kathy Belden
 Publisher: Bloomsbury USA
Turning the Tables: Restaurants and the Rise of the American Middle Class, 1880-1920
 Author: Andrew P. Haley
 Editor: Mark Simpson-Vos
 Publisher: University of NC Press
 
Culinary Travel
A Family in Paris
 Author: Jane Paech 
Editor; Ariane Durkin 
Publisher: Penguin Group Australia
Tasting India 
Author: Christine Manfield 
Editor: Alison Cowan
 Publisher: Penguin Group Australia
Ultimate Food Journeys
 Author: DK Publishing 
Editor: Allie Singer
 Publisher: DK Publishing
 
First Book
Ancient Grains For Modern Meals 
Author: Maria Speck
 Editors: Jenny Wapner, Dawn Yanagihara 
Publisher: Ten Speed Press
The Apple Lover's Cookbook 
Author: Amy Traverso 
Editor: Maria Guarnaschelli
 Publisher: W. W. Norton & Company, Inc.
Bi-Rite Market's Eat Good Food
 Authors: Sam Mogannam, Dabney Gough
 Editor: Melissa Moore
 Publisher: Ten Speed Press
 
Food Matters
Good Fish: Sustainable Seafood Recipes From the Pacific Coast 
Author: Becky Selengut
 Editor: Susan Roxborough 
Publisher: Sasquatch Books
Tomatoland 
Author: Barry Estabrook 
Editor: Chris Schillig 
Publisher: Andrews McMeel
Wild Flavors: One Chef's Transformative Year Cooking From Eva's Farm
 Author: Didi Emmons
 Editor: Ben Watson
 Publisher: Chelsea Green Publishing
 
Food and Beverage Reference and Technical
The Art of Beef Cutting 
Author: Kari Underly 
Editor: Christine McKnight
 Publisher; John Wiley & Sons
Ruhlman's Twenty 
Author: Michael Ruhlman
 Editors: Bill LeBlond, Sarah Billingsley 
Publisher: Chronicle Books
Whole Beast Butchery
 Author: Ryan Farr 
Editor: Lorena Jones
 Publisher: Chronicle Books
 
Food Photography and Styling
The Art of Pasta
 Author: Lucio Galletto
 Photographer: Anson Smart 
Stylist: Rachel Brown
 Editor: Alison Cowan
 Publisher: Penguin Group Australia
Cooking My Way Back Home: Recipes from San Francisco's Town Hall, Anchor & Hope, and Salt House 
Author: Mitchell Rosenthal, Jon Pult 
Photographer/Stylist: Paige Green
 Editor: Jenny Wapner
 Publisher: Ten Speed Press
The Macy's Culinary Council Thanksgiving and Holiday Cookbook
 Editor: Steve Siegelman
 Photographer: Maren Caruson
 Stylist: George Dolese
 Publisher: The Book Kitchen
 
General
All About Roasting
 Author: Molly Stevens 
Editor: Maria Guarnaschelli
 Publisher: W. W. Norton & Company, Inc.
Essential Pepin: More Than 700 All-Time Favorites From My Life in Food
 Author: Jacques Pépin 
Editor: Rux Martin 
Publisher: Houghton Mifflin Harcourt
My Family Table 
Author: John Besh 
Editor: Jean Lucas
 Publisher: Andrews McMeel
 
Health Special Diet
Ancient Grains For Modern Meals 
Author: Maria Speck 
Editors: Jenny Wapner, Dawn Yanagihara
 Publisher: Ten Speed Press
Food Intolerance Management Plan 
Authors: Dr. Sue Shepherd, Dr. Peter Gibson
 Editor: Rachel Carter 
Publisher: Penguin Group Australia
The Sweet Life: Diabetes Without Boundaries
 Author: Sam Talbot
 Editor: Pam Krauss 
Publisher: Rodale
 
International
The Country Cooking of Italy 
Author: Colman Andrews 
Editors: Bill LeBlond, Dawn Yanigihara
 Publisher: Chronicle Books
The Food of Spain
 Author: Claudia Roden
 Editor: Libby Edelson 
Publisher: HarperCollins/Ecco
Seoultown Kitchen
 Author: Debbie Lee
 Editor: Anja Schmidt 
Publisher: Kyle Books
 
Literary
Season to Taste
 Author: Molly Birnbaum
 Editor: Matt Weiland
 Publishers: HarperCollins/Ecco
The Sorcerer's Apprentice: A Season in the Kitchen at Ferran Adria's El Bulli 
Author: Lisa Abend
 Editor: Leslie Meredith
 Publisher: Free Press/Simon & Schuster
The Table Comes First 
Author: Adam Gopnik 
Publisher: Knopf
 
Professional Kitchens
Modernist Cuisine Authors: Nathan Myhrvold, Chris Young, Maxine Billet
 Editor: Wayt Gibbs 
Publisher: The Cooking Lab
The Professional Chef, 9th Edition
 Author: The Culinary Institute of America
 Editor: Pamela Chirls
 Publisher: John Wiley & Sons, Inc.
Professional Garde Manger 
Authors: Lou Sackett, Jaclyn Pestka, Wayne Gisslen
 Editor: Mary J. Cassells
 Publisher: John Wiley & Sons, Inc.
 
Single Subject
All About Roasting
 Author: Molly Stevens 
Editor: Maria Guarnaschelli
 Publisher: W. W. Norton & Company, Inc.
Odd Bits: How to Cook the Rest of the Animal
 Author: Jennifer McLagen Editor: Jenny Wapner 
Publisher: Ten Speed Press
Plenty 
Author: Yotam Ottolenghi 
Editors: Lorena Jones, Sarah Billingsley 
Publisher: Chronicle Books
 
Wine, Beer, and Spirits
Bitters: A Spirited History of a Classic Cure-All, With Cocktails, Recipes . . . 
Author: Brad Thomas Parsons
 Editor: Emily Timberlake
 Publisher: Ten Speed Press
The Food Lover's Guide to Wine
 Authors: Karen Page, Andrew Dornenburg
 Editor: Michael Sand
 Publisher: Little, Brown & Co.
Mastering Wine For the Asian Palate
 Author: Jennie Cho Lee 
Publisher: Asset Publishing and Research, GrapeXpectations Asia LTD (Hong Kong)