2012 James Beard Award Finalists
Get to Know the 2012 Finalists For America's Top Food Awards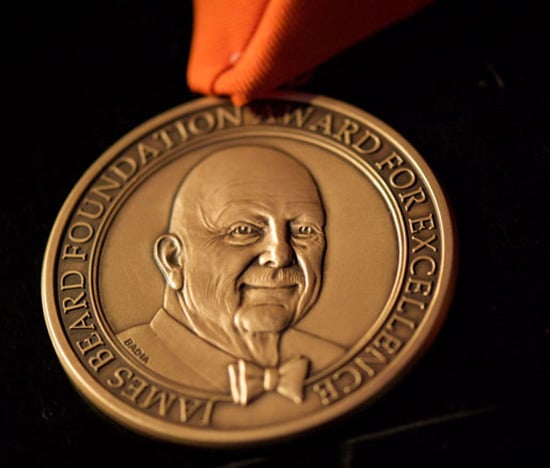 America is home to more than 100,000 head chefs — and today, a select few of them will be given nods as finalists for the James Beard Awards, the industry's top honors.
Among those who made the cut from the list of last month's semifinalists: David Chang, Tom Douglas, and Ina Garten.
Winners will be announced on May 7 in an award ceremony at New York's Lincoln Center, to be hosted by none other than Food Network's Alton Brown. The event, which is celebrating its 25th anniversary this year, only promises to be more lavish than years past.
To see the list of finalists, keep reading.
Outstanding Chef Award
David Chang, Momofuku; New York, NY
Gary Danko, Gary Danko; San Francisco, CA
Daniel Humm, Eleven Madison Park; New York, NY
Paul Kahan, Blackbird; Chicago, IL
Donald Link, Herbsaint Bar and Restaurant; New Orleans, LA
Nancy Silverton, Osteria Mozza; Los Angeles, CA
Outstanding Restaurant Award
Balthazar, New York, NY
Blue Hill, New York, NY
Boulevard, San Francisco, CA
Highlands Bar and Grill, Birmingham, AL
Vetri, Philadelphia, PA
Outstanding Restaurateur Award
Bruce and Eric Bromberg, Blue Ribbon Restaurants; New York, NY
Tom Douglas, Tom Douglas Restaurants; Seattle, WA
Piero Selvaggio, Valentino Restaurant Group; Las Vegas, NV
Caroline Styne, Lucques and AOC, Los Angeles, CA
Phil Suarez, Suarez Restaurant Group; New York, NY
Outstanding Service Award
Cyrus, Healdsburg, CA
La Grenouille, New York, NY
Michael Mina, San Francisco, CA
Spiaggia, Chicago, IL
Topolobampo, Chicago, IL
Best New Restaurant
AQ, San Francisco, CA
Fiola, Washington DC
Isa, New York, NY
Next, Chicago, IL
Tertulia, New York, NY
Outstanding Pastry Chef
Joanne Chang, Flour Bakery + Café; Cambridge, MA
Melissa Chou, Aziza; San Francisco, CA
Hedy Goldsmith, Michael's Genuine Food and Drink; Miami, FL
Dahlia Narvaez, Osteria Mozza; Los Angeles, CA
Ghaya Oliveira, Boulud Sud; New York, NY
Mindy Segal, Mindy's Hot Chocolate; Chicago, IL
Rising Star Chef of the Year Award
Dave Beran, Next; Chicago, IL
Daniel Bowien, Mission Chinese Food; San Francisco, CA
Thomas McNaughton, Flour + Water; San Francisco, CA
Christina Tosi, Momofuku Milk Bar; New York, NY
Sue Zemanick, Gautreau's; New Orleans, LA
Outstanding Wine Program Award
A16, San Francisco, CA
The Barn at Blackberry Farm, Walland, TN
Frasca, Boulder, CO
Emeril's, New Orleans, LA
No. 9 Park, Boston, MA
Outstanding Wine and Spirits Professional
Sam Calagione, Dogfish Head Craft Brewery; Milton, DE
Merry Edwards, Merry Edwards Winery; Sebastopol, CA
Paul Grieco, Terroir; New York, NY
Garrett Oliver, Brooklyn Brewery; New York, NY
Neal Rosenthal, Mad Rose Group; New York, NY
Journalism
Wine and Spirits
Ellen Cushing, East Bay Express
Sarah Karnasiewicz, Imbibe
Adam Sachs, Travel + Leisure
Group Food Blog
Epi Log
Nona Brooklyn
The Salt
Individual Food Blog
Bunkycooks
Cannelle et Vanille
Poor Man's Feast
Broadcast Media
Television Program, On Location
A Taste of History, PBS
Bizarre Foods With Andrew Zimmern, Travel Channel
The Wild Within, Travel Channel
Television Food Personality/Host
Ted Allen, Food Network
Sara Moulton, PBS
Ina Garten, Food Network
Books
American Cooking
A New Turn in the South
American Flavor
Masala Farm
Baking and Dessert
Baking Style: Art, Craft, Recipes
Cooking With Chocolate
Jeni's Splendid Ice Creams at Home
Cooking From a Professional Point of View
The Art of Living According to Joe Beef
Eleven Madison Park: The Cookbook
Modernist Cuisine
Visit the James Beard Foundation for the full list. Are you surprised by any of the finalists?