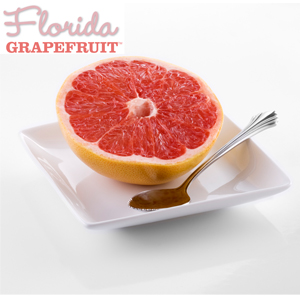 Vitamin C is not only in oranges, but it's also in grapefruit! Feeding your body proper nutrients is crucial for a healthy lifestyle, and incorporating Florida grapefruit into your diet is a great way to start. Be the best you by reaping the benefits of this tangy and delicious fruit.
Helps achieve a healthy figure: Grapefruit has a high water content, which leaves you feeling full and satisfied with fewer than 100 calories per 8-ounce glass. Florida grapefruit juice can be enjoyed without all the guilt!
Supports the immune system: Whether you're eating half a medium grapefruit or drinking an 8-ounce glass of juice, you'll be consuming at least 100 percent of the recommended daily value for vitamin C. Vitamin C helps support a healthy immune system, which is necessary to help your body resist disease.
Be selective: According to a study conducted by the University of Florida, pink grapefruit juice has among the highest nutrient-density scores of commonly consumed 100-percent fruit juices, including apple, grape, pineapple, and prune juice, making Florida grapefruit juice an obvious choice.
Gives a pick-me-up: Florida grapefruit helps provide your body with a natural boost of energy while supplying essential nutrients and delivering a tangy, refreshing flavor, making Florida grapefruit a perfect snack any time of day!
For more information on Florida grapefruit, check out www.facebook.com/juicyscoop.