50 Best Restaurants in the World
Discover the 50 Best Restaurants in the World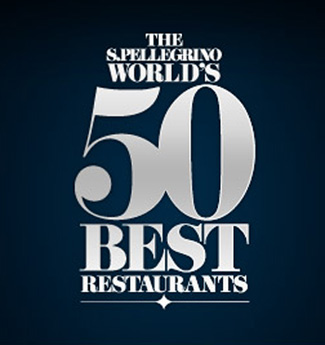 Today San Pellegrino and Restaurant magazine released their annual list of the world's top 50 best restaurants. The rankings are compiled by The World's 50 Best Restaurants Academy, a group of 800 restaurant industry leaders from 27 separate regions around the globe who vote in strict confidentiality for their seven favorite restaurants across the world.
So who took this year's coveted top spot? In past years, it's gone to the likes of Ferran Adria's El Bulli, but for the second year in a row, it was awarded to Rene Redzepi's Noma, in Copenhagen, Denmark.
The highest-ranking American restaurant is Alinea, coming it at number six. Notable omissions include Thomas Keller's famed The French Laundry, and Gordon Ramsay's flagship, Restaurant Gordon Ramsay, is off the list again this year as well.
For the complete top 50 list, read on.
1. Noma, Denmark
2. El Celler de Can Roca, Spain
3. Mugaritz, Spain
4. Osteria Francescana, Italy
5. The Fat Duck, UK
6. Alinea, USA
7. D.O.M., Brazil
8. Arzak, Spain
9. Le Chateaubriand, France
10. Per Se, USA
11. Daniel, USA
12. Les Creation De Narisawa, Japan
13. L'Astrance, France
14. L'Atelier de Joel Robuchon, France
15. Hof Van Cleve, Belgium
16. Pierre Gagnaire, France
17. Oud Sluis, Netherlands
18. Le Bernardin, USA
19. L'Arpege, France
20. Nihonryori Ryugin, Japan
21. Vendome, Germany
22. Steirereck, Austria
23. Schloss Schauenstein, Switzerland
24. Eleven Madison Park, USA
25. Aqua, Germany
26. Quay, Australia
27. Iggys, Singapore
28. Combal Zero, Italy
29. Martin Berasategui, Spain
30. Bras, France
31. Biko, Mexico
32. Le Calandre, Italy
33. Ristorante Cracco, Italy
34. The Ledbury, UK
35. Chez Dominique, Finland
36. Le Quartier Francais, South Africa
37. Amber, China
38. Dal Pescatore, Italy
39. Il Canto, Italy
40. Momofuku Ssam Bar, USA
41. St John, UK
42. Astrid Y Gaston, Peru
43. Hibiscus, UK
44. Maison Troisgros, France
45. Alain Ducasse au Plaza Athenee, France
46. De Librije, Netherlands
47. Hotel De Ville, Crissier, Switzerland
48. Varvary, Russia
49. Pujol, Mexico
50. Etxebarri, Spain