52 Weeks of Baking: Caramel "Apple" Cookies
52 Weeks of Baking: Caramel "Apple" Cookies I was searching for a final cookie recipe to round out National Cookie Month when I stumbled across one that looked like caramel apples. They were so cute and seemed like the perfect Halloween treat, so I headed to the store and grabbed a bag of caramels. The cookies themselves are pretty simple to make; they're basically a dyed sugar cookie dipped in caramel and put on a stick! To get the recipe and start bobbing for your own "apples,"
Note: I couldn't find any popsicle sticks at my local grocery store; you may need to try a specialty craft or cooking store. I only had 10 sticks available — free with the caramels — and used the rest of the dough to make small cookies.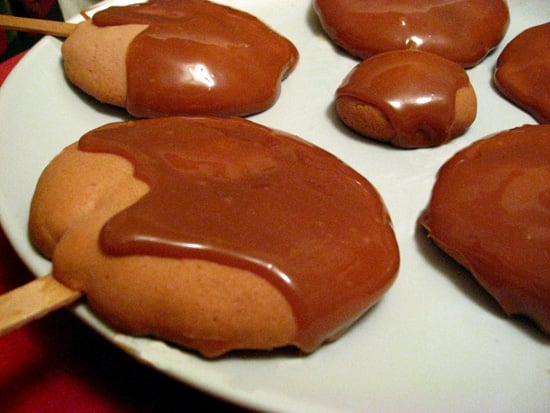 Caramel "Apple" Cookies
From Recipe Link
1 cup sugar
1/2 cup (1 stick) margarine or butter, softened
1/2 cup shortening
1 1/2 teaspoon vanilla
red food coloring (optional)
2 eggs
3 cups flour
1/2 teaspoon baking soda
1/2 teaspoon salt
About 24 wooden popsicle sticks
Caramel Glaze (see below)
Heat oven to 400F.
Mix sugar, margarine and shortening in large bowl.
Stir in vanilla and eggs.
Stir in flour, baking soda and salt.
Add in food coloring if desired. Add enough to obtain desired color, I used five drops and ended up with a pale pink.
If possible, wrap dough in plastic wrap and place in freezer for an hour, or in refrigerator overnight.
Roll dough 1/4 –inch thick on lightly floured cloth-covered surface.
Cut with 3-inch round or apple-shaped cookie cutter.
Place on ungreased cookie sheet. Insert wooden stick horizontally into each cookie.
Bake 8 or 9 minutes or until edges are light brown. Cool about 2 minutes; remove from cookie sheet. Cool completely.
While cookies are cooling, make caramel glaze (see below).
Spread top third of each cookie (opposite wooden stick) with Caramel Glaze. Hold cookie upright; allow glaze to drizzle down cookie.
Makes about 2 dozen cookies.
Caramel Glaze
1 package (14 ounces) vanilla caramels, unwrapped
1/4 cup water [I used apple juice]
Heat caramels and water over low heat, stirring frequently, until melted and smooth.
If glaze becomes too stiff, heat over low heat, stirring constantly, until softened.