Add Egg to Basic Dishes
Put a Bird on It! 5 Basic Dishes Made Better With an Egg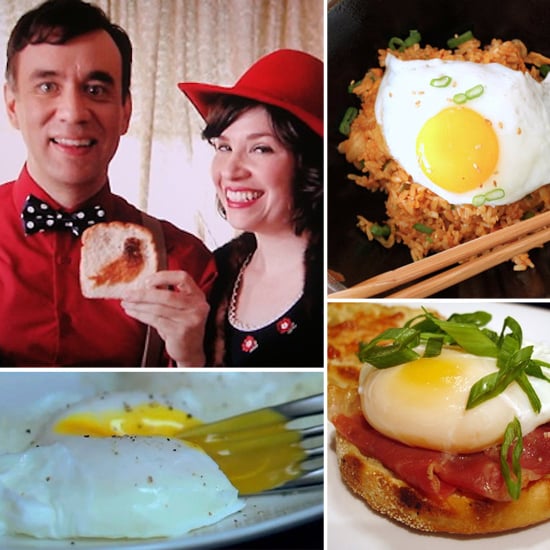 If you're not familiar with the Portlandia skit "Put a Bird on It!", it's time to get watching — and I'll say "you're welcome!" in advance. While you may not be branding bird silhouettes onto pieces of toast, I've found my own foodie spin on how to put a bird on it this Spring. In honor of National Egg Month, here are five everyday dishes that are taken to the next level with the addition of a tasty egg.
Pasta. Pasta and eggs may seem like a strange combination, but it shouldn't. While lots of pasta carbonara dishes bring an egg to the table, fried or poached eggs paired with a plate of simple pasta makes for a great go-to dish when you're in a bind for time or you'd like to keep things a little more budget-conscious.
Oatmeal. If you're always reaching for an oatmeal recipe that's sweet, put a twist on your morning routine and opt for an oatmeal recipe that's on the savory side: Asian-inspired savory oatmeal topped off with an over-easy egg.
Salads. Simple mixed greens get a welcome makeover when topped off with a poached egg or two. Just make sure to keep things light in the dressing department; you don't want too many flavors competing on your plate!

Keep reading for two more easy ways to put a bird on it.

Fried rice. Whether they're scrambled into the mix or topped off on to the finished product, eggs bring a new complexity to flavors to fried rice and make it a far more filling meal. Kimchi fried rice is a spicy recipe made even more delicious with the addition of an egg.
Sandwiches. We're a big fan of breakfast sandwiches that aren't afraid to put a bird on it; this poached egg and prosciutto sandwich plays up the flavors and textures of an egg. And given that it's National Burger Month, a fried egg can also make your favorite burger recipe even more dreamy and delish.
We're all ears! What's your favorite way to put a bird on it? Any unexpected recipes that you add an egg to?