Adventures in Expensive Sandwiches: Turkey Meatloaf
It's unusually chilly in San Francisco this week and downright frigid in other parts of the country, which has me craving comfort food: sandwiches, soup, lasagna, turkey, meatloaf, turkey meatloaf . . . So although I dismissed the Sentinel's shoddy construction on my last adventure in expensive sandwiches, I was lured once again to the nearby shop by the thought of turkey meatloaf, snuggled in a hot, buttery roll and slathered with cranberry sauce. This sandwich was both lip-smacking and something of a letdown. To hear what I thought and to get the recipe,
.
On the one hand, the spicy flavor of the chipotle mayo against the more Midwestern meatloaf was delectable, and I'm always a fan of cran with my turkey. Like before, the Sentinel really excels with its fresh-baked bread, which tastes like a buttery dinner roll. But the meatloaf wasn't what I was expecting. I wanted a very traditional taste, albeit with turkey instead of beef, but instead I got what was essentially a juicy turkey burger. A good turkey burger, but not the best ever, and not enough like meatloaf for my taste. Also, as you can see from the photos, the mound of turkey was enormous — really too much in proportion to the bread. When I make it at home, I'll opt for a more traditional meatloaf and slice it about an inch thick. Check out my version of the sandwich below.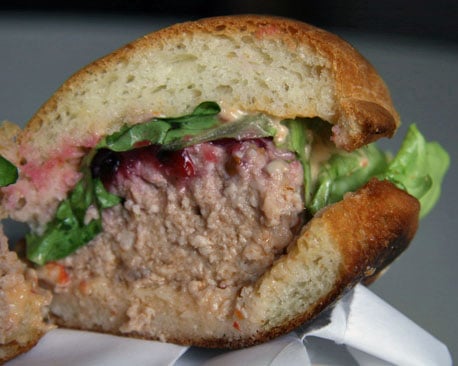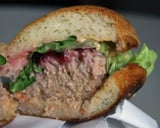 Ingredients
1 white or sourdough sandwich roll
1 slice of turkey meatloaf, about 1 to 2 inches thick
2 tablespoons canned whole-berry cranberry sauce
2 tablespoons chipotle mayonnaise
2 leaves of butter lettuce
Directions
Preheat oven to 350°F.
Slice the sandwich roll in half horizontally. On each half, spread 1 tablespoon of chipotle mayo.
Lay the sliced meatloaf on the bottom half of bread, then place both halves of bread in the oven for 5 minutes or until bread is lightly toasted.
Cover the meatloaf with a generous dollop of cranberry sauce and spread evenly across the meat.
Cover the cranberry sauce with leaves of butter lettuce, place the other half of the roll on top, cut in half, and serve immediately.
Makes 1 sandwich.
Information
Category

Main Dishes, Sandwiches

Cuisine

North American