Alfajores Recipe
Embrace New Holiday Traditions With Argentine Sandwich Cookies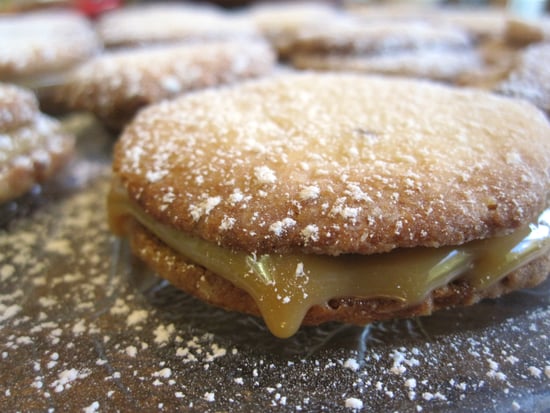 Instead of making a more traditional gingerbread, sugar or butter cookie to leave for Santa Claus, this year, I made alfajores. With an outside of delicate melt-in-your mouth vanilla cookie and an inside of creamy dulce de leche, these Argentine sandwich cookies are wonderfully delicious. The cookies have to be completely cooled before spreading on the dulce de leche, so get started on them right away. In Argentina, they are three to four inches in diameter, but I prefer smaller cookies and made mine with a two-and-a-half inch biscuit cutter; feel free to adjust the size to suit your preferences. These buttery cookies pair perfectly with coffee, sparkling wine, or in the case of Old Saint Nick, a glass of milk! Read more for the recipe.
Ingredients
For cookies
2 sticks unsalted butter, softened
3/4 cup sugar
6 large egg yolks
1 vanilla bean, seeds scraped
4 ounces blanched almonds
1 teaspoon salt
1 tablespoon baking powder
1 3/4 cups all-purpose flour
For dulce de leche
1 can (14 ounces) of sweetened condensed milk (not evaporated milk)
sea salt, for sprinkling
Directions
Make the cookies: In a standing electric mixer, beat the butter with the sugar at medium speed until creamy. Add the egg yolks and vanilla bean seeds and beat until smooth.
In a food processor, combine the almonds with the salt, baking powder and flour and process until the almonds are finely ground. Add the dry ingredients to the mixing bowl and beat on low speed until smooth. Pat the dough into 2 disks, wrap in plastic and refrigerate until chilled, about 1 hour.
Preheat the oven to 350° and line 2 baking sheets with parchment paper. Working in batches if necessary, roll out the dough 1/4 inch thick on a lightly floured surface. Using a round cutter, stamp out cookies as close together as possible. Arrange the cookies 1 inch apart on the prepared baking sheets. Bake the cookies in the upper and middle thirds of the oven for about 22 minutes or until lightly browned on the bottom and around the edges. Let cool on the baking sheet, then transfer to a platter. Refrigerate the scraps until chilled, then reroll, stamp out more cookies and bake.
Meanwhile make the dulce de leche: Preheat the oven to 425° F. Pour the sweetened condensed milk into a glass pie plate or shallow baking dish. Stir in a few flecks of sea salt.
Set the pie plate within a larger pan, such as a roasting pan, and add hot water until it reaches halfway up the side of the pie plate. Cover the pie plate snugly with aluminum foil and bake for 1 to 1¼ hours. (Check a few times during baking and add more water to the roasting pan as necessary). Once the Dulce de Leche is nicely browned and caramelized, remove from the oven and let cool. Once cool, whisk until smooth. Store in the refrigerator until ready to serve. Warm gently in a warm water bath or microwave oven before using.
Top half of the cookies with a rounded teaspoon of the dulce de leche and top with the remaining cookies. Enjoy!
Makes about 30-40 sandwich cookies.
Information
Category

Desserts, Cookies

Cuisine

South American