All About Chocolate Types
A Basic Primer on Chocolate Types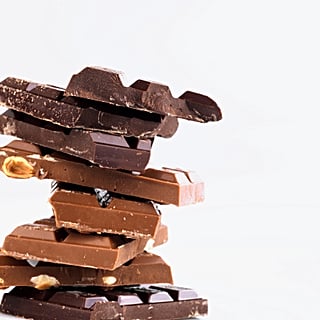 Although chocolate may seem like a basic ingredient, in reality, it's somewhat complex. From milk content to sweetness to cacao percentage, there's a lot that can vary.
The first thing to understand is the ratio of cacao to sugar. A chocolate that's 60 percent cacao contains 40 percent sugar. The more cacao a chocolate contains, the less sugar it has and the darker it is.
To get a breakdown of the different types of chocolate and how much sugar, cacao, and milk they have, keep reading.
Unsweetened Chocolate contains 100 percent cacao and has no sugar added. It's not meant to be eaten plain out of hand but is often used in recipes where you add sugar.
Bittersweet Chocolate has a cacao content that ranges from 65-80 percent. It's dark with a strong flavor.
Semisweet Chocolate has a lower cacao content than bittersweet; it's about 35-50 percent. With its accessible creamy flavor, it's considered the gateway dark chocolate.
Dark Chocolate is any chocolate that contains little to no milk solid. It must be at least 35 percent cacao.
Milk Chocolate is cacao with some form of milk added to it. It must be 12 percent milk, while the cacao content tends to be 33-45 percent.
White Chocolate actually contains no cacao solids, and therefore it is not really chocolate, but a confection that consists of sugar, milk, and 20 percent cacao butter.
What's your favorite kind of chocolate?