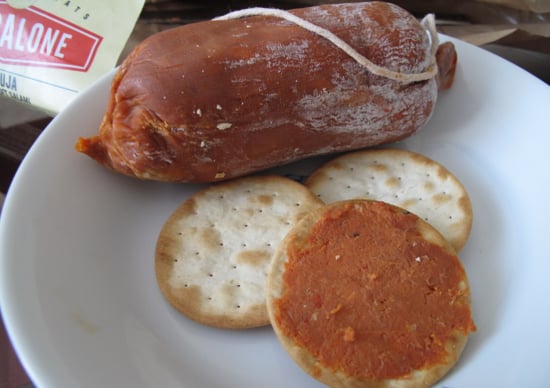 I've long been a fan of local talent Chris Cosentino and his offal-inspired Italian restaurant, Incanto. So when news, well, spread last month that Cosentino's salumeria Boccalone Artisan Meats was debuting the first spreadable salame — Nduja, as it's called — to be produced in the States, I knew I had to get my hands on some right away. Did the salumi live up to all its wonderment? Find out when you
.
Nduja is nothing new — in fact, it's one of the better-known specialties that comes from the southernmost Italian region of Calabria. Pronounced "en-doo-ya," this delicacy takes its name from the French word andouille, which means "sausage." Made of pork meat, pork fat, salt, and copious amounts of red pepper, nduja is extremely spicy — and, for that reason, considered by many to be an aphrodisiac.
I picked up some spreadable salame at the Boccalone boutique in the Ferry Building Marketplace, but the Oakland-based company also carries most of its products online, including the nduja ($24 for two sausages). Despite my penchant for all things spicy, the nduja, which had a texture slightly firmer than that of liverwurst, was shockingly fiery on the tongue. In addition to possessing the vibrant flavor of Calabrian chili peppers, the burnt-orange-hued meat spread also had a robust porkiness and a hint of aromatic bitterness from the addition of orange rind. The high fat content made for a creamy, smooth texture that was a great foil to crispy water crackers or toasted, grilled bread.
Given all its press, I wondered if nduja would be merely a novelty, but a taste test proved me wrong. With its piquant, highly seasoned flavor, this spreadable delight isn't for everybody, but for those who appreciate spice, it's a worthwhile endeavor. Does spreadable salame sound like something you would try?