All American/Oscar Worthy Salad Whenever I am in Spain, my Spanish friends ask me about typical American dishes. I hate to mention hamburgers (because I'm more of a hot dog type of girl) and instead answer Caesar salad. Caesar salad is on practically every menu from those at McDonald's, to high end haute cuisine restaurants. It has single handedly increased the sales and production of romaine lettuce. If ordinary everyday people are eating it up, then big time Hollywood players must like it as well. This year Wolfgang Puck is making a chic version of the salad as part of his tapas menu for the Oscars after party blowout bash, The Governor's Ball. For a salad recipe worthy of five stars (Leonardo, Mark, Jake, Djimon, and Brad),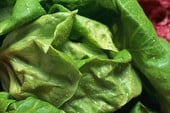 Caesar Salad with Parmesan Croutons and Creamy Garlic Dressing
From Wolfgang Puck
1 egg yolk
3 tablespoons fresh lemon juice
1 tablespoon minced garlic
1/2 teaspoon Worcestershire sauce
1/4 teaspoon red pepper flakes
1 tablespoon Dijon mustard
2 anchovy fillets, mashed
Scant 1 cup vegetable oil
1/3 cup extra-virgin olive oil
Salt and freshly ground black pepper
1 large head romaine lettuce, cleaned and cut into 1 to 2-inch pieces
Freshly grated Parmesan
2 cups croutons
In a medium bowl, whisk together the egg yolk, lemon juice, garlic, Worcestershire, pepper flakes, mustard, and anchovies.
Slowly whisk in the oils to emulsify. Season, to taste, with salt and pepper.
Place the lettuce in a large bowl. Sprinkle with Parmesan and black pepper.
Drizzle with desired amount of dressing and toss well. Sprinkle top with croutons.
Serves 2-4.
To flavor the croutons with parmesean: toast one side in the oven for a few minutes. Remove and rub tops with garlic. Flip croutons over and finely grate the cheese over the bread before toasting it for another 5 minutes in the oven.

Croutons
1 French-bread baguette, sliced into rounds
2 cloves garlic, peeled
2 tbls olive oil
Preheat oven to 350°F.
Arrange bread slices on 2 baking sheets. Bake bread until crisp and golden brown, about 15 minutes.
Rub remaining 2 garlic cloves over 1 side of each crouton.
Lightly brush croutons with remaining 2 tablespoons olive oil.
Serve croutons warm or at room temperature with dips. (Can be prepared 3 days ahead. Cool croutons completely; store in airtight container at room temperature.)