Almond-Crusted Chicken Recipe
Fast & Easy Dinner: Almond-Crusted Chicken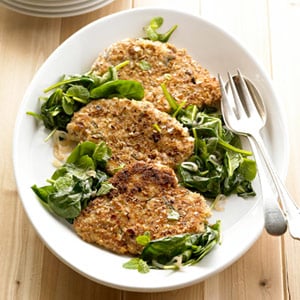 Although deep-frying is a popular way to make a deliciously crunchy chicken, it's not the only method for crusty, finger-licking-good poultry. This recipe demonstrates that finely chopped almonds and a shallow-pan fry result in a succulent and crisp chicken. Served on a bed of lightly wilted spinach and sautéed shallots, it's a simple but well-balanced meal. Pair it with a glass of chilled white wine and you've got an elegant midweek supper. Look at the recipe here.


Ingredients
4 small skinless, boneless chicken breast halves (1 to 1-1/4 lb. total)
1 egg, lightly beaten
2 Tbsp. buttermilk
1/2 cup finely chopped almonds
1/2 cup panko (Japanese-style bread crumbs) or fine dry bread crumbs
2 tsp. snipped fresh rosemary
1/4 tsp. salt
1 Tbsp. peanut oil or canola oil
1 shallot, chopped
8 cups fresh spinach leaves
1/4 tsp. salt
Freshly ground black pepper
Fresh mint leaves (optional)
Directions
Place one chicken breast half between sheets of plastic wrap. With flat side of meat mallet, pound chicken to 1/4- to 1/2-inch thickness. Repeat with the remaining breast halves.
In a shallow dish whisk together egg and buttermilk. In another shallow dish combine almonds, panko, rosemary, and 1/4 teaspoon salt. Dip chicken breasts, one at a time, in egg mixture, turning to coat. Allow excess to drip off, then dip chicken pieces in almond mixture, turning to coat.
In 12-inch nonstick skillet cook chicken, half at a time if necessary, in hot oil over medium heat for 4 to 6 minutes or until no longer pink, turning once halfway through cooking. Remove chicken from skillet; keep warm.
In same skillet cook shallot in drippings 3 to 5 minutes or just until tender, stirring frequently. Add spinach and 1/4 teaspoon salt; cook and toss about 1 minute or just until spinach is wilted. Serve chicken with wilted spinach. Sprinkle pepper and mint.
Serves 4.
Information
Category

Poultry, Main Dishes

Cuisine

North American