Amanda Freitag Interview
Amanda Freitag on Judging, Competing, and Cooking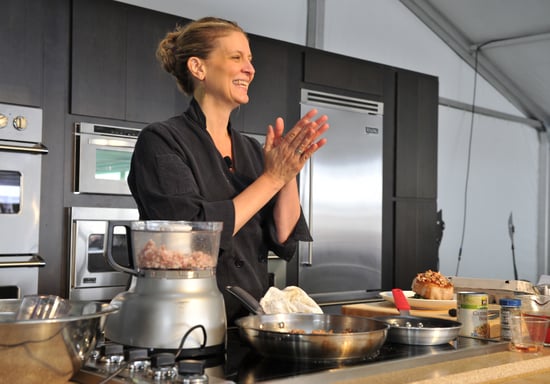 Chef Amanda Freitag may look and act tough as nails on Food Network's Chopped and Iron Chef America, but in person, she's all smiles and infectious giggles. Fun fact: she and POPSUGAR LIVE host Matthew Rodrigues worked together on the set of Iron Chef America, so right away, she was happy to chat with another member of the family. I caught up with her after her cooking demonstration at the San Francisco Chipotle Cultivate Festival, where we talked about her life as a judge, chef competitor, and most recently, restaurant owner.
POPSUGAR: You are so bubbly and warm, but your personality on Chopped is so different! How is that?
Amanda Freitag: It is. I get totally edited. I'm funny behind the scenes. I'm funny sometimes with the chefs. I think they capture those moments when I'm being stern. That's only one part of me. The other fun-loving, playful part is the other 80 percent. It's hard. I have to be a judge; I have to be intimidating and serious.
PS: What have been some of your favorite moments as a judge on Chopped?
AF: Oh my . . . how much time do we have? Wonderful moments like when the lunch ladies competed, which we now call them "school chefs." There was not a dry eye in the house. Sam Kass was our guest judge who works with Michelle Obama on the White House food movement. These women, what they're doing and how they make those kids feel normal and feed them, as a chef, it's something I hope I can do someday. It was so moving.
Aside from the moments when people burn themselves, cut themselves, fall down, put nothing on a plate, Madison Cowan was a memorable chef for me, because he came on Chopped and blew us away. He made the most incredible, delicate, elegant food with a humble background and story. We were all blown away. That doesn't happen often.
PS: More often than not, is it judging the least disastrous of the bunch?
AF: Not always disastrous. It's a tough environment. Everyone is a little flustered. I've competed in that kitchen a couple of times. I can say it's incredibly hard — harder than Iron Chef for me. Chopped is 30 minutes. There is very little equipment, very limited pantry.
Keep reading to learn more about Chef Freitag's new restaurant.
PS: What's going through your mind when you're developing a recipe for a competition?
AF: What's going through my mind is making something that tastes good, but still stays within these boundaries. To me, it's always about flavor, especially from a judge's point of view. Anybody can make anything with those ingredients, but if it tastes good, that's a real achievement.
PS: Do you feel like it's the times where you are most limited that you are often the most creative?
AF: The last time I was on Iron Chef, I had the best time. The things that I was doing, I surprised myself every time around. The adrenaline kicked in, and then I was doing well and I just wanted more. I cannot work any other way now. I have to work under pressure now. It ruined me for life!
PS: When competing, do you stick to your old standby recipes?
AF: I have an arsenal of things. 20 years of experience really brings a lot of dishes. Inspiration always comes from things I've done in the past. I love having that ingredient in front of me, that challenge, and that time frame.
PS: What process do you go through when developing recipes for your new restaurant in New York City?
AF: A lot of what I'll be cooking is what I love to eat. Ninety-nine percent will be what other people like to eat too. People want real food that's not intimidating, that's made with beautiful ingredients, lots of love, and creativity. That's what I want when I go out to eat. I'm just going to picture myself at that table and cook something that I would want to land right in front of me.
PS: Tell me more about the restaurant. How did it come to be?
AF: I live around the corner from the space [in Chelsea]. When it popped up, big restaurant corporations with a lot of money were looking at it, but the landlord wanted smaller operators. We all clicked. It really was about relationships. I'm very, very lucky and I'm excited.
PS: How often will you be in the restaurant vs. in the studio on camera?
AF: Since we plan to be open 22 or 24 hours a day, I'll try to split my time between sleeping, filming, and cooking. We don't film Chopped every day. For the restaurant, developing it, I will need to be there breakfast, lunch, dinner, and late night at least at some point. I am locked in there the first six months. But I want to be. I want to be cooking. I want to be with my crew. I want to be creating and curating the vibe.
Source:
Getty
,
Food Network
(©2013, Television Food Network, G.P. All Rights Reserved)