The Amazing Rice: Chicken Rice Salad Rice isn't just for dinner; the staple grain also makes a delicious lunch salad. In this healthy recipe the rice is mixed with roasted chicken and nuts. A fresh cranberry vinaigrette brightens up the flavor of the dish. Although this salad takes time, it makes a huge batch. Put it together while you cook Sunday dinner and the entire family can eat it for lunch during the week. It's a versatile recipe that's easily adaptable to your needs. Don't like hazelnuts? Stir in almonds. The day after Thanksgiving it would be an excellent way to use leftover turkey and cranberry sauce. To look at the recipe,
.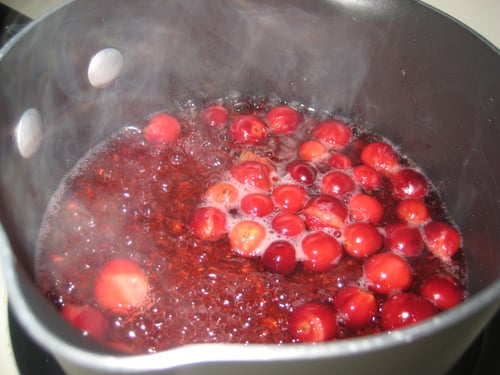 Chicken and Rice Salad With Cranberry Vinaigrette
From Food and Wine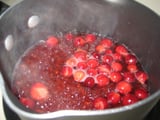 Ingredients
1/4 cup hazelnuts
1/4 cup fresh cranberries
1/2 cup cranberry juice cocktail
1 tablespoon honey
1 teaspoon red wine vinegar
Sea salt and freshly ground pepper
1 tablespoon extra-virgin olive oil
Four 4-ounce skinless, boneless chicken breast halves
2 medium oranges
2 cups cooked rice
4 scallions, thinly sliced
1/3 cup chopped flat-leaf parsley
1/4 cup dried cranberries
Directions
Preheat the oven to 350°.
In a pie plate, toast the hazelnuts for 12 minutes, or until fragrant and browned. Transfer the nuts to a kitchen towel and let cool completely, then rub the nuts together in the towel to remove the skins. Coarsely chop the hazelnuts.

Increase the oven temperature to 425°.
In a small saucepan, simmer the fresh cranberries in the cranberry juice until the juice reduces by half, about 5 minutes.

Transfer to a blender and let cool. Add the honey and vinegar, season with salt and pepper and puree. With the machine on, blend in the olive oil.
Season the chicken breasts with salt and pepper and roast on a baking sheet for 10 minutes. Turn and roast for 10 minutes longer, or until just cooked through.

Let cool, then pull the meat into shreds and transfer to a large bowl.
Peel the oranges with a sharp knife; be sure to remove all the white pith. Working over a bowl, cut in between the membranes to release the sections. Dice the sections and add to the chicken. Reserve the juice for another use.
Add the rice, scallions, parsley, dried cranberries and vinaigrette to the chicken and toss.

Mound the salad on plates, sprinkle with the hazelnuts and serve.
Serves 4.
Information
Category

Salads, Main Dishes

Cuisine

North American