The Amazing Rice: Rice, Chorizo, Shrimp Stuffed Poblanos My rice journey continues with these scrumptious stuffed poblanos. I had chorizo in my fridge, so when I stumbled across this recipe I knew I had to make it. The chorizo is cooked with spicy and sweet peppers making for a flavorful rice base. Shrimp is stirred in at the last minute adding a surf-and-turf layer to the dish. Although the recipe doesn't call for it, I mixed a couple of tablespoons of cheese in with the rice before stuffing the peppers. The final stuffed pepper is a meal in itself that would be delicious at a Mexican fiesta. To see how I made it,
.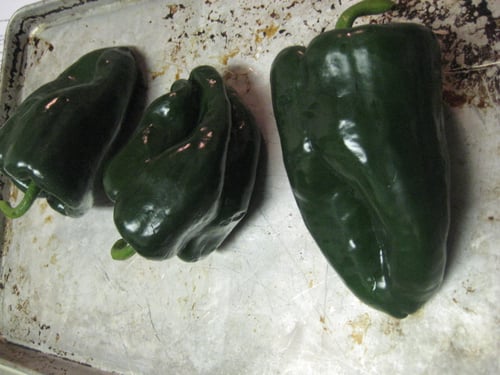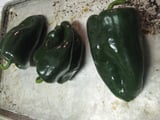 Ingredients
1 tablespoon oil
1/2 pound Mexican-style chorizo
1/2 red bell pepper, diced
1/2 green bell pepper, diced
1 jalapeno, minced
1 red onion, diced
2 tablespoons garlic, minced
1 cup short-grain rice
1 cup low-sodium chicken stock
1/2 cup white wine
1/2 cup water
6 large, fresh poblano chiles (also known as pasilla peppers)
1 pound shrimp, shelled, cut into 1/2-inch pieces
3/4 cup Cheddar, shredded
3/4 cup Jack cheese, shredded
Directions
In a medium saucepan, heat oil and chorizo, cook for 3 minutes.
Add peppers, jalapeno, onions and garlic. Cook until translucent about 8-10 minutes.

Add the rice and Stir, cooking until all the grains of the rice are coated with oil.
Add all liquids and stir over high heat for 3 minutes, cover and reduce heat to low. Check rice for doneness after 20 minutes.

Meanwhile preheat oven to 400 degrees F.
Place poblano chiles on baking sheet and bake for 15 minutes. Remove from oven and let cool. Once cool, cut top 1/4 of chile off and remove ribs and seeds.

When rice is finished cooking, fluff with fork and stir in shrimp.
Stuff chiles with 1/6 of the rice mixture.

Place all the chiles on baking sheet and place into oven for 10 minutes.
Remove from oven, mix cheeses together and cover pepper with cheese. Broil for 3 minutes to melt and brown the cheese.
Makes 6 stuffed peppers.*
*Since I was cooking for myself, I halved the recipe. However there was enough rice mixture to stuff 4 peppers.
Information
Category

Rice, Main Dishes

Cuisine

Mexican