The Amazing Rice: Wild Rice and Goat Cheese Stuffing During his Thanksgiving demonstration at the Food Network NYC Wine and Food Festival, Bobby Flay made a scrumptious-sounding stuffing. I've been looking for an exciting new recipe to include on my Thanksgiving day menu, so I decided to give his recipe for wild rice and goat cheese stuffing a try. The rich stuffing is packed with delicious flavors: fragrant chorizo, milky cheese, and fresh herbs that combine to create a dish full of contrasts. It's moist yet crunchy, spicy yet creamy, and incredibly addictive. I'm contemplating doing a Southwestern-themed dinner, so I can make this stuffing, it's that good. To look at Bobby's recipe,
.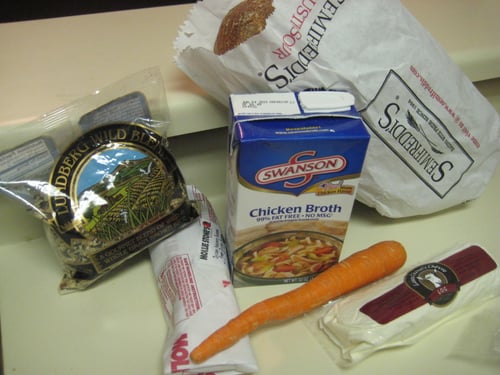 Wild Rice and Goat Cheese Stuffing
From Bobby Flay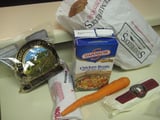 Ingredients
1 1/2 cups wild rice
5 cups water
Salt
1/2 cup coarsely diced chorizo
4 tablespoons unsalted butter
1 large onion, finely diced
1 tablespoons minced garlic
2 carrots, finely chopped
3 celery stalks, finely chopped
3/4 pound stale country-style bread, cubed
6 ounces goat cheese
2 tablespoons finely chopped fresh parsley
1 tablespoons finely chopped fresh thyme
1 1/2 cups chicken stock, plus extra, if needed
Directions
Place the rice, water, and salt to taste in a medium saucepan and bring to a boil over medium-high heat. Simmer until the grains open all the way. Drain the rice.

Meanwhile, cook the chorizo in a small saucepan over medium heat until the fat is rendered and the chorizo gets a little crisp. Drain.
Melt the butter in a large saute pan over medium heat. Add the onion, garlic, carrots, and celery and sweat until the onion is tender, about 5 minutes.

Add the rice, chorizo, bread, cheese, parsley, thyme, and stock and stir to combine. The mixture should be quite wet: add a little more stock or water, if needed. Season, to taste, with salt and pepper.

Transfer to a 6-cup buttered baking dish and bake, uncovered, until golden brown and heated through, 25 to 30 minutes. May be refrigerated up to 1 day; reheat with a little chicken stock for 20 minutes at 350 degrees F.
Serves 8.
Information
Category

Side Dishes, Stuffing/dressing

Cuisine

North American